Bollywood's grand diamond heists!
Everyone knows they enjoy a great following among the ladies but diamonds are a thief's best friends too.
At least, our Hindi films can vouch for that.
Quite a few plots revolve around a deviously planned robbery of a sought-after sparkler. Even this year's much-hyped Diwali release, Happy New Year starring Shah Rukh Khan, Deepika Padukone and Abhishek Bachchan is about one such heist.
On that note here's a look at Bollywood's best-known diamond robberies in film.
Bang Bang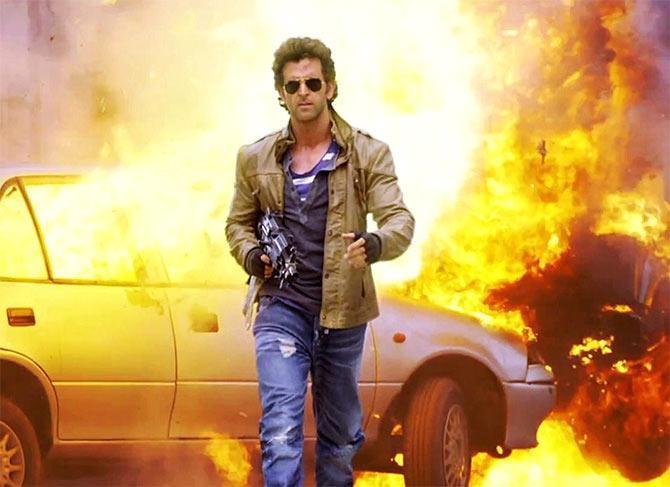 Image: Hrithik Roshan in Bang Bang
The recently released Hrithik Roshan-Katrina Kaif starrer may not have impressed the critics but its hunky hero does the unthinkable -- he hoodwinks world-class security and easily steals the contentious Kohinoor diamond from UK's Tower of London.
Dhoom 2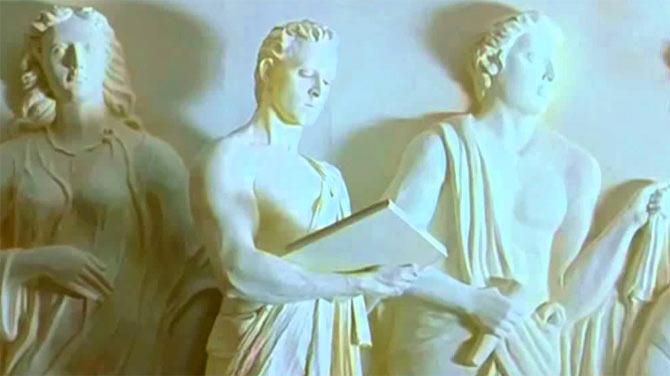 Image: Hrithik Roshan in Dhoom 2
What's with Duggu and bling anyway? Roshan Jr plays a mastermind thief in the second film of the Dhoom franchise and changes into a variety of prosthetic getups, including sculpture, to steal a diamond from a much-guarded museum.
Fool & Final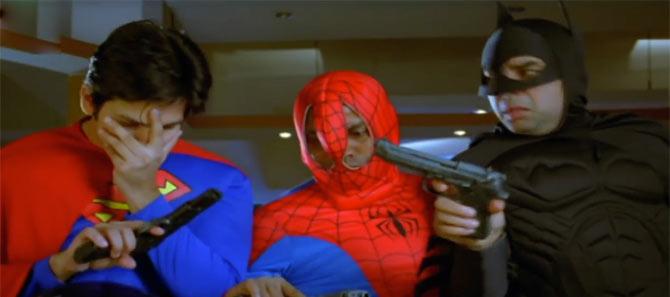 Image: Shahid Kapoor, Jhonny Lever, Paresh Rawal in Fool & Final
In Ahmed Khan's shameless and shoddy remake of Snatch, its entire cast of actors ranging from Jackie Shroff to Shahid Kapoor is engaged in a mad struggle to get their hands on a precious diamond.
Cash
Image: Movie poster of Cash
In Anubhav Sinha's muddled-up Cash, Ajay Devgn ropes in a bunch of robbers -- Ritesh Deshmukh, Zayed Khan, Dia Mirza, Esha Deol -- to swoop some super expensive diamonds, also eyed by Suniel Shetty and Shamita Shetty.
Jewel Thief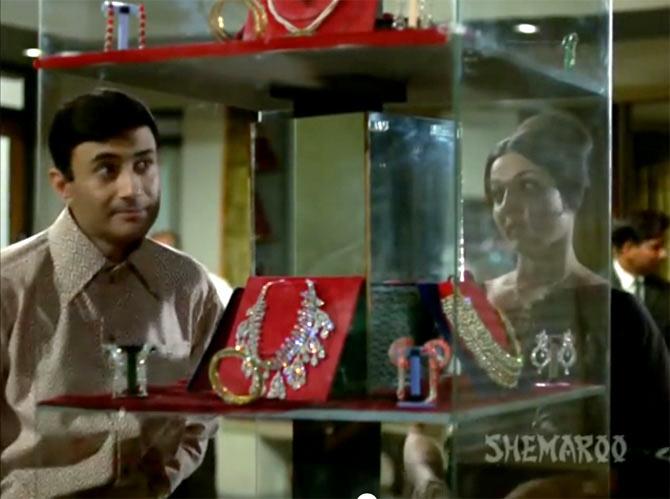 Image: Dev Anand in Jewel Thief
One of the many best films to come out of the Dev-Vijay Anand collaboration, the slick Jewel Thief lives up to its title with unforeseeable twists and mind-boggling suspense. Its sequel Return Of The Jewel Thief, of course, turned out to be a epic embarrassment.
Andaz Apna Apna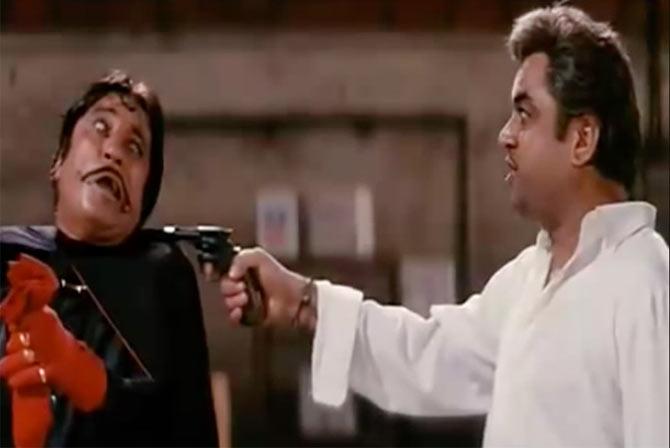 Image: Shakti Kapoor and Paresh Rawal in Andaz Apna Apna
Paresh Rawal's evil twin designs a grand kidnapping scheme to run away with his wealthy brother's valuable diamonds to realise his lifelong dream of setting up a poultry farm before Crimemaster Gogo drops in and demands his share of the booty in Rajkumar Santoshi's 20-year-old comic gem.
Kaalia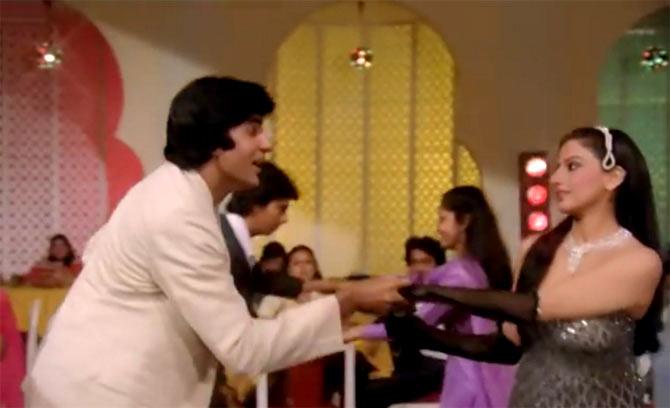 Image: Amitabh Bachchan in Kaalia
Jahan teri yeh nazar hai meri jaan mujhe khabar hai, remember?
Loaded in charm, Amitabh Bachchan woos the lady with a glittering diamond necklace and snubs rival Amjad Khan the wrong way during this classic Bollywood style chori song sequence from the 1980s.
Shalimar

Image: Dharmendra in Shalimar
It's all about stealing the prized Shalimar diamond in a film of the same name. Despite its international cast and curious gimmickry, especially when Dharmendra paints himself in a monochrome tile pattern to blend with the surrounding of the hugely guarded gem he endeavours to smuggle, the caper bombed badly at the box office.
Victoria No 203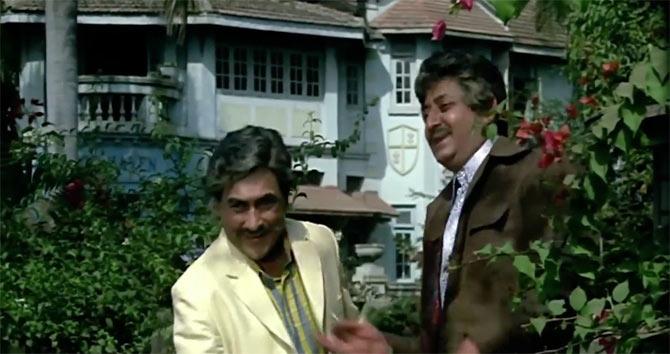 Image: Ashok Kumar and Pran in Victoria No 203
Its remake is as forgettable as they come but the breezy original starring Ashok Kumar, Pran and Saira Banu revolves around crooks, of all shapes and sizes, following a mad trail of missing diamonds.
Jugnu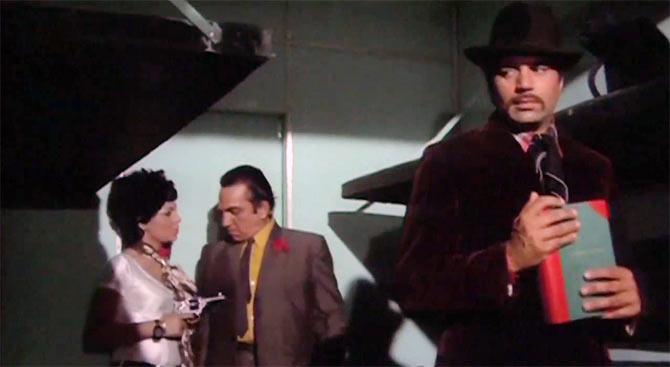 Image:
In the Dharmenda-Hema Malini superhit, the brawny hero leaps off his horse to get inside a fast moving train and then nabs a box containing diamonds as well a suitcased filled with money from a man and a moll.
Waqt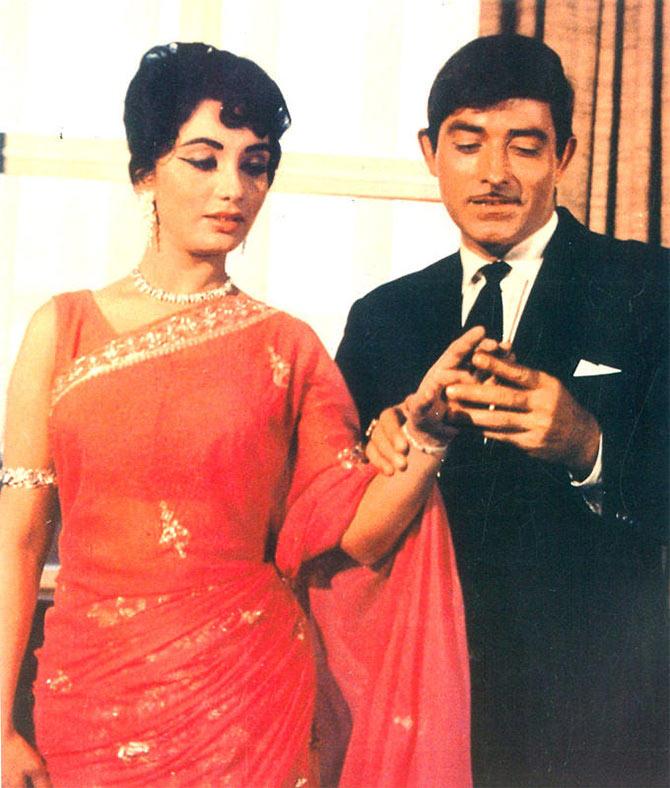 Image: Sadhana and Raaj Kumar in Waqt
Who better than Raaj Kumar to teach the trick of how to have one's cake and eat it too? As the smooth burglar of Waqt, he easily nicks a lady's gorgeous diamond necklace and then returns it her just as conveniently by saying the thief dropped it on his porch and wins her favour.