Ever wondered how Bollywood films have grown snazzier over the years?

Bollywood taking inspiration from Hollywood is old hat.

But Bollywood roping in Hollywood technicians to enrich their movies is a rising trend.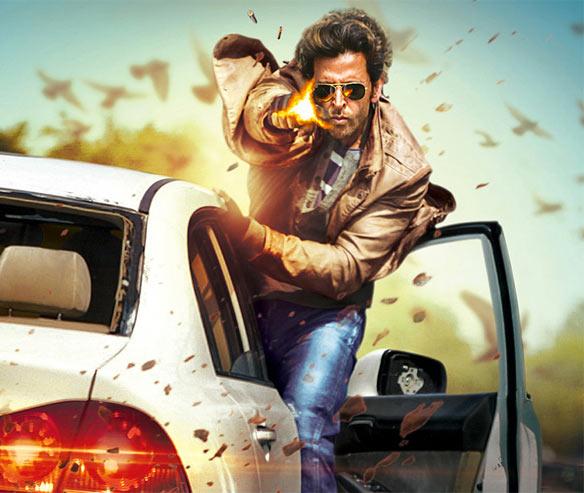 Hrithik Roshan in Bang Bang
In Siddharth Anand's slick repackaging of Tom Cruise starrer Knight & Day, the director imports not just the story but also the action consultant.
Andy Armstrong, who worked as stunt coordinator on superhero franchises like The Amazing Spiderman and Thor, is at the helm of Hrithik Roshan's whistle-inducing daredevilry.
Here's a look at some other desi movies to get the phoren touch.
Mathias Duplessy, Finding Fanny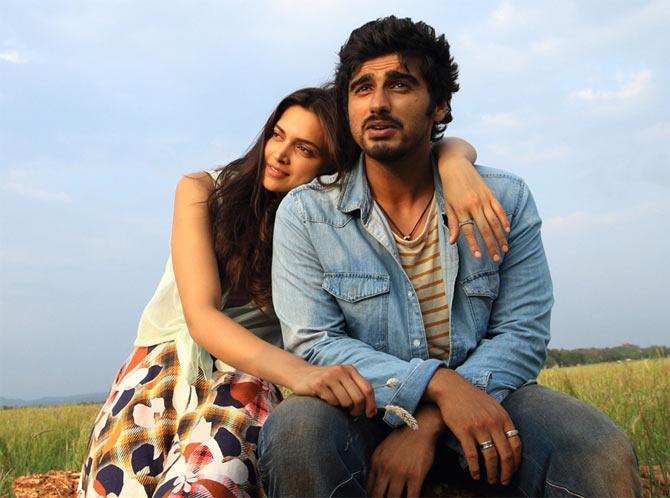 Image: Deepika Padukone and Arjun Kapoor in Finding Fanny
Homi Adajania's critically acclaimed road movie boasts of music by French composer Mathias Duplessy.

Before he made an impression with his tune of Fanny Re, Duplessy created an effective background score for Aamir Khan's favorably received satire Peepli [Live].
Oliver Keller, Dhoom 3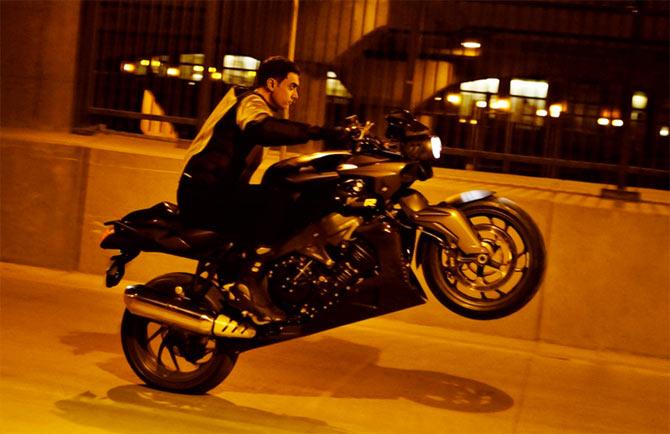 Image: Aamir Khan in Dhoom 3
Overturning cars, motorcycle chases, heavy-duty jumps against the glossy backdrop of downtown Chicago marked the highlight of Aamir Khan's biggest hit Dhoom 3.

And the man behind it all, stunt coordinator Oliver Keller with credits like Pirates of the Caribbean: The Curse of the Black Pearl and Master & Commander can only be too proud.
Greg Powell, Holiday
Image: Sonakshi Sinha and Akshay Kumar in Holiday
British stuntman Greg Powell, who's worked on popular franchises like Harry Potter and James Bond, got on board of Akshay Kumar's Holiday to raise the bar as far as Bollywood action goes.
Given that the action is the only redeeming point of an otherwise silly movie says a lot about Powell's potential.
Conrad Palmisano and Markos Rounthwaite, Ek Tha Tiger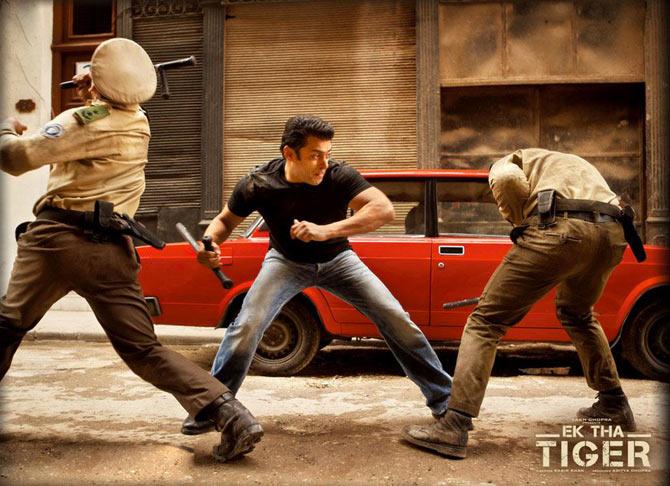 Image: Salman Khan in Ek Tha Tiger
Action is the mainstay of Salman Khan's brand of entertainment.

And one of his best films to come out in recent times offers it in abundance.

Parkour to punches, Ek Tha Tiger has it all.
Bhai has two people to thank the most -- Hollywood's Conrad Palmisano and Markos Rounthwaite with a resume that brags of biggies like Lethal Weapon and Bourne Ultimatum.
Various, Ra.One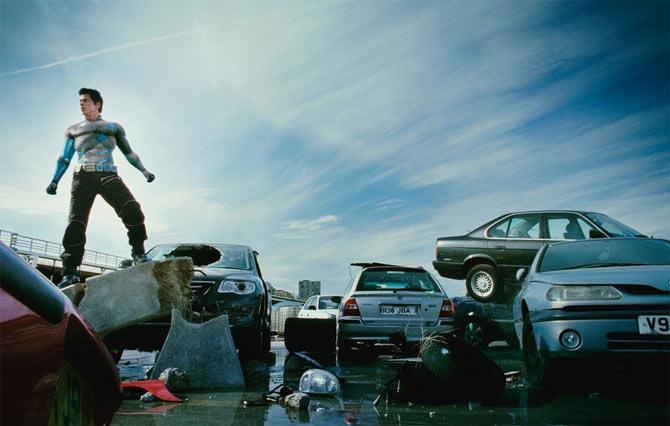 Image: Shah Rukh Khan in Ra.One
Shah Rukh Khan's much-hyped dream project, the sci-fi fantasy Ra.One signed on quite a few international technicians to leave no stone unturned.
If Nicola Pecorini took on cinematography, Marcus Wookey co-handled the production design, Richard Fearon was in charge of colour grading, Edwark Quirk worked on CGI, Jeffrey Klieiser supervised the SFX, Robert Kurtzman and Tim Flattery designed the superhero costumes worn by SRK and Arjun Rampal and R&B singer Akon pitched in for Ra.One chartbusters Chammak Chalo and Criminal.
Tony Ching Siu-Tung, Krrish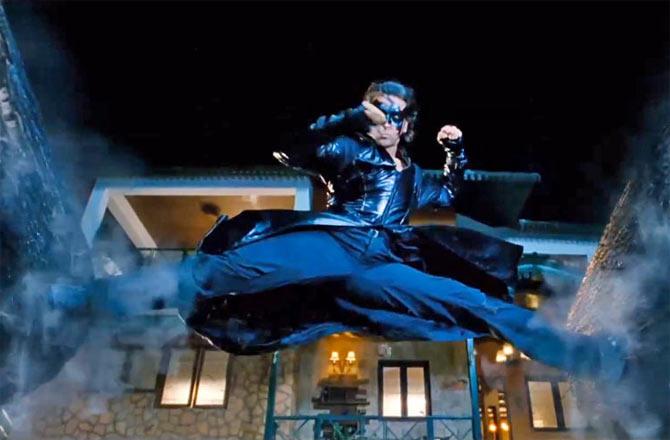 Image: Hrithik Roshan in Krrish
Playing the caped crusader leaping off skyscrapers and trees in Krrish with conviction required Hrithik Roshan to train for some high-strung action.
That's where the services of Hong Kong based action choreographer Tony Ching Si-tung came in handy.

His handiwork can also be witnessed in well-known fare like A Chinese Ghost Story, Shaolin Soccer and House of Flying Daggers.
Tom Struthers, D-Day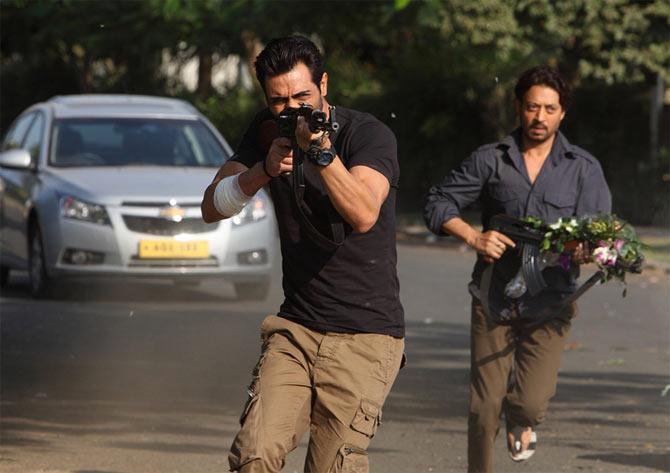 Image: Arjun Rampal in D Day
Remember the gritty action scenes of Nikhil Advani's D-Day starring Arjun Rampal and Irrfan Khan? They owe much to stunt expert Tom Struthers.
Struthers has one heck of a filmography to impress, let's see -- Inception, The Batman Trilogy, X-Men: First Class and Blood Diamond.
Sean Genders, Go Goa Gone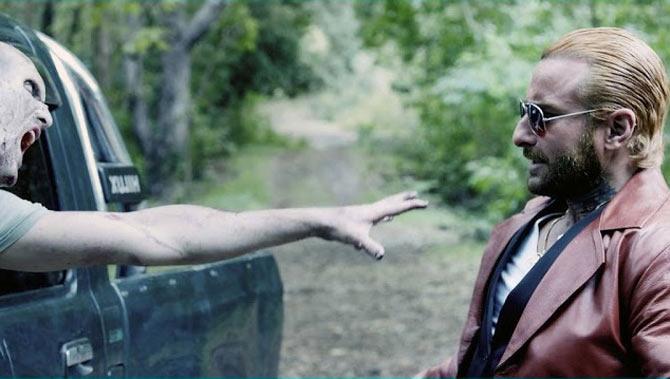 Image: Saif Ali Khan in Go Goa Gone
Emmy-award winner Sean Genders (for HBO miniseries The Pacific) is the genius behind the grotesque make-up sported by Go Goa Gone's burgeoning zombies.
The Australian has also worked on prestigious franchise like The Matrix and Star Wars.
Christopher Popp, Lakshya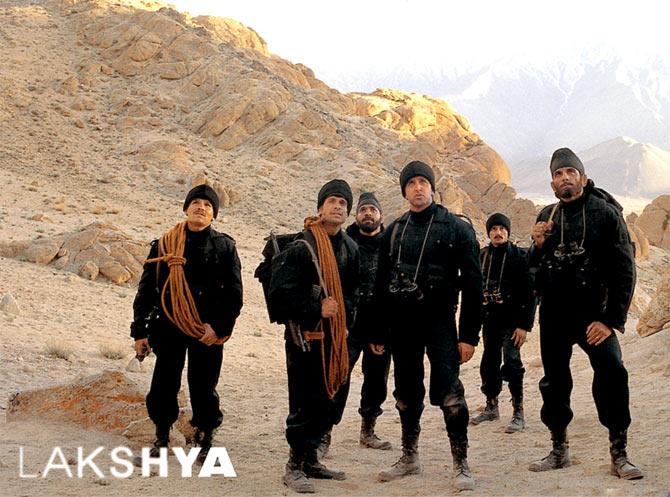 Image: Hrithik Roshan in Lakshya
With its wide-angle views and sharp frames, Farhan Akhtar's Lakshya is quite the visual treat.
Credit goes to DoP Christopher Popp who's also worked on the Steve Zahn indie Night Train and a segment of the Lifetime anthology, Five featuring shorts directed by the likes of Jennifer Aniston and Rosario Dawson.
Ken Diaz, Junoon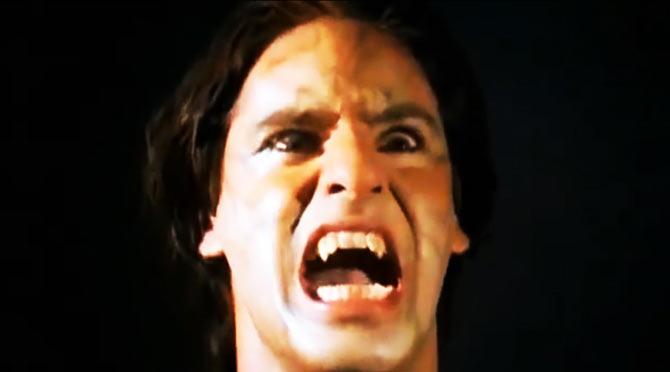 Image: Rahul Roy in Junoon
Mahesh Bhatt's forgettable rehash of Cat People stars Rahul Roy as a cursed man who transforms into a hungry tiger on every full moon's night.
Roy's make up, the transformation from man to beast, is done by Oscar-nominated Ken Diaz (for films like Dad and My Family) and credits include The Thing, Spaceballs, Heat and Indiana Jones and the Kingdom of the Crystal Skull.