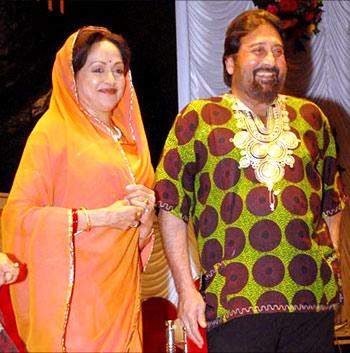 'It's sad when colleagues are gone. Now, hardly any of my co-stars are left.'
Hema Malini looks back at her friendship with Vinod Khanna.
"Just a few days ago, our last film together Ek Rani Aisi Bhi released. And now he's gone," Hema Malini says of her co-star Vinod Khanna.
They have worked in quite a few films in their long careers.
"Vinod Khanna was a fine gentleman, educated, articulate and well-informed. I had the opportunity to work with him in several capacities. He was the villain in my early film Patthar Aur Payal where Dharamji was the hero," she recalls.
"Then in Haath Ki Safaai, he was my co-star though not paired opposite me. Vinod was my hero in one of my favourite films, Aruna Raje's Rihaee, where he played my absentee husband," she adds.
She feels he could play every role convincingly.
"Though he was so urbane and sophisticated in real life, he looked every inch the rustic carpenter in Rihaee. He carried off the dhoti so well in the film," she says.
He was her co-star in another favourite films of hers, Chetan Anand's Kudrat.
"Rajesh Khanna was also there. Now, both the Khannas are gone. It makes me very sad," she says.
Gulzar's Meera, another favourite of hers, featured Khanna as her husband.
"I played Meerabai and he played Rana Bhojraj. He brought such calm tranquility and understanding to his role. He was like that in real life too," she says.
"On the sets, I would spend a lot of time discussing Rajneesh with him," she continues. "I wanted to understand what it was about that man which made Vinod leave his career and join him in Oregon for five years. He would patiently try to explain the philosophy of Rajneesh to me."
Do you know Hema Malini joined politics because of Vinod Khanna?
"I had no idea of politics and how it worked. One day, Vinod called to say, 'I am fighting elections from Gurdaspur. I want you to campaign for me.' I refused outright saying I knew nothing about politics or campaigning. He insisted," she says. "My mother said I should go since Vinod was such a dear co-star. That's how my career in politics started."
"It's sad when colleagues are gone. Now, hardly any of my co-stars are left."

Photograph: Rediff Archives