Looking at some of Bollywood's coldest film locations.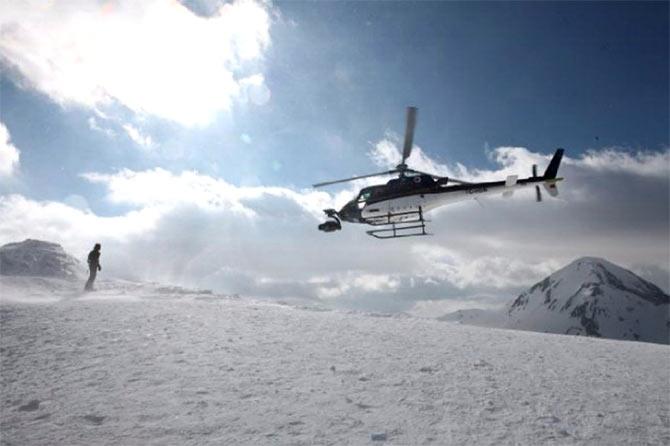 IMAGE: Ajay Devgn in Shivaay
Ajay Devgn is leaving no stone unturned to ensure his action extravaganza Shivaay is a visual treat.
Produced, directed and starring the 47-year-old, the Diwali release models itself on Lord Shiva's personality and peculiarities in a contemporary tone.
Still some months before his ambitious project hits the screens but Devgn's frequent updates on filming in difficult conditions has piqued the curiosity of his fans even more. The action hero fought hypothermia to shoot on the top of Bulgaria's Balkan mountains at a temperature as low as minus 19 degrees.
Here are some other occasions when Bollywood shot in extreme cold.
Dilwale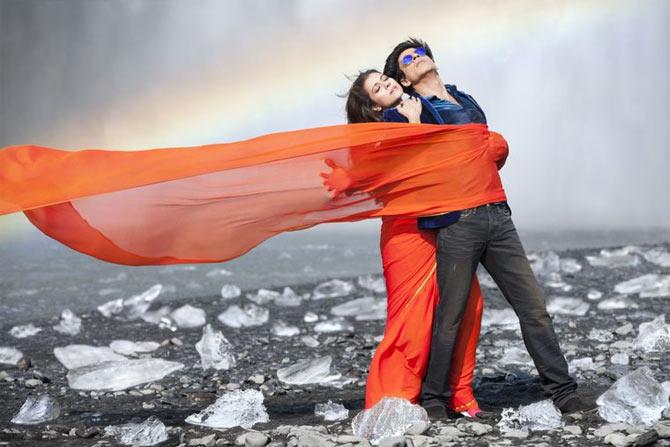 IMAGE: Kajol and Shah Rukh Khan in Dilwale.
Not too long ago, Devgn's better half Kajol shot in Iceland alongside Shah Rukh Khan for the Gerua number in Rohit Shetty's much-hyped film, Dilwale. Freezing temperatures are a given when you're in a country called Iceland.
Here's what the Fan star had to say about it to us, "Kajol is my friend and I don't need to praise her like this, but it takes guts to go there and shoot what she shot in that cold place. We've shot in a lot of cold places, Kajol and I. We're champions of the cold. But the cold there was too much."
Highway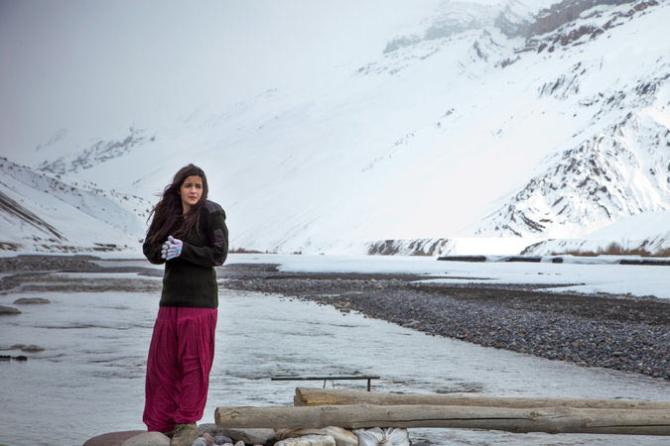 IMAGE: Alia Bhatt in Highway.
In Imtiaz Ali's grim road trip, one sees ample glimpses of incredible, untouched Northern India.
Alia Bhatt recalls the hardships they faced while filming scenes in Kaza, Himachal Pradesh. "It snowing heavily, there was no electricity, no hot water and none of the hotels were open."
Haider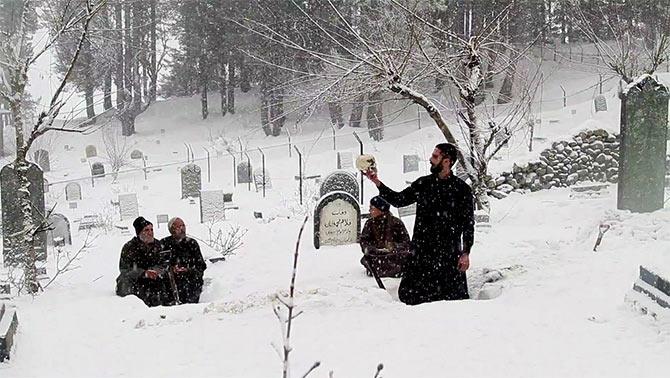 IMAGE: Shahid Kapoor in Haider.
Vishal Bhardwaj's critically acclaimed adaptation of William Shakespeare's Hamlet is predominantly shot in Kashmir during snow season.
Shooting the striking Bismil song in such conditions was especially challenging for its titular hero Shahid Kapoor.
"The temperature was -15 and -17 degrees Celsius. While dancing, after every two steps, everybody had to sit down. The air is so thin and we were not used to dancing in that kind of weather. We were all wearing five layers of clothing and it was difficult to move with that weight," he remembers.
Pukar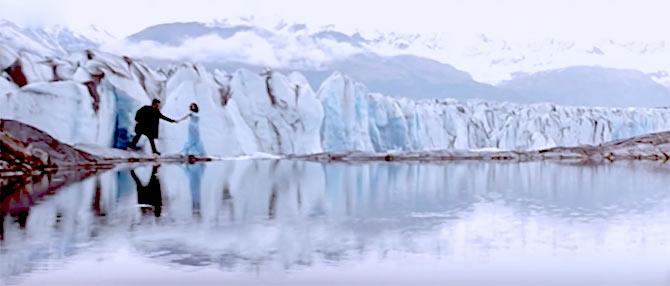 IMAGE: Anil Kapoor and Madhuri Dixit in Pukar
One of the biggest highlights of Rajkumar Santoshi's Pukar is a song sequence picturised on its leads against the majestic glaciers of Alaska -- the first Hindi film to do so.
While Anil Kapoor is sufficiently bundled up in woolen-wear, Madhuri Dixit braves the chills in an icy blue chiffon sari lip-syncing to Kismat Se Hum.
Lucky: No Time For Love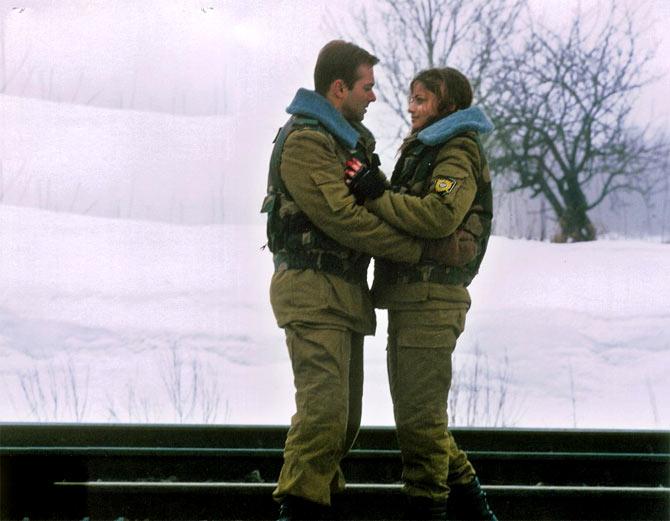 IMAGE: Salman Khan and Sneha Ullal in Lucky: No Time For Love.
Despite his dislike for winters, Salman Khan puts on his tough guy front to brace the infamous Russian cold in snow-covered St Petersburg for Lucky: No Time For Love.
The love story paired him opposite a 22-years younger Sneha Ullal who plays a schoolgirl in the movie.
The Hero: Love Story of a Spy

IMAGE: Sunny Deol in The Hero: Love Story of a Spy
Director Anil Sharma's fetish for snow-based action is well documented in the trippy Tahalka.
In The Hero, he tries to keep it classy for his stunts-filled climax in Switzerland's Jungfraujoch, at minus 16 degrees weather, some 3,454 metres above sea level with a snowmobile riding Sunny Deol to the rescue.
Off screen, the Ghayal star admits, "Every five minutes, we had to be transported to rooms with heaters. We just froze -- it was that cold."
Fanaa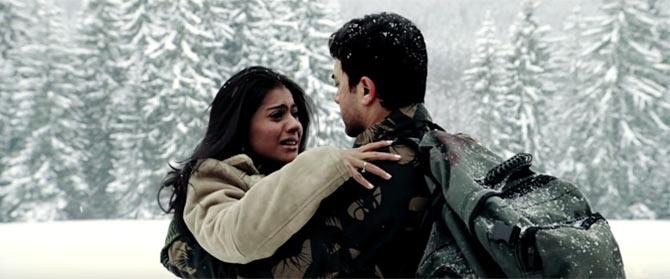 IMAGE: Kajol and Aamir Khan in Fanaa.
Although the script of Fanaa is based in Kashmir, the political climate of the troubled region forced the makers to film in Poland owing to similar snow-packed scenery.
It wasn't a walk in the park shooting in such white sleet for two of Bollywood's most dedicated actors.
Jab We Met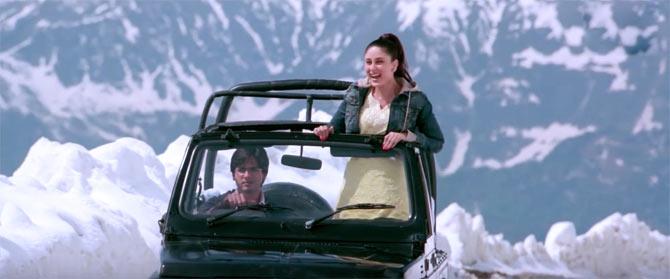 IMAGE: Shahid Kapoor and Kareena Kapoor in Jab We Met.
Shahid Kapoor and Kareena Kapoor Khan had the time of their lives taking off to various locations from Ratlam to Bhatinda in the frothy Jab We Met.
The duo's enthusiasm stays intact while zooming through the subzero climate of the frosty and fatally dangerous Rohtang Pass.
Sanam Re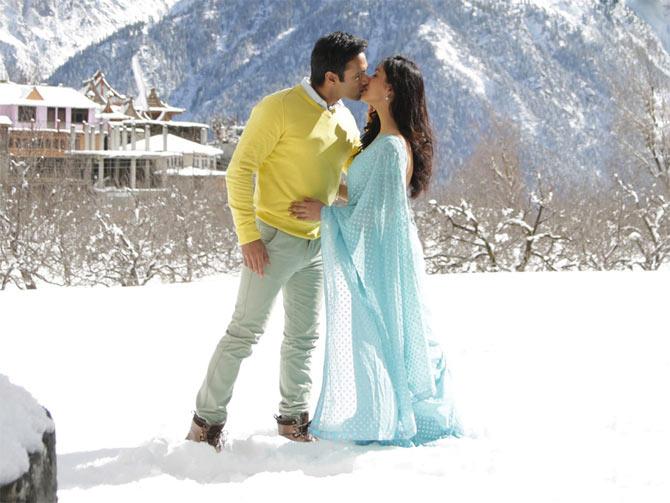 IMAGE: Pulkit Samrat and Yami Gautam in Sanam Re.
It snows non-stop in Divya Khosla Kumar's eminently forgettable mush, Sanam Re. While the image of Yami Gautam and Pulkit Samrat cozying up in white fluff may seem post-card perfect it left its heroine reeling under the weather.
Here's one amusing thing that happened on the sets, says Yami. "When I said 'hi' to Pulkit the first time, I was under four layers of blankets, only my hand came out."
Lakshya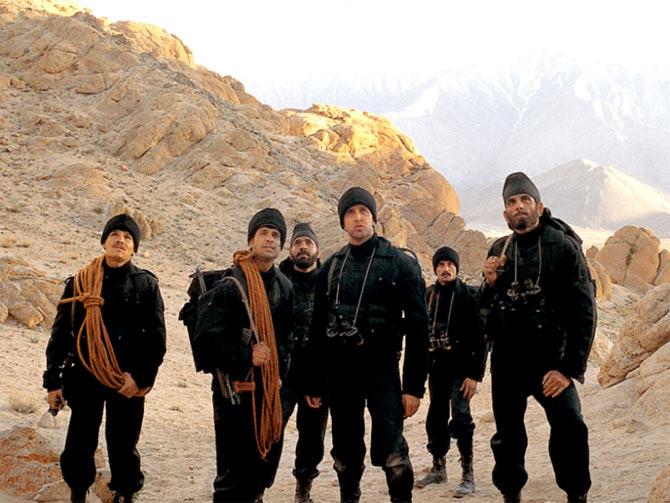 IMAGE: Hrithik Roshan and the Lakshya team.
From aimless slacker to focused armyman, Hrithik Roshan comes of age in true cinematic style in Farhan Akhtar's Lakshya. Part of his wartime accomplishment is filmed at Ladakh's high altitudes and testing terrains, which was harder than it looks.
As it director reveals, "Everybody at some point must have felt ill. At one point, I was completely dehydrated and had to be hospitalised. I am sure the altitude affected everyone."
LoC-Kargil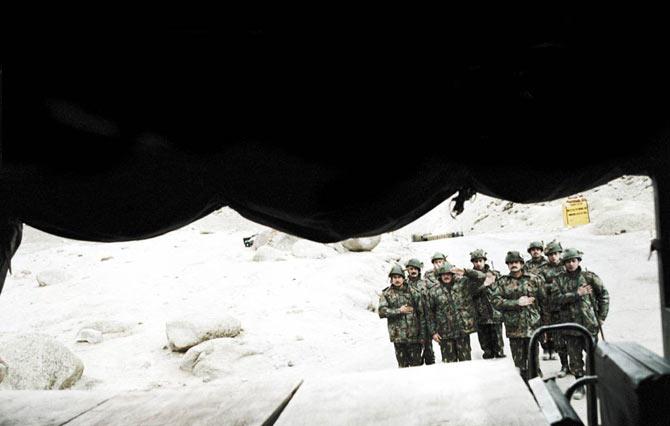 IMAGE: A scene from LoC-Kargil
J P Dutta's epic multistarrer LoC-Kargil, based on the 1999 Kargil war, didn't quite repeat the magic of his National-Award winning Border but it wasn't an easy film to make.
In a pre-release interview to Rediff.com, Dutta told us how, "when we first went (to Ladakh) in March, it was snowbound when we landed at Leh airport. The locals said they had not seen such heavy snowfall in 15 years. Nights would drop down to -20 Celsius and the days were -15 Celsius to -10 Celsius. They said it was the worst winter.
"I panicked. I didn't know how we would shoot. Would my boys be able to take it? I sat them down and told them we would go back because we were not prepared for this.
"Everyone turned round and told me, 'No way, Sir. We have come here. We will finish our work and go.' They stuck it out. We stayed for 25 days in the first schedule."