Among many things that the Big B's onscreen credentials remains unrivalled for, dying is right at the top!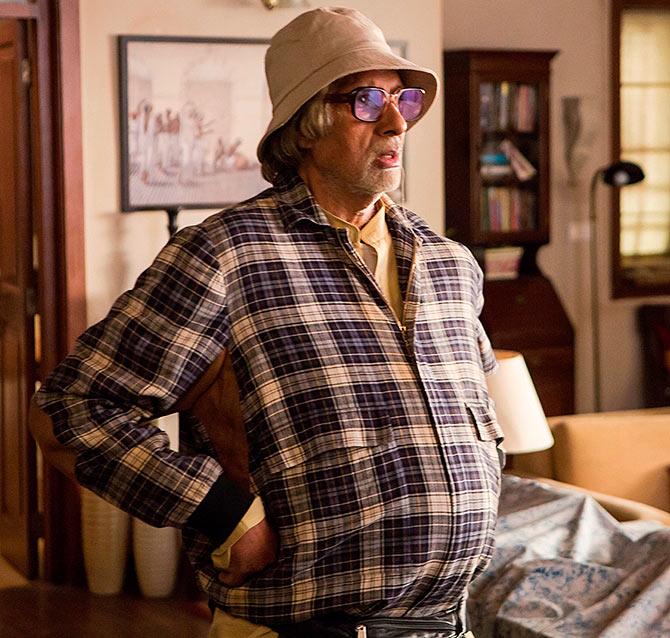 Image: Amitabh Bachchan makes the famous 'motion se emotion juda hai' arguement in Piku
Amitabh Bachchan not only recites Maut to ek kavita hai in an immortal moment of Hrishikesh Mukherjee's Anand but also conveys it in his poetic death scenes on screen.

In the recently released Piku, his character Bhashkor Banerjee, his name in Anand too, suffers from constant constipation and yearns for a perfect bowel movement.
Eventually, he indulges in the most carefree day of his life -- eating as he pleases, cycling all around Kolkata city -- and is rewarded with the most satisfying release in the lavatory.

*Spoiler alert*

He passes away in sweet slumber upholding his belief -- motion se hi emotion.
Here's a look at some of the megastar's most unforgettable death scenes on celluloid.

Which of these scenes left you feeling bereft? VOTE at the end!
Sholay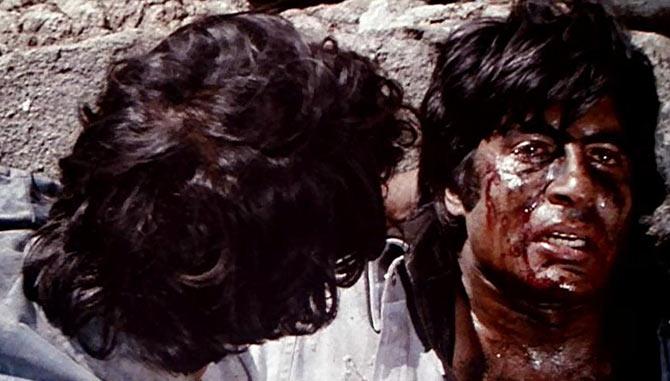 Image: Amitabh Bachchan's Jai dies wistfully in the arms of his best bud Veeru (Dharmendra) in Sholay.
Sholay wouldn't be the same movie without Jai breathing his last in Veeru's arms.
The moment is tailor-made for AB to walk away with complete audience sympathy.

In a bid to save his friends (Dharmendra and Hema Malini), he tosses his deceiving coin and sends them away, to single-handedly take on Gabbar's men.
Obviously, he's fatally wounded in the process.

What pinches most is the looming regret in his words, "Yeh kahani bhi adhuri reh gayi," as he catches one final glimpse of his pristine affection in Jaya Bachchan's Radha.

Deewar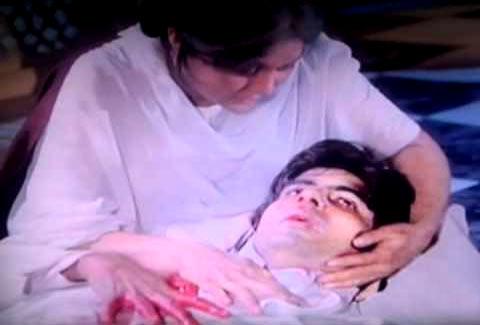 Image: Deewar's Vijay finds solace in the arms of his estranged mother (Nirupa Roy).
In Yash Chopra's Deewar, Bachchan's anti-hero, given the history of wrongs meted out at him, feels justified in his actions.
And all those Salim-Javed lines come in handy as he explodes in front of the screen and his family to explain them.

Though they refuse to empathise or endorse him, it's Big B's Vijay who gets all the support and love from the audience.
That moment when he struggles to lay his hands on his lucky 786 badge and fails, that gunshot fired from brother Shashi Kapoor's revolver, a dramatic appeal in the temple wherein a bleeding Bachchan falls in his mother's lap and cries, "Zindagi se ladte ladte bahut thak gaya hoon, Maa. Mujhe neend aa rahi hai, Maa."
Muqaddar Ka Sikander
Image: The ill-fated Sikander breathes his last at his friend's wedding in Muqaddar Ka Sikander.
Losing the girl he loves all through childhood to his best friend is not the only tragedy in the life of Sikander, played by Bachchan.

He also loses the girl who sacrifices her life in order to save him from a brutal admirer.
A nasty duel between Amjad Khan and AB wounds both irreversibly.
Still, this is Bollywood's mightiest hero who makes it to his best friend's wedding and dies slowly, painfully but not before requesting for a sad version of the title song.
Shakti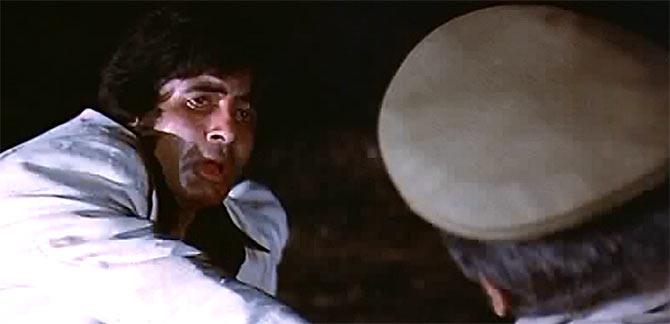 Image: The rebellious Vijay is gunned down by his upright father (Dilip Kumar) in Shakti.
All through Ramesh Sippy's Shakti, Dilip Kumar and Bachchan's estranged father-son duo engage in a war of words.
It gets to a point when his dutiful cop dad is forced to shoot his rebellious son down for his criminal ways.

With just a few seconds to spare, the duo drop their cold reserve and tearfully reunite, burying past grudges and grievances.
But it's Bachchan's heartfelt, "Yeh toh hona hi tha" speech following a elaborate chase at the airport that really tugs at one's heartstrings.
Aakhree Raasta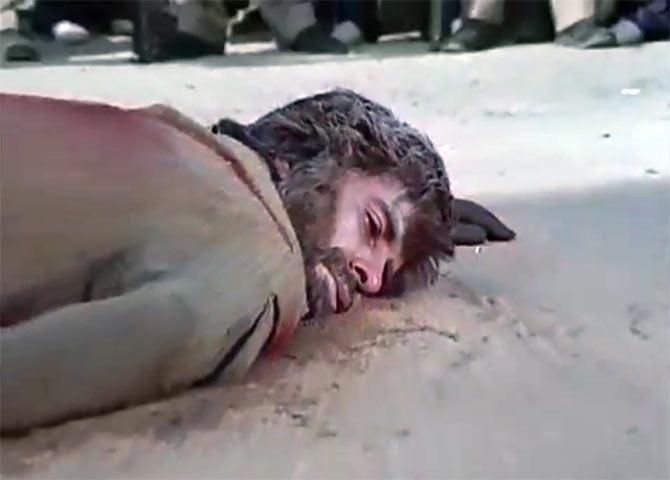 Image: Bachchan's ageing avenger settles all scores before dying in Akhree Raasta.
An elderly AB goes on an avenging spree in Aakhree Raasta while his police officer son is hot on his trail.
Even though it's easy to guess the older one's fate early on, it's quite exciting to witness how it pans out.
Like before, his own kin once again shoots him in an underground sewer.

Only, he boldly emerges through a manhole and finishes off his one final target before passing away like a true blue Bollywood hero, prompting his duty-bound son to break into applause.
Main Azaad Hoon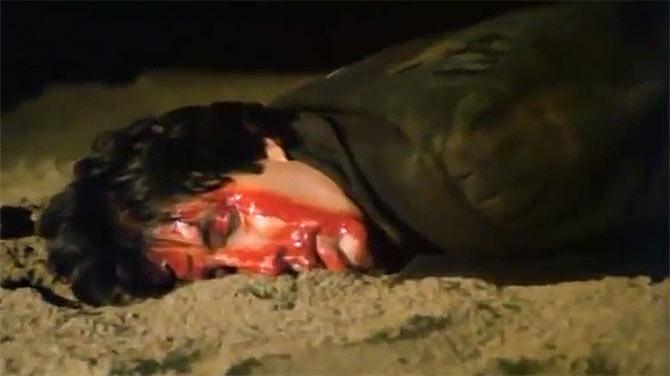 Image: AB's Azaad puts his life on the line as he fights the good fight in Main Azaad Hoon.
An adaptation of Frank Capra's Meet John Doe, Amitabh Bachchan pitches in as the fictitious hero Azaad in Main Azaad Hoon.
What starts out accidentally soon becomes an ideal as AB's common man finds himself more and more blending in the sensibility and revolutions of Azaad to the extent they become one.
And to convince everyone of the same, he unexpectedly leaps off a 36-storeyed building, leaving the folk inside the frame and outside it shell-shocked.

Later, a video clip explains his extreme actions -- Kisi ek insaan ke marne se Azaad nahi mar sakta.
Agneepath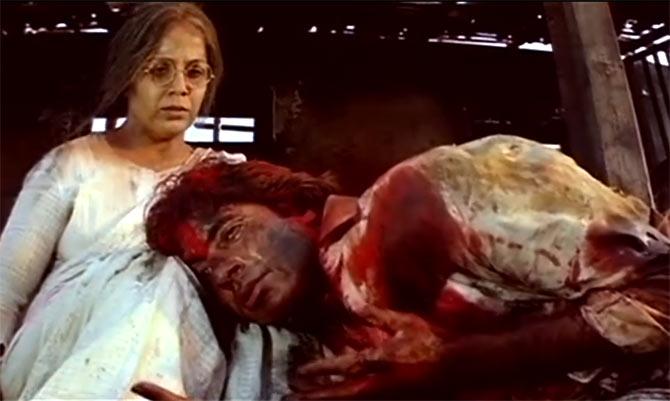 Image: The dying Vijay seeks final redemption in his mother's (Rohini Hattangadi) lap in Agneepath.
The road to Mandwa is dangerous and bloody but AB is anxious to reclaim it by hook or crook in Mukul Anand's Agneepath.

His pursuit doesn't meet the approval of his upright mother (Rohini Hattangadi) and she berates him at every meeting.
In its extensive final scene, however, the twain walks towards their old home with a blood-soaked Big B reciting the Agneepath poem he learned from his schoolteacher father.
There's a lot on the man's mind and his grand attempts to evoke pity, while resting his head on her lap, do not go unnoticed by his tongue-tied mother or the audience.