What is Bollywood up to today?
Subhash K Jha finds out...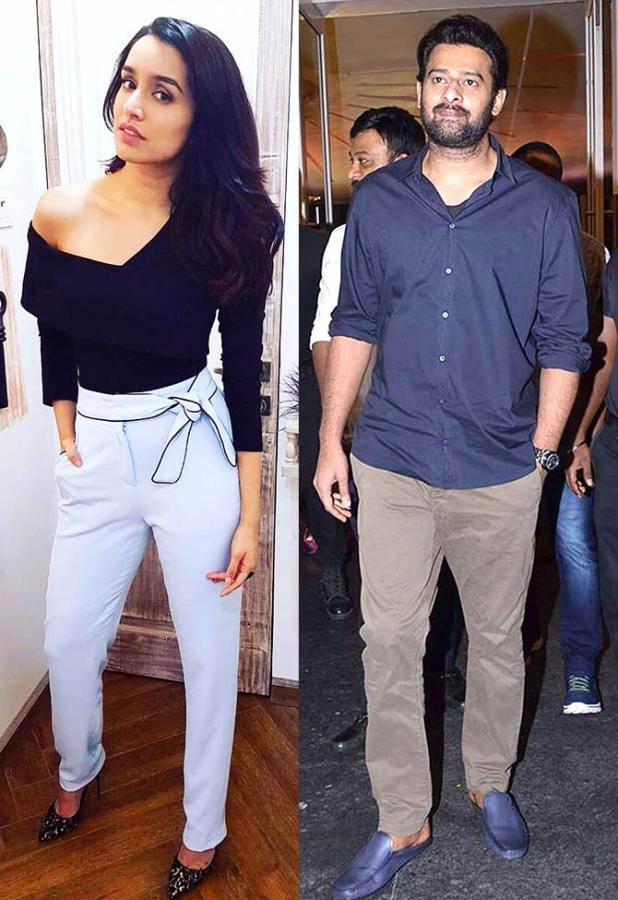 Baahubali star Prabhas is brushing up on the rashtra bhasha for the Hindi version of his Telugu film Saaho.
According to a source from the film's core crew, Prabhas has cut a deal with co-star Shraddha Kapoor.
SK will help Prabhas with his Hindi. In turn, he will help her with Telugu for the Telugu version.
"It isn't as though there won't be an official language coach on the sets, there will be," confides the source.
"Both Prabhas and Shraddha will have a professional tutor to help them with the language, but Prabhas and Shraddha will converse with each other in Hindi or Telugu depending on which language they are shooting in. It is a pact between them."
While Prabhas' Hindi is expected to be retained in the Hindi version of Saaho, Shraddha's Telugu will eventually be dubbed by a professional dubbing artiste.
"Audiences in Andhra and Telangana," the source explains, "are very particular about the diction in the spoken Telugu."
***
Look who visited Lata Didi!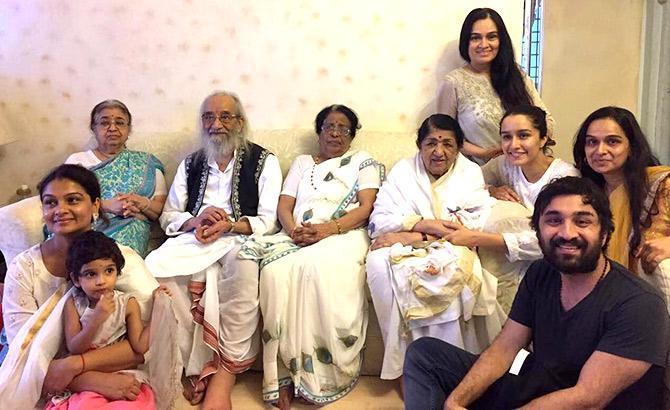 Every year without without fail, Lata Mangeshkar -- at her Peddar Road, south Mumbai, home -- is visited by one group of guests: The entire team of the long-running television show, CID.
CID is Lataji's favourite television show. Every year during this festive season she welcomes its cast and crew for prayers and the delicious mirchi pakoda served at the Mangeshkar home.
Says Lataji, "This year too, the CID team came, like they do every year. We look forward to having them home each year. They are most welcome."
"I am an avid CID fan and look forward to having them over so I can ask them what will happen on the show in the coming weeks," the legendary singer, who turns 88 on September 28, added.
This year Lataji also had a surprise visit from the Kolhapure clan.
Shraddha Kapoor's granddad Pandharinath Kolhapure is Lataji's cousin for those who don't know the family connection.
Says Lataji fondly, "They all came. Shraddha, her mother Shivangi and brother Siddhant. Shraddha's aunts Padmini and Tejaswini. It was such a pleasure to meet them."
"I've known Shraddha from the time she was a baby. I am glad she has not changed one bit after becoming a star. She is still a homely, warm, affectionate, caring girl. I've seen her films. She's a natural."
"Mazey ki baat yeh hai ki woh gaati bhi hai aur sur mein (It's wonderful to know that she sings, and in tune)," The One Who Should Know declared about her grand niece.
Ganesh Chaturthi this year at the Mangeshkars was subdued otherwise.
Says Lataji, "We lost a very bright and good doctor ((Dr Deepak Amrapurkar who died in a freak accident during the August 29, 2017 deluge in Mumbai)."
"He was known to our family. This goodhearted doctor's sudden death in the waterlogging stunned us. We were in no mood for festivities."
She recalled how in the July 26, 2005 horrific deluge in Mumbai her only brother Hridaynath Mangeshkar was stuck in the waterlogging.
"The water had entered the car and was increasing. He wouldn't be alive today if my driver Mahesh had not gone on a motocycle and rescued him."
"Nature is trying to warn us and we better listen."
***
'The large organ above the waist is what women find appealing'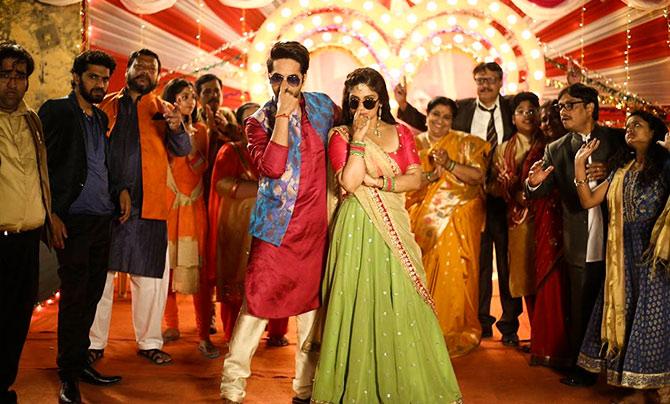 Shubh Mangal Saavdhan, the film on erectile dysfunction, has opened to glowing reviews. And its director R S Prasanna can't stop heaving sighs of relief.
"We were very sure we weren't making a sleazy nudge-nudge-wink-wink film about a man who can't get it up. It happens to so many of us, but no one talks about, not in real life not even in the movies," says Prasanna as he recalls shooting the idea to his wife.
"I asked her what do women find hot in men. She made me realise it is more important for a man to stand up for his woman than to stand erect in bed."
"Of course, sex is important. But what really turns on women is to not an over-sized organ below the waist, but the organ above the waist," the director says.
"A large heart in the right place is worth infinitely more for a woman than a large reproductive organ," Prasanna adds.
Luckily for him, Ayushmann Khurrana agreed with him.
"I had no problem convincing him to do the film. He was my first choice. He had earlier done Vicky Donor. So he wasn't squeamish about addressing sexual themes."
"The redefining of the screen hero comes naturally to him. He knew he wasn't playing the typical hero. He wasn't afraid to show himself as vulnerable."
Shubh Mangal Saavdhan was first made in Tamil as Kalyana Samaya Sadham. But the two versions of the same theme are completely different.
"I made sure our writer Hitesh Kewalya didn't watch the original Tamil film. I just gave him the essence of the original. You see, when I made the Tamil film I wanted to do a story set during a big Indian wedding. I wanted to do a crisis that the couple faces as the celebrations are on."
"While the Tamil version took us 45 days to write, the Hindi version took 8 months. I wanted Shubh Mangal Saavdhan to be bigger on every level than the original."
How did the idea of a film on erectile dysfunction come to Prasanna?
"We normally don't address sex-related problems for men. I mean, there isn't even a medical term for men with sexual ailments whereas for women we have gynaecology. Why are we so coy about men with sexual malfunction?"
"If a man can't get it up, why is that seen as a topic to be hushed up?"
Prasanna hopes Shubh Mangal Saavdhan opens up a dialogue on male sexual ailments.
"We wanted to make a film about a couple who can't have sex, but we didn't want it to be sleazy. My producer Aanand Sir (L Rai) believed in what we were doing."
"He told me, 'Beta, you make the film that you want to.' He threw open the doors of his home for me, made me feel comfortable."
Prasanna is now writing another film for Aanand L Rai. The young director won't tell me what it is about except that it will again be issue-based.
But he reveals this: "It won't be about sex and it won't be set during a wedding."