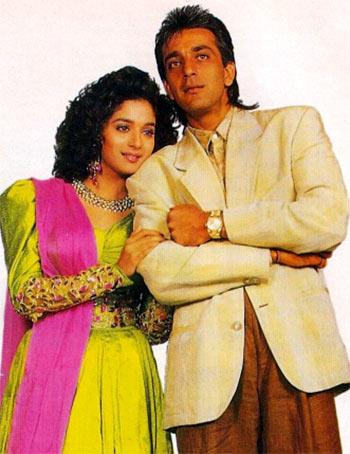 Rajkumar Hirani has decided there won't be a mention of Madhuri.
Subhash K Jha tells us why.
So you thought it was going to be Ranbir Kapoor all the way in Rajkumar Hirani's Sanjay Dutt biopic.
Wrong! There will be plenty of video with the real-life Sanjay Dutt in the film.
Sources close to the filmmakers reveal that Hirani has obtained extensive footage from the news television channels and other sources showing Dutt's arrest and other visuals from his controversial life.
"They are using news reports and home videos of Sanju's childhood that Sanjay's parents Nargis Dutt and Sunil Dutt shot" says a source.
And here is one thing that you won't see in the biopic: Madhuri Dixit.
There won't be any reference to the alleged affair between Dutt and Dixit, which she apparently called off after his arrest in 1993.
"Hirani has decided there will no mention of Madhuri Dixit. Firstly, because she is married and not likely to react kindly to her name being brought up in an unflattering light," says the source.
"Secondly, her presence adds nothing to the story. Why rake up episodes that do not add to to the plot?" adds the source.
Dutt hid "nothing" from Hirani, the source points out.
"He opened up his entire life to Raju. It was up to Raju what he wanted and didn't want in the biopic."
Hirani gave Dutt two of the biggest hits in his career in the Munnabhai films.