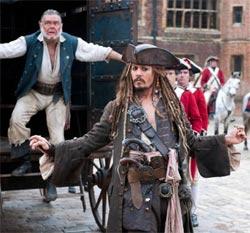 Pirates of the Caribbean: On Stranger Tides is brilliant on DVD and Blu-ray. Here's why.
The secret of the success of any phenomenally popular film lies in its repeat value.
Pirates of the Caribbean: On Stranger Tides
grossed over $1 billion worldwide, thumbing its nose at the critics who had found it a tame adventure.
And now, it could become one of the favourite films of the year on DVD and Blu-ray.
There is entertainment of high value here, and you can have hours of fun watching the film at home, though keeping away kids (below 10) would be a good idea considering its violence and dark atmosphere.
Johnny Depp is back in the film as Captain Jack Sparrow unsure what the mysterious woman (Penelope Cruz), who is entering his life again, is up to. He is not sure if it's love, or if she's using him to find the fabled Fountain of Youth. Forced aboard the ship of the most feared pirate ever, Jack doesn't know who to fear more -- Blackbeard (Ian McShane) or the mysterious and sexy woman. A story of friendships, betrayals and doubts that corrode the soul, it seldom fails to entertain. In the final reckoning, it is a life affirming film.
If any one calls the film a mess, tell them it is a glorious mess and such rousing entertainment that it has become one of the all-time favourite entertainments across the globe. Or better still, invite him or her to see the film in your home.
The hi-def adventure directed by Rob Marshall is offering a Limited Edition 5-Disc Combo Pack (1-Disc Blu-ray 3D + 2-Disc Blu-ray + 1-Disc DVD + 1-Disc Digital Copy), a 2-Disc Combo Pack (1-Disc Blu-ray + 1-Disc DVD) and for the really passionate, a 15-Disc Four Movie Collection. Additionally, Disney is also offering the film in 3D and High-Definition Movie Download.
The price varies from $39.99 to $169.99 for the Four Movie Collection. If you want to give a fabulous Christmas gift, get hold of the latter which has 2-Disc Blu-ray and 1-Disc Digital Copy of each of the four films starting with The Curse of the Black Pearl. Bonuses include the short film Wedlocked, offered for the first time, and a replica of Pirate's Chest, a collectible map and skull disc case.
To those who are not equipped to see the Blu-ray versions, there is also the basic DVD packet. These prices do not factor in various store bargains and the fact that Amazon is selling many versions for about 25 per cent off the marked price.
'Wedlocked was a labour of love, a short film I directed especially for super-fans of the Pirates movies,' says its director James Ward Byrkit. 'Knowing we had a small budget and borrowed sets, Terry Rossio and Ted Elliott wrote a script for me that recalled the Pirates ride more than the movies. Slappers Vanessa Branch and Lauren Maher turned in leading lady performances that should get them their own TV spinoff.'
Bloopers are always fun and here, you watch seasoned artists flubbing their lines leading to many minutes of hilarity.
I guess the most popular of the combos would be the 2-Disc Combo Pack which comes with Bloopers of the Caribbean and audio commentary by director Marshall.
In the intimate home milieu, you still get to feel the pulsating adventure in the film while getting to appreciate anew some of its passionate and intense scenes involving Depp and Penelope Cruz. If you missed, while watching the giddy entertainment in the theatres, the fine contributions of Oscar winner Geoffrey Rush and the awesomely talented Ian McShane (Deadwood, TV), you can do so now. Character artists like McShane make the film livelier with their nuanced performances. Who says in a film with full CG work, there is no room for some fine acting?
It is not that all critics disliked the film. A T Hurely of Amazon.com is one of those who had a jolly good time with it and is now recommending it to a new audience and the faithful.
'The writing is crisp, the action amazing -- and there's the addition of a foe finally the match of Captain Jack: Ian McShane as the dreaded, and dreadful, Blackbeard,' he writes. 'McShane seems to be having as much fun as Depp, and that's saying something--channelling his dastardly character on Deadwood but keeping his epithets rated PG-13. Adding to the festivities is the winsome Penelope Cruz, as Angelica, a woman with a past entwined with Jack Sparrow's. Angelica now might be a fearsome pirate herself -- or maybe just a cunning con artist tugging at Sparrow's heartstrings.'
There are a handful of high value Blu-ray discs including The Lion King dominating the market. Add to that small but impressive list, On Stranger Tides.