'Our aim is not to earn money through the film.'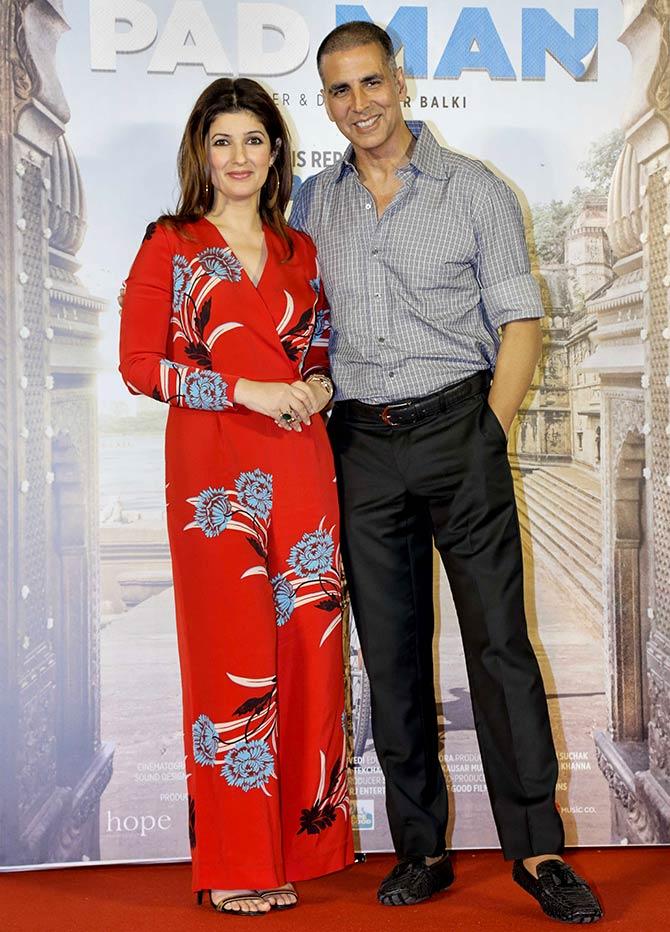 IMAGE: Twinkle Khanna co-produces Akshay Kumar's Padman, which is based on a story, The Legend of Laxmi Prasad. Photograph: Pradeep Bandekar
With Padman -- which is about a man who develops low cost sanitary pads -- Akshay Kumar says they are trying to reach out to a wider audience without looking at the commercial aspects of the movie.
"We had shown Toilet: Ek Prem Katha on Doordarshan, the government is also doing a good job by taking the film on a pen-drive and showing it in villages so that more people can see the film and understand it," Akshay adds.
"We will do something similar for this film (Padman)," Akshay tells reporters at the song launch of Padman.
"Our aim is not to earn money through the film, but it should reach more people, more places where it is needed. We will also take the help of the government."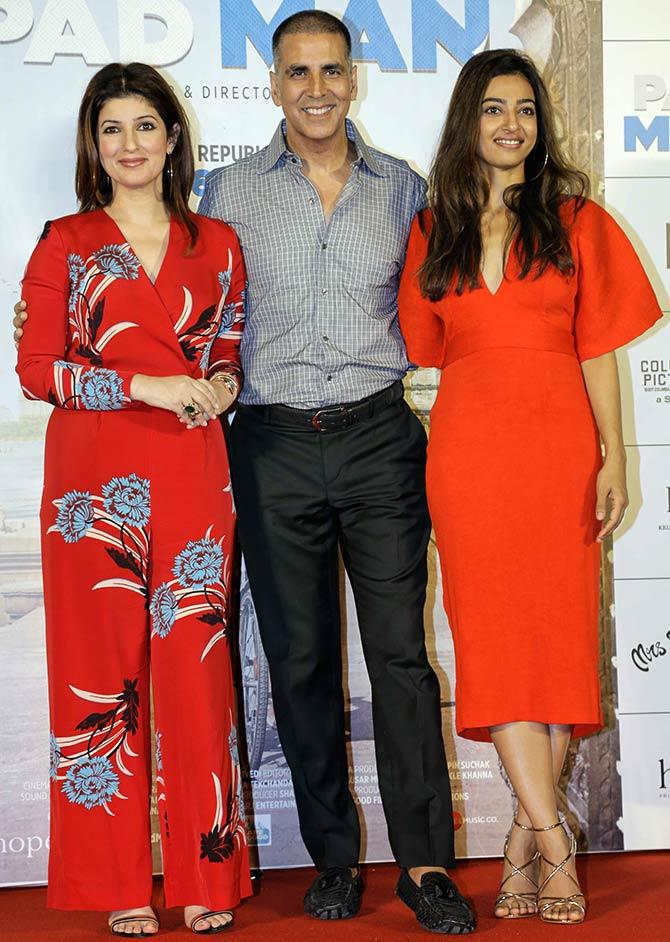 IMAGE: Radhika Apte plays the female lead in Padman. Photograph: Pradeep Bandekar
Twinkle Khanna, Akshay's wife and one of the film's producers, says the team has gotten in touch with various ministries about showing the film in schools in smaller towns and cities, to make more people aware about menstrual hygiene.
"We would want the film to be shown to school girls and principals," says the lady better known these days to the twitterati as Ms FunnyBones, "so it penetrates where it has to."
"At least we are hoping a conversation starts where the same girls who can't afford a sanitary pad would say to their parents that we don't need fairness creams, we need sanitary pads so that we can go to schools," adds Twinkle who turns 45 on December 29.
As the song Aaj Se Teri featuring Akshay and his on-screen wife Radhika Apte was screened at the media event, Akshay acknowledges it is a deliberate move to work on films like Toilet: Ek Prem Katha and Padman.
"I do this (referring to social-real issue films) but at the same time I am also enjoying doing commercial cinema. I am also doing a film like Houseful," Akshay adds.
"I have done all kinds of film, I love doing films. This (social issue) kind of cinema attracts me, it gives me satisfaction as an actor and as a human being."
Akshay is happy that people -- especially men -- today openly started talk about sanitary pads, and hopes that post Padman's release on January 26 things will get better.
"Three, four days back, I was sitting in a vanity van and while I was coming out, I heard seven, eight guys talking about sanitary pads," the star says, confessing, "I was amazed. I am hopeful people will understand the importance of this subject."
He hopes Padman will help stop superstition like not touching pickle or entering the kitchen during one's period.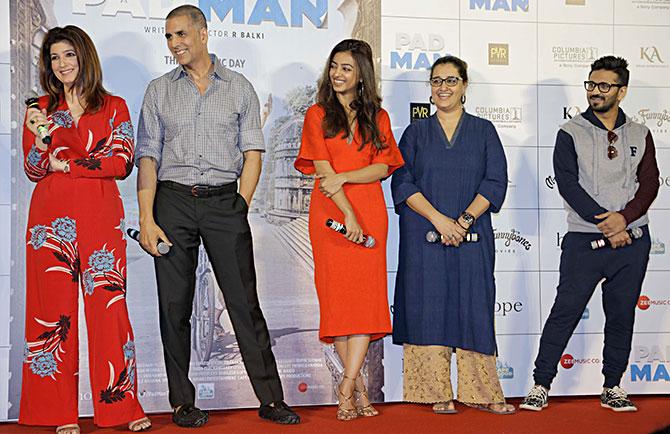 IMAGE: Lyricist Kausar Munir and composer Amit Trivedi at the event. Photograph: Pradeep Bandekar
R Balki directs Padman which also stars Sonam Kapoor in a pivotal role.
Meanwhile, Microsoft Co-founder Bill Gates praised Toilet: Ek Prem Katha for promoting sanitation.
"I was on stage when I saw the name Bill Gates. It is amazing. I feel more change... improvement is needed," says Akshay. "A year back, there were 54 per cent cases of open defecation and now it has come down to 34 per cent."
"With this subject (menstrual hygiene) we got to know that 82 per cent women don't use sanitary pads and with the help of everyone including the government, we hope the numbers come down."