'Saaho is one of the biggest films I have worked in.'
'Recently, we shot one of the biggest action sequences you will see in Indian cinema.'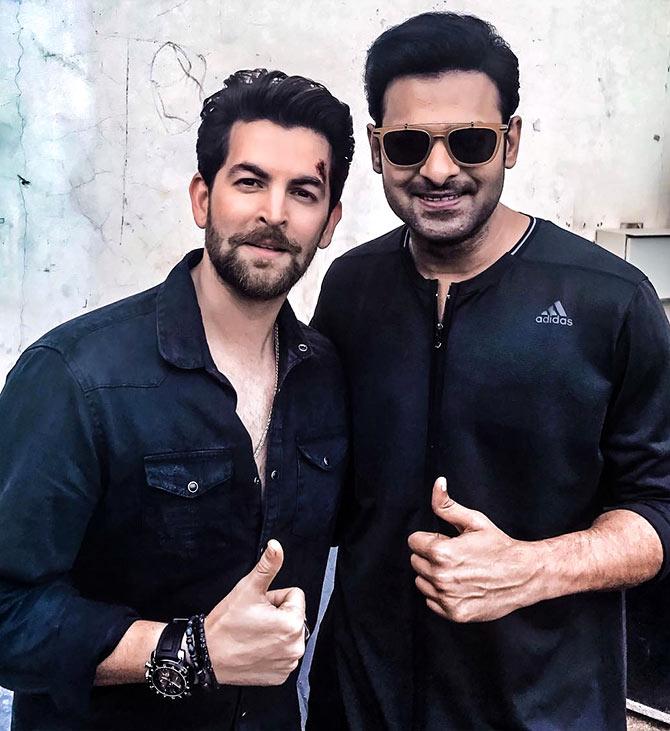 Neil Nitin Mukesh's new film Dassehra -- which has been in the making since 2013 -- alas! sank without a trace at the box office.
But Neil has already moved on, shooting for Saaho, with 'Baahubali' Prabhas.
"Saaho is made in three languages -- Hindi, Telugu and Tamil. That's why it is taking time. We are shooting all three films simultaneously," Neil tells Patcy N/Rediff.com.
Dassehra was much delayed.
It takes about a year to make a film. God forbid, if it does not release, then people forget that film and all the hard work goes waste.
If a film is complete, it should release on the big screen.
If you start a film, you should complete it and release it.
I am grateful to Aparnaji (Hoshing, producer) that she released the film -- very few people would do that.
My first film Johnny Gaddaar was stuck for two years.
A lot of people had given up hope and thought it would never release. I know how hard we worked on Johnny Gaddaar.
The film released and I am in front of you today because of that one film.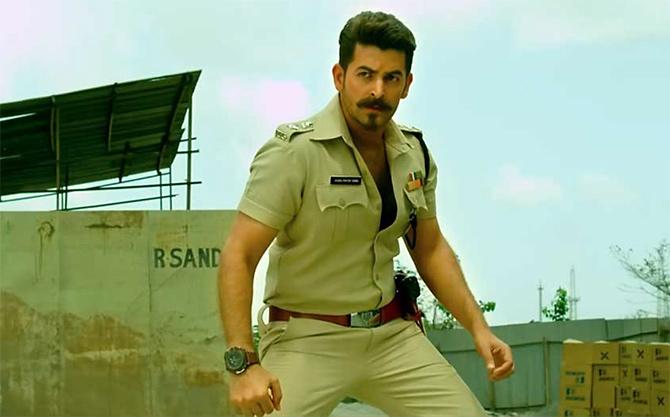 Why didn't Dassehra release during Dussehra?
The story of the film is placed around Dussehra; it is a political thriller.
I play a cop named Rudra Pratap Singh. He decides to end evil in society, so the film's title is symbolic.
Dussehra is about how Ram destroyed Ravaan and cut off his head. Not that I am depicting Lord Ram -- there is nothing religious in the film -- but it is symbolic that a man, who is an encounter specialist, is so cold blooded and yet, a loving and caring husband.
The film is also about women empowerment.
When we started the film, all these topics (#MeToo) that we have been discussing weren't there.
So many incidents have come out, that's why I am happy the film has seen the light of day -- it is a topic that needs to be discussed and put to rest.
What message are you sending out?
When you portray a cop in a thriller, the character needs to be mature.
When I did this role, I did not have a daughter and was not married.
I was much younger.
I wasn't mature enough to understand what it actually meant to be a husband or what it meant to be a father, what it meant to go out there and fight for them.
But the way the film has been written, I did not need to do much homework on it.
This is the first time I play a cop.
In India, if you are playing a cop, it means you are playing a superhero.
Keeping our current superstars -- who have portrayed cops in films -- like Salmanbhai (Khan) and Ajay (Devgn) sir, we have made sure that we live up to a certain amount of action that they have followed in their films, Dabangg and Singham. But the characterisation is different.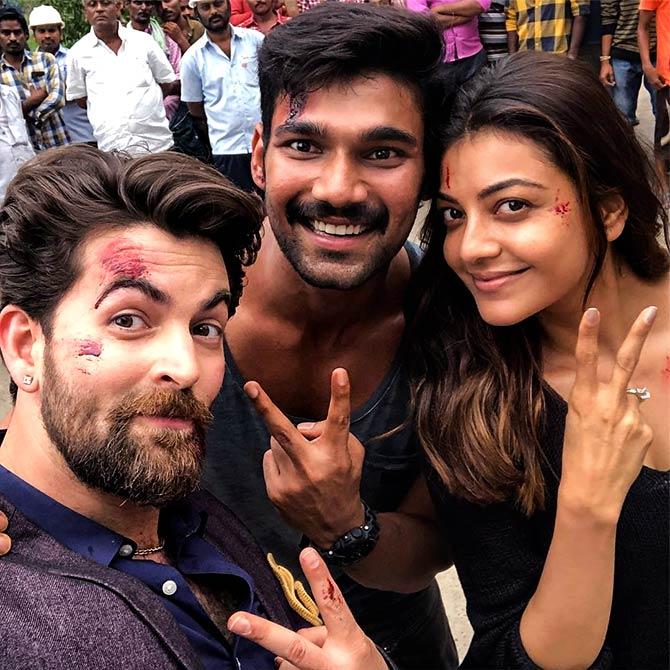 How did you prepare for your cop character?
I did not meet any cop.
It was important to understand the script. Once I understood that, I got the character automatically.
I understood that it has two sides -- one is intense and cold-hearted and the other is a loving husband. There is so much conflict of personality; I had to handle it delicately and balance it.
Then we worked on the look. Since I was very young and my character is shown wearing a uniform, it should not look awkward. So we worked on the body, then decided to keep a moustache to look mature.
Your daughter Nurvi was born in September.
I have been working night shifts for the last one month.
Nurvi is a month and a few days old. My wife is a hands-on mother.
Nurvi's sleep cycle is not set, so she is awake at night.
Since I was not here (Neil was shooting for his brother Nanam's directorial debut, Bypass Road), I had no idea.
I came back a couple of days ago, and I am still awake at nights because of Nurvi's sleep pattern.
But it's a great experience. She's a delight in our lives!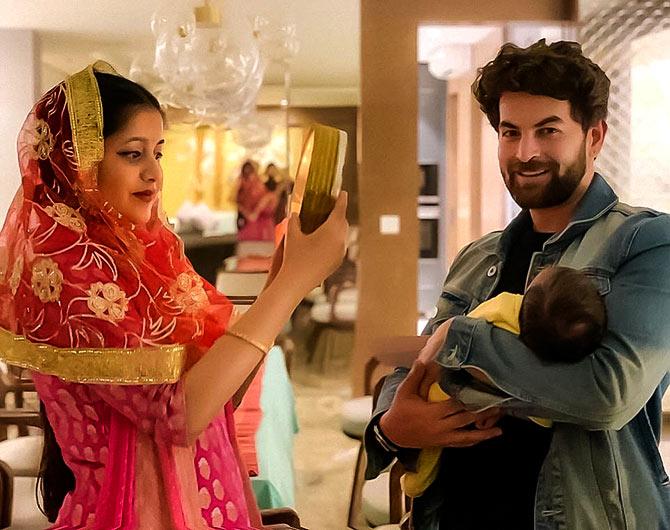 Your Lafangey Parindey co-star Deepika Padukone is getting married to Ranveer Singh.
I am very happy for Deepika and Ranveer; both of them are great friends (of mine).
Deepika is one of my favourite co-stars. She is a beautiful human being.
When I received the invitation, I was so happy for them.
Some marriages are supposed to happen and this was among them.
Your wedding was grand too.
I got a lot of love and affection from people. So many people came (to my wedding) because of the respect they have for my grandfather (the legendary singer Mukesh) and my father (the singer Nitin Mukesh), and a little bit love for me.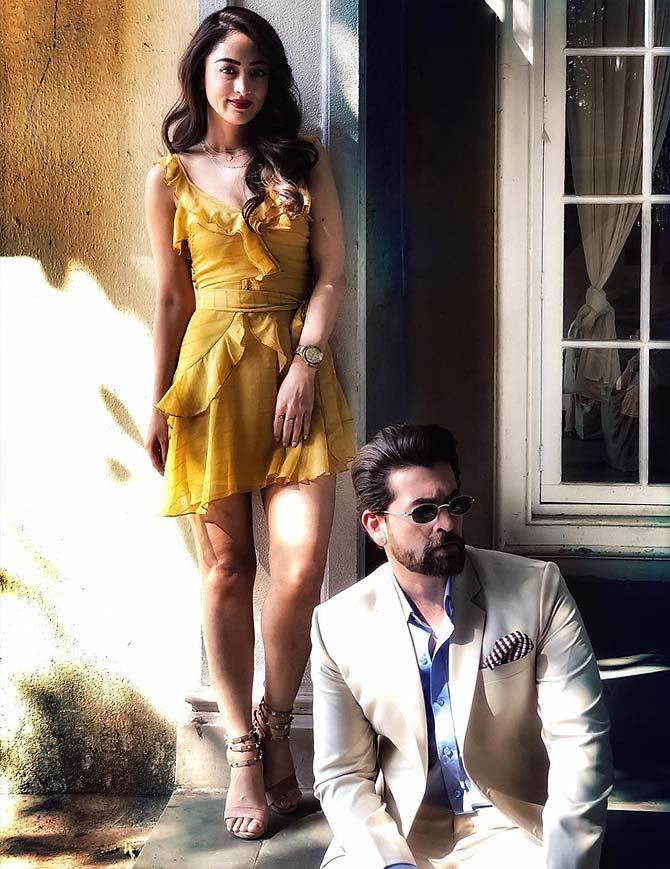 Are you happy with the way your career has shaped up?
I think everyone should ideally be happy about the way their career is shaping up because that gives them motivation to work harder.
If you are asking about my successes and failures, it is a part and parcel of the game.
I have been a part of this industry for 12 years now.
I am 25 films old and have worked in some fine films with fine directors.
I try to prove myself every Friday.
I am just waiting for that Friday that will change things completely.
Till then, I am very happy to get opportunities to try and explore something new.
There have been some fabulous phases and some downers. I think both phases have nullified each other and made me strong enough to have conviction in my abilities.
When you made your debut, people felt you look like a foreigner. Is that still a problem?
No, thank God, that phase is gone.
Also, my Hindi is good. I have done 25 films, that says it all.
I think my look is my USP, which many people thought was a negative point in my career.
Yes, sometimes it is difficult to put me in certain characters because I am too fair.
I have been trying to mould it as and when the directors need, whether it is Saat Khoon Maaf or Lafangey Parindey or David.
I have been trying to do characters which might create an image.
I recently did Indu Sarkar, where this look played an important role.
You are a good singer. Why haven't you considered playback singing like your grandfather and father?
I do sing, but I haven't jumped into playback because I have major competition at home (laughs).
At least, at home, you cannot compare acting abilities with anybody.
I don't call myself a bathroom singer.
I do sing well, and compose songs too.
I play the piano.
Hopefully, someday, I will come out with all my compositions. I will spring a surprise!
Till then, let me get a foothold in my career.
Initially, I did not sing because I did not want to confuse the audience, whether I am a singer or an actor.
I always wanted to be an actor.
Now that I see a trend where actors are singing, I am more confident.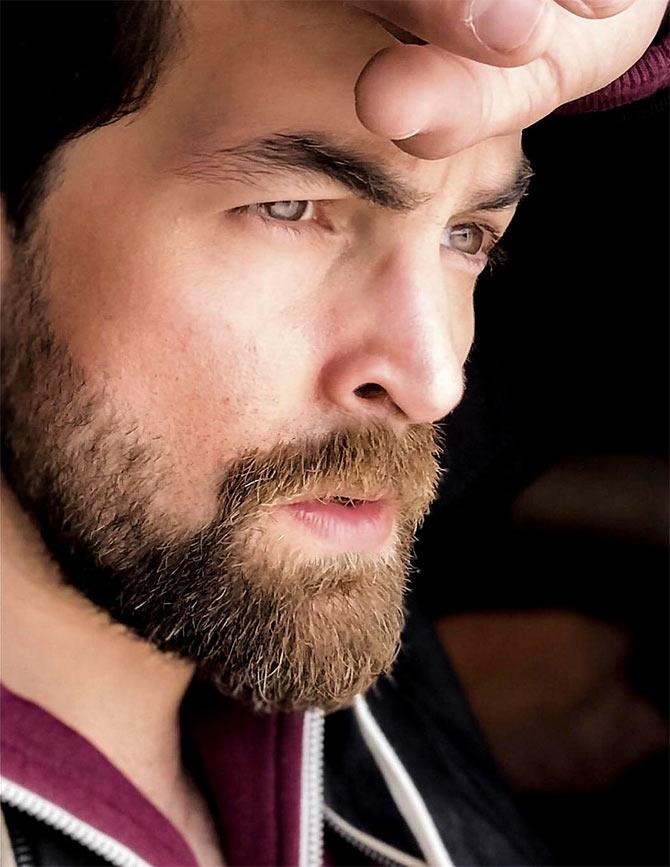 Your brother Naman is directing a film.
My brother's film is 70 percent complete. It's our home production, NNM Films.
We produced Madaari last year, starring Irrfan Khan.
This year, we are doing Bypass Road, directed by my brother. The shoot will finish by December.
Tell us about Saaho.
Saaho is one of my most exciting projects.
It's one of the biggest films I have worked in. It is 65 percent complete.
Recently, we shot one of the biggest action sequences you will see in Indian cinema.
It is made in three languages -- Hindi, Telugu and Tamil. That's why it is taking time. We are shooting all three films simultaneously.