Mukkabaaz, a film in which its lead actor shines, unfortunately tries to pack in a punch too many, says Indira Kannan.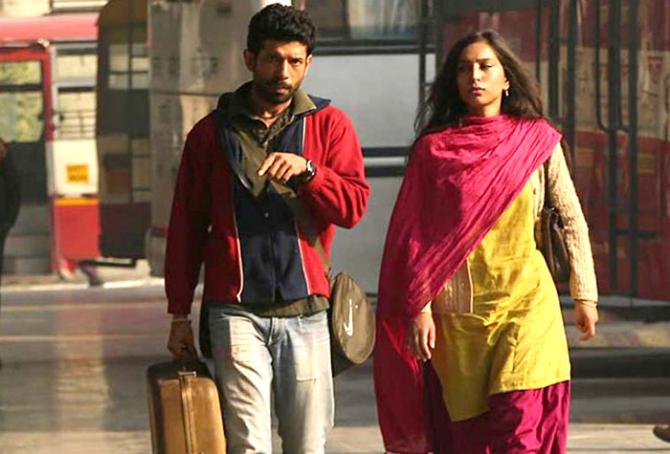 Mukkabaaz, or The Brawler as it was titled for its world premiere at the Toronto International Film Festival this month, is a story straight from Vineet Kumar Singh's heart.
The actor, who makes his debut as a leading man with this film and is also credited as one of the scriptwriters, recalled in an interview at TIFF that he had written the script over three years ago and had been desperately seeking a producer.
The story arrived at TIFF 2017 as an Anurag Kashyap film, complete with raw, edgy characters, dark, earthy humour, salty dialogues, catchy music and lots of action. A bit too much of all this, in fact, with a run time of over two-and-a-half hours.
In the film set in Uttar Pradesh's Bareilly and inspired by a true story, Singh plays boxer Shravan Singh who wants to take on opponents in the boxing ring but is instead forced to spar with a powerful and vengeful coach, apathetic sports officials, indifferent bosses, and, at home, a sneering father who questions his career choice.
Singh said he witnessed much of this first-hand growing up in Varanasi as an aspiring basketball player. He remembered once meeting a fellow athlete employed as a junior worker in Indian Railways, running around a station on his bosses' orders.
Recalling his friend's embarrassment, Singh said, "On his head, there was a huge box and he was running with the box from here to there. I was at the station at that time . I saw him but he was not able to face me."
Singh conveys the frustration and humiliation of the small-town Indian athlete with great emotional conviction. His boxing training of nearly over a year clearly pays off.
Added to this is the boxer's personal turmoil, as he has fallen in love with the niece of his coach, who is hell bent on wrecking his boxing career and later, his life, for having dared to question his guru's slavedriving methods and casteist bigotry.
Singh, in fact, is the highlight of this film, which tries to pack in a punch too many -- against casteism, oppression of women, attitudes towards the disabled, the crippling sports bureaucracy and, in an obvious nod to the times, gau rakshaks.
Shravan's love interest, Sunaina, is played by newcomer Zoya Hussain, who looks luminous but fails to impress. She is rendered mute in the script to symbolise the lack of voice of women in her region.
The biggest letdown is Jimmy Sheirgill, who plays Sunaina's villainous uncle and Singh's first coach, Bhagwan Das Mishra. The disappointment is amplified by the fact that Mishra has a large role in the film as a boxing supremo, family bully and local strongman, but Sheirgill tackles the role with sackfuls of ham, corn and cheese.
Rajesh Tailang, as Shravan's father, stands out among the supporting cast.
The lyrics and music are extremely catchy but often intrude at key moments.
Kashyap is a TIFF favourite and, as the film festival's Artistic Director Cameron Bailey noted, "He is one of the most devoted cinephiles I've ever met... There's a long history of great boxing movies, by Martin Scorsese and many, many others, and those are referenced in very subtle, nuanced ways in Anurag's film."
But this Mukkabaaz will have to fight to win on points, rather than scoring a knockout.