'There are hardly singers who could put life into a song the way Mohammad Aziz did.'
Lata Mangeshkar, Alka Yagnik, Rajesh Roshan and Anu Malik remember the versatile singer who passed into the ages on November 27.
Subhash K Jha reports.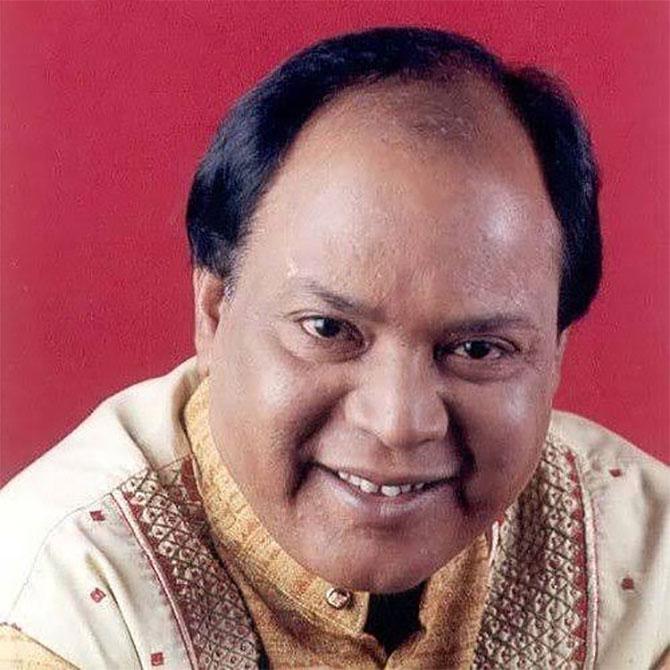 The going was great for Mohammad Aziz in the 1980s. The great Mohammad Rafi and Kishore Kumar were no more. And the only competition that Aziz, affectionately know as Munna, had was Shabbir Kumar.
I openly supported Aziz's voice in my music columns that I did during those days and got slammed for it. I didn't care. Munna Aziz had a vast range. He could sing at a staggering pitch. It was a pleasure to hear him hold his own in his duets with the indomitable Lata Mangeshkar and Asha Bhosle.
Lataji and Aziz sang a number of duets in the 1980s and early 1990s including the timeless Patjhad Sawan Basant Bahaar from Sindoor and Bali Umar Ne Mara Haal Yun Kiya from Awaargi.
Says Lataji, "I recall him as a very kindhearted soft spoken man with a good mastery over the seven notes. Woh sur achcha lagate they (he pitched his voice well). Composing maestros Laxmikant-Pyarelal were very fond of his voice. We sang the duets Patjhad Sawan Basant Bahaar and Naam Sare bhool Jaaane Lage for Laxmi-Pyare. These were melodious numbers at a time when melody was on the wane. I enjoyed singing with him."
Alka Yagnik, who sang one of her finest songs Tu Na Ja Mere Badshah for Khuda Gawah with Aziz, remembers him fondly.
"Like me, he was also from Kolkata, so I kind of knew him from my childhood days. Munna was always very cheerful, sweet-spoken and an endearing person. And he had a powerful voice. He was one of Laxmikant-Pyarelal's favourite singers."
"I sang many songs with him, the best one being Tu Na Ja Mere Baadshah from Khuda Gawah. I am deeply saddened and shocked by the news of his sudden death."
I remind Alka of Aziz's meteoric rise and swift fall, and Alka shrugs, "Well... so many prolific singers vanished... but he still used to do concerts ... he had quite a repertoire of popular songs to his credit."
The very talented composer Rajesh Roshan gave Munna Aziz some of his career's best songs including Ek Andhera Laakh Sitare in Aakhir Kyon, Main Se Na Meena Se Na Saqi Se in Khudgarz.
"What a beautiful singer! But above that, he was a great human being who always met you with open arms. There are many singers who have wonderful voices and can sing well. But there are hardly singers who could put life into a song the way Mohd Aziz did."
Composer Anu Malik, who used Aziz as Amitabh Bachchan's voice in Manmohan Desai's Mard, is shocked at the singer's premature demise.
"I gave him his earliest break in Mard... A very soft spoken, tremendously hardworking, singer. Always ready to learn improvise and give his best. May his soul rest in everlasting peace and may God give his family immense strength to bear this irreparable loss," says Anu.
"A shining musical light of the 80s and early 90s has dimmed, but shall never ever switch off. He shall live in the hearts and minds of music lovers forever."
Some of Mohammad Aziz's Most Popular Songs
One 2 Ka 4 My Name Is Lakhan: Ram Lakhan
Main Se Ne Meena Se Na Saqi Se: Khudgarz
Tu Na Je Mere Badshah: Khuda Gawah
Duniya Mein Kitna Ggham Hai: Avtaar
Ungli Mein Angoothi Angoothi Mein Nagina: Ram Avtar
Photograph: Kind courtesy Sudesh Lehri