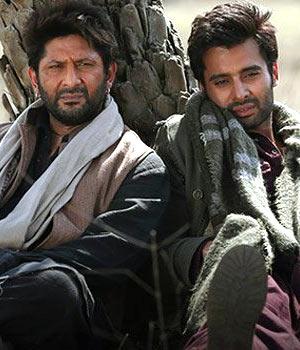 Welcome 2 Karachi is a sad excuse for screen space, says Paloma Sharma.
Bright orange titles.
Annoyingly loud music.
Badly done special effects that are not relevant to the film.
And that's just the first five minutes.
Welcome 2 Karachi is a sad excuse for screen space that has already been watched by the Hindi moviegoer in the last few years in the form of pretty much any film Bollywood ever made about Pakistan.
There was the adorable Tere Bin Laden, the thrilling Phas Gaye Re Obama and then the unforgettable D-Day and Filmistaan, both personal favourites.
And then, we have Welcome 2 Karachi.
Plagued by the comedic genius of Arshad Warsi's last film, Joe B Carvahlo, Welcome 2 Karachi owes its screenplay to actor Vrajash Hirjee.
Two Indian idiots, ex-naval officer Shammi (Arshad Warsi) and Gujjuboy Kedar Patel (Jackky Bhagnani), are partying on Patel's father's boat when they wander into stormy waters.
The boat capsizes and the two are washed up on the shores of Karachi. A bomb blast takes place on the beach and the ISI suspects the two of them because it found their passports lying in the sand.
Of course, you can wonder why they would have been carrying their passports to a party, but let's just ditch logic and get back to the film.
The ISI aren't the only ones after Shammi and Kedar. The more time they spend in Pakistan, the more enemies they make and their struggle to get home, across the border to India, turns into an international catastrophe.
Though Bhagnani shows signs of improvement from his Youngistaan days, there is a lot to be done. Clearly he's having fun with his role and he really does the whole bit well, but the sad part is that no one else around him feels the same.
Bromances work when both partners show enthusiastic consent. That is just one thing that Bhagnani's onscreen partner-in-crime can't seem to do.
From what one can tell as a viewer, Warsi isn't in the film because he wants to be in it. It looks like one of the guys in the background dressed as a Taliban fighter, is lurking around the set, poking Warsi's back with a rifle and nudging him to act on by hook or by crook.
There is no way that Arshad Warsi is a bad actor. His body of work is very good for one to believe that. But he seems to have slipped into a darker space at the moment, which he will hopefully slip out of by choosing a film worthy of his talent.
Speaking of wasted talent, Dalip Tahil plays Patel Sr. 'Nuff said.
Welcome 2 Karachi's idea of a Sheikh Chilly-like comedy of errors used to be entertaining once upon a time with a character called Supandi from Tinkle Comics.
But as anyone over the age of five would know, there comes a time when one grows out of it and moves on to better things. That's why one must be patient and wait for Welcome 2 Karachi to cross over from kindergarten to primary school.
Then, maybe, it will be mature enough not to prop up a yacht full of bikini clad white women gyrating against our desi heroes, and treat said situation by portraying the men as ishtuds.
Speaking of white women, Lauren Gotlieb appears from time to time as a burqa-clad ISI agent, who predictably turns into an item girl in a dream sequence.
Ashish R Mohan's sense of direction is very similar to that of the protagonists of the film. As the two lovable idiots go from Gujarat to Karachi to the Khyber Valley to Pakistani Punjab, so does Mohan's vision for the film.
One wonders if he had one to begin with or if he just decided to freestyle it and see where things go. In all honesty, Halle Berry had more control over the hijacked plane she was supposed to land in Executive Decision.
If this sounds too cruel, wait until the end.
The way that Welcome 2 Karachi bids adieu to you says so much more than it could for the other two hours and 11 minutes of its run time.
The frame freezes right before the film cuts and the customary title song begins at the end and you're left there, sitting in your seat, asking, 'What was the point of all this?'
Hint: there isn't one.
Welcome 2 Karachi could have done better had it invested in a good VFX guy. We've seen better special effects when it comes to bomb blasts and sea storms on CID.
Somebody needs to take this monstrosity to the cutting room floor and chop it up like nobody's business.
Somebody also needs to put actual musicians at the helm of the sound department.
Don't wear a hearing aid?
Then just seal your ears.
And your eyes.
And your soul, if you can.
Rediff Rating: