'I was so nervous and embarrassed that I hid behind a pillar, just watching my son quietly.'
'I could see him very quiet, not communicating with anybody.'
'I thought he was not interested. But when he gave his first shot, he was perfect!'
During the days of landline phones, Rakesh Roshan and I would speak regularly.
When I was starting out, Rakeshji was always considerate towards me.
Even when he is not directing a film -- which happens quite often -- he is still the same person. Warm, polite and always ready with a welcoming smile.
Rakesh Roshan belongs to a precious breed of professionals who believed work could be done within the periphery a lasting friendship.
I can't claim to be a buddy, but we are friends.
We share a mutual respect.
It shook me to know that this strong tenacious man is, after all, human. I remember when in 2000, Rakeshji was shot at, he drove himself to the nearest hospital with a bullet in his abdomen.
His mantra for a good life: 'Make every day your birthday and celebrate. Spread happiness as much as you can and stay away from negativity. I've always believed in thinking and being positive.'
Subhash K Jha lists Rakesh Roshan's five finest films on his birthday on September 6.
Khudgarz (1987)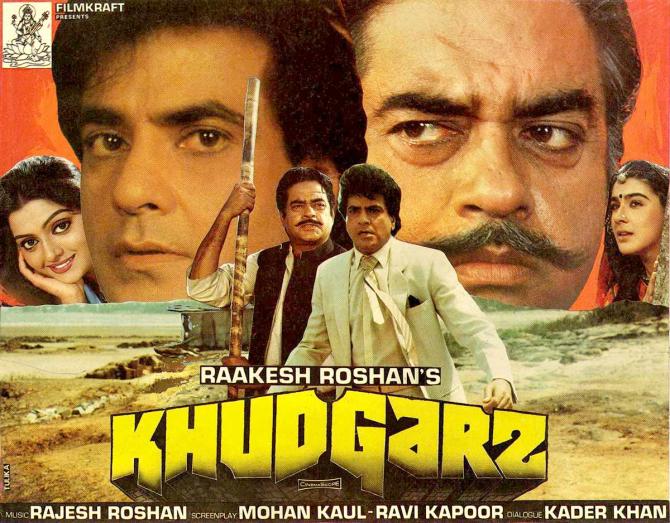 The unlikely friendship between a Punjabi urban businessman (Jeetendra) and a rural Bihari babu (Shatrughan Sinha) was Rakesh Roshan's take on a life-long friendship gone sour in Jeffrey Archer's novel Kane & Abel.
Rakesh earlier wanted to cast Jeetendra and Rajnikanth in a Punjabi-Tamilian dosti.
He changed the cultural backdrop of one of them to cash on Shatrughan Sinha's real-life friendship with Jeetendra.
Jaag Utha Insaan (1984)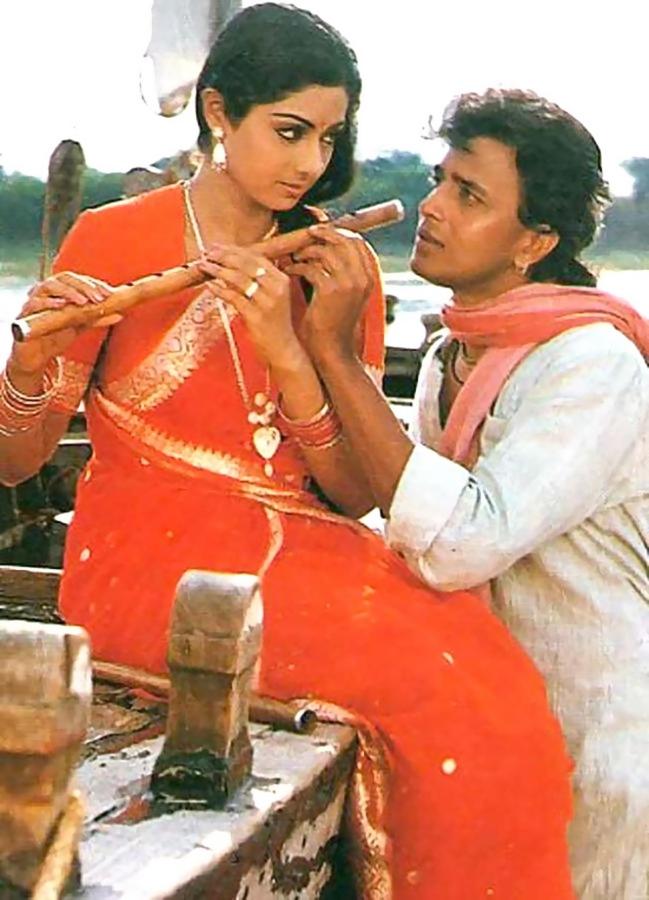 Though it was Himmatwala that launched her into stardom in Bollywood, it was this unsuccessful nugget, produced by Rakesh Roshan and directed by the inimitable K Vishwanath, where Sridevi shone as a temple dancer wooed by a Brahmin boy (Rakesh Roshan) and a socio-economically challenged underdog (Mithun Chakraborty).
Sridevi danced and emoted as though there was no tomorrow.
This, according to me, is the most neglected film of Sridevi's vast oeuvre.
Her dancing with the South Indian temples as the backdrop is to amazing.
K Vishwanath, who normally preferred to work with Sridevi's rival Jaya Prada, made an exception here.
Bhagwan Dada (1986)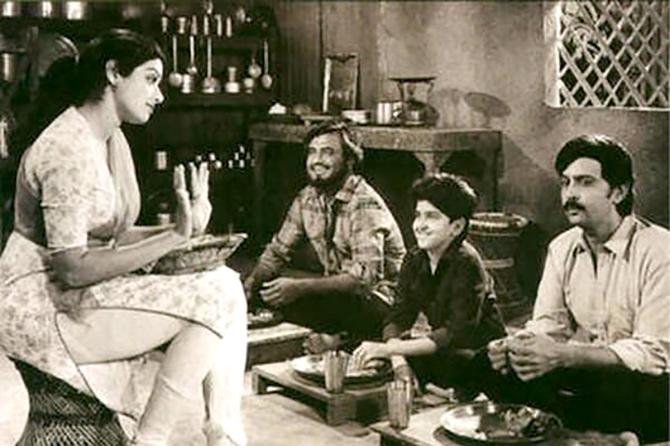 In this Rakesh Roshan-produced film, Sridevi was cast as a con-woman who pretends to be a sex worker, takes moneyed men into hotel rooms, gets them drunk and runs off with their money.
The role was great fun to play and we can easily see Sridevi having the time of her life in the company of Rajinikanth and 12-year old Hrithik Roshan.
"Hrithik was just nine when he did my father-in-law's film Bhagwan Dada. Hrithik was not supposed to do the film, but the child actor fell ill. My father-in-law -- Director J Om Prakash -- insisted we take Duggu."
"I was against the idea and said, 'Daddy, Duggu can't act'.
"I wanted Hrithik to focus on his studies. We'd have never known there was a brilliant actor lurking inside him if my father-in-law had not insisted," Rakesh Roshan recalled.
He remembered Hrithik's first shot: "Along with Rajnikanth and Sridevi, I also played the lead in Bhagwan Dada, so I was there on the day when Hrithik had to give his first shot. It was with Sridevi."
"I was so nervous and embarrassed that I hid behind a pillar, just watching my son quietly. I could see him very quiet, not communicating with anybody. I thought he was not interested. But when he gave his first shot, he was perfect!"
Like Sridevi, my son transformed when the camera was on. That was the moment I realised my son had it in him to be an actor.
"We already knew he was a natural-born dancer. But I used to think of him as a quiet boy lost in his own world of studies and school. But the way he did his death scene in Bhagwan Dada left me stumped. How could a nine-year old boy, who doesn't even know death, play dead so convincingly? That's when we knew."
Kaam Chor (1982)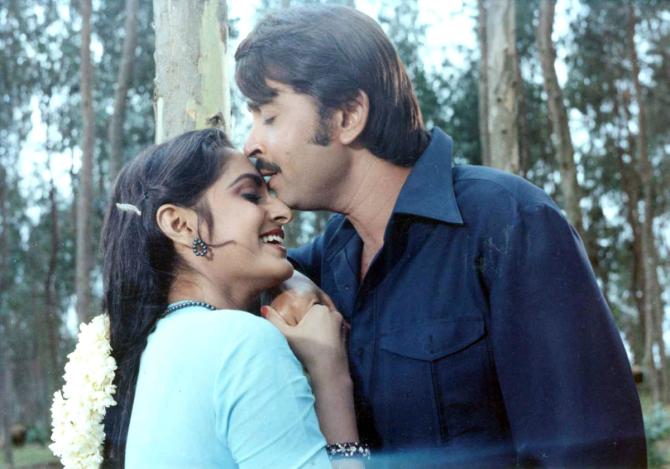 Rakesh Roshan produced this quaint, goodhearted film about a kind woman, who reforms her work-shirking husband.
Roshan took the backseat as Jaya Prada fronted this mellow drama directed by K Vishwanath, who saw the spark in Jaya Prada long before any other director did.
Be it Kaam Chor or Hrishikesh Mukherjee's Khubsoorat, Rakesh Roshan was always game for doing heroine-centric films.
Krrish (2006)
Is it a bird?
Is it a plane?
No, it's Hrithik Roshan!
Fascinating is the word for the measured manner in which he glides through the air to the beat of uncle Rajesh Roshan's music or cuts through the breeze to the stunning special effects created with a verve so-far unknown to Indian cinema.
Krrish takes us into the world of masked fantasy where the stakes are incredibly high... as high as the computer-generated leaps that the superhero takes as he tries to save the world from the clutches of a megalomaniacal villain, Naseeruddin Shah.
"To make a niche film is relatively easy," Rakesh Roshan had said.
"Sanjay Bhansali's Black was a fantastic film and the business it did was surprising. But I make fully commercial films. People expect me to surpass my previous collections. Krrish has done so in the first three days."
"Krrish belongs to the same genre as Superman or King Kong, so it had to go by the genre. In every film of that genre, the heroine wonders about the superhero's identity."