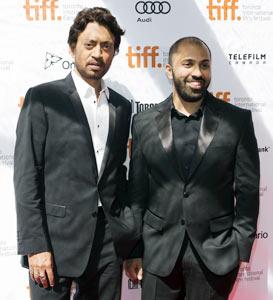 After wowing critics at Cannes and Telluride, Ritesh Batra brings The Lunchbox to Toronto. The filmmaker in conversation with Arthur J Pais.

Ritesh Batra, whose mature romance The Lunchbox, has created a buzz at many international film festivals, does not hesitate to tell you that he dropped out of the New York University film school because he was running short of money.

"I have a degree in economics and I came to New York after completing my studies in Mumbai," he says. "Here I worked in the financial sector for a couple of years, but filmmaking fascinated me so joined NYU. Although I had to drop out because you know how expensive a graduate education in America can be."

But there was another reason, he reveals during an interaction at the Toronto International Film Festival.

In 2009, Batra was selected for the Sundance Writers and Directors labs for his feature project The Story of Ram.

"There was a great opportunity to learn from wonderful filmmakers," he adds.

And it was on this fellowship that he polished the script of The Lunchbox.

The unusual romance featuring Irrfan Khan, Nawazuddin Siddiqui and Nimrat Kaur came to the Toronto film festival with a highly visible stamp of approval.

It had been acquired by Sony Pictures Classic, the boutique distributor responsible for the successful release of recent films like Woody Allen's Blue Jasmin.

The Lunchbox began as a documentary project several years ago based on Mumbai's dabbawalas who deliver thousands of lunchboxes across the city.
Batra cites a Harvard University study, which shows the delivery system is so extraordinarily good that just one in a million lunch boxes is ever delivered to the wrong address.
"As I befriended the dabbawalas," he adds. "I began hearing interesting stories about the delivery system, and wondered what would happen if that one box in a million went to the wrong person? Soon I was planning a feature film."
The Lunchbox revolves around a middle class housewife Ila who is desperate to add some spice to her boring marriage through her cooking.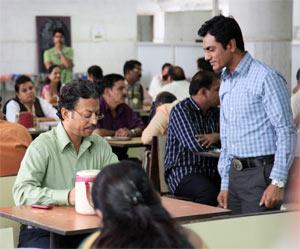 She hopes the new recipe she cooks pleases her husband. But when there is no reaction from him, she tries to find out what could have gone wrong. On the second day of her experiment, she sends him a note.
Soon she discovers that the special lunchbox was delivered to another man, Saajan (Irrfan Khan), in another office.
The lunchbox notes lead to a romance even though Ila and Saajan never meet. Nawazuddin Siddiqui joins in as a street-smart new recruit whose interaction with Saajan reflects the change that slowly comes about in the old recluse.
"Ila and Saajan are in a way living in their past," says Batra. "They live in a type of prison. For, Ila, her marriage is a prison, and Saajan is caught in an embittered prison of his past. But my story is not just about the hand of fate that guides our lives as it is also about making choices and transforming our lives."
Ila and Saajan clearly seem to be misfits in the present age, Batra adds.
"The use of letters has also a touch of old worldliness. In a way, I was also trying to recreate my own nostalgia for the Bombay I grew up in," he says.
Batra lays emphasis on everything in the film being authentic. "The house Ila and Saajan live in had to be exactly like the houses these characters could have lived in real life," he says.
The filmmaker, who is married to a Mexican, has moved permanently to Mumbai, but the connections he has been forging from his New York days have helped him bring in technical talent from several countries.
"Though the soul of the film had to be Indian," he says, adding that his three principal actors helped him immensely in his first feature film.
"There were two artists I was very keen on from the very start," he says. "Irrfan and Nawazuddin came on board eagerly. I used to have long discussion with Irrfan before we began to shoot the film and as a result I rewrote many scenes. Nawazuddin was keen on improvising and I let him to do it. I don't see myself as a puppet master."
Batra reveals that Nimrat, who has good grounding in the theater, was signed for the film after he auditioned artists for about four months.
"She brought her own sensibilities to our film. She lived the part of Ila for over three months before the shoot," he says. "For most of the film, she lives in her tiny apartment, and we rehearsed on location for three months with her and the girl who plays her daughter. Nimrat even cooked the dishes she sends in the special lunch box."
The Lunchbox is being released in India this month while Sony will release it in North America in February.
"Many believe that the audiences for off-beat films made in Mumbai is outside India," he says. "But we hope The Lunchbox will find an audience for it in India too. India has been changing fast in recent decades and I feel that the stories that truly reflect the Indian condition will find audiences in the country."
In the picture (top): Irrfan and Ritesh Batra at the 38th Toronto Film Festival. Photograph: REUTERS/Mark Blinch