Vinod Khanna passed into the ages this morning, and the film fraternity mourned deeply.
Quite a few film folk paid tribute to him on Twitter, with messages and photographs.
Prime Minister Narendra Modi paid his condolences as well.
Here's a look:
Narendra Modi: Will always remember Vinod Khanna as a popular actor, dedicated leader & a wonderful human. Pained by his demise. My condolences.
Rajinikanth: My dear friend Vinod Khanna... will miss you, RIP. My heartfelt condolences to the family.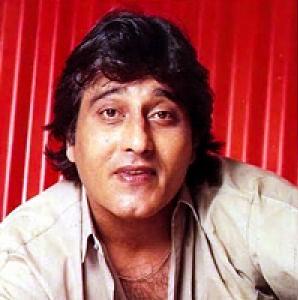 Photograph: Sikandar Kher/Twitter
Sikandar Kher: The loss of a legend.. May you make all the women swoon up there amongst the stars.. strength to the family.. #VinodKhanna
Shatrughan Sinha: My prayers and heartfelt condolences to his loved ones and his family. Very sad day for all of us. May his soul rest in peace. Amen.
Hema Malini: Sad loss today of a wonderful human being, a classy actor & a dear friend & co star.His last film with me was Ek Thi Rani. RIP Vinod Khanna.
Sidharth Malhotra: Sad to hear about #VinodKhanna sir ! May he rest in peace.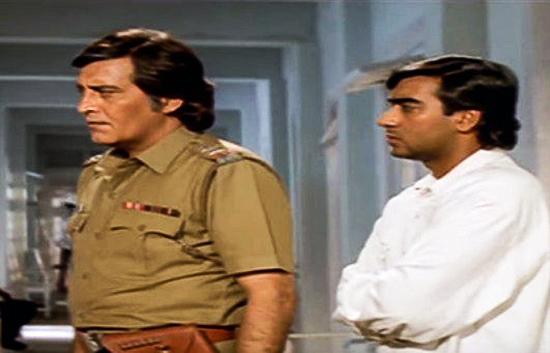 Photograph: Ajay Devgn/Twitter
Ajay Devgn: They don't make them like that anymore. RIP Vinod Sir.
Madhuri Dixit: RIP Vinod Khanna-ji. The word has lost another talented soul. Our sincerest condolences go out to his family.
Anushka Sharma: He will live on forever in all of our hearts as a true hero ... #VinodKhanna. Remembering d glorious achievements & contribution of Vinod KhannaJI in cinema& his inspirational contribution as a human being in life RIP.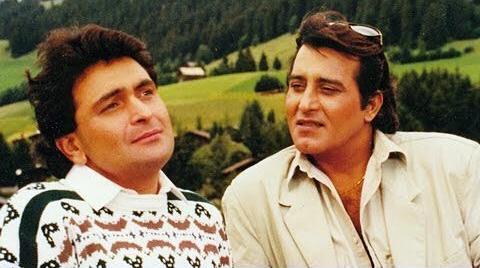 Photograph: Rishi Kapoor/Twitter
Rishi Kapoor: Will miss you Amar. RIP.
Abbas Mustan: RIP Vinod khanna Sahab its end of an era.. Was best person to work with.. Will miss you.
Akshay Kumar: Sad to learn about the passing away of #VinodKhanna Sir, one of the most charismatic actors...truly end of an era. Condolences to the family.
Asha Bhosle: Very sad to hear about Vinod Khannaji. A decent man and a star till the very end. My condolences to his family.
Varun Dhawan: #Vinodkhanna will always remain the coolest and most good looking actor to grace the Indian screens. The industry has lost a legend today.
Hrithik Roshan: Even in brief greetings he never failed 2touch ur heart. Admired n looked up to him since I ws a kid. True legend. RIP Vinod khanna.
Manoj Bajpayee: Your charisma and charm will always be unmatchable..will miss your flamboyant walk on the http://screen.rest in peace sir.#VinodKhanna.
Shraddha Kapoor: 1 of the most loved,handsome & wonderful actors.Big loss.We have lost a legend today.Will always be a fan. RIP Vinod Khanna
Anupam Kher: #VinodKhanna ji had a magnetic charm & persona. Both on & off screen. He was kind, affectionate & helpful. Loved his panther like walk. Will remember #VinodKhanna ji for his larger than life performances & his graciousness. There are very people like him. We will miss u Sir.
Sanjay Dutt issued a statement which read as, 'It is saddening to hear of the demise of Vinod Khanna ji. I have watched him as a child and throughout my life was always fascinated by his style and charisma. He was always a thorough gentleman. A big loss to the fraternity. He is and always will be family to the Dutts. May his soul rest in peace. My deepest condolences to Kavita Bhabhi, Akshay, Rahul and Sakshi.'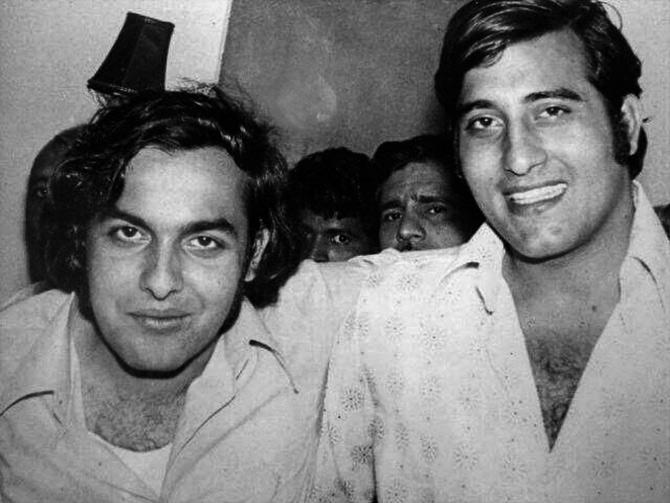 Photograph: Mahesh Bhatt/Twitter
Mahesh Bhatt: Those were the days my friend, we they would never end ! We would sing & dance forever !!!!!!
Richa Chadha: RIP #VinodKhanna sir. You were the fantasy of most women in the northern India through the 1980s. You shall be missed by one and all.
Karan Johar: His screen presence is unparalleled even today...his super star swag is what we grew up on....RIP #VinodKhanna ...thoughts and prayers.
Dia Mirza: I will never forget the warmest hugs, the gentlest smiles and our conversations...Your light will always shine on us... #RIPVinodKhanna
Arsha Warsi: Vinod Khana, a brilliant actor & a handsome man, will be missed. Proud to say we were from the same school... RIP
Vishal Dadlani: This is heartbreaking! Only met him once, but what a megastar, what a presence! Thoughts with his family. May they find strength.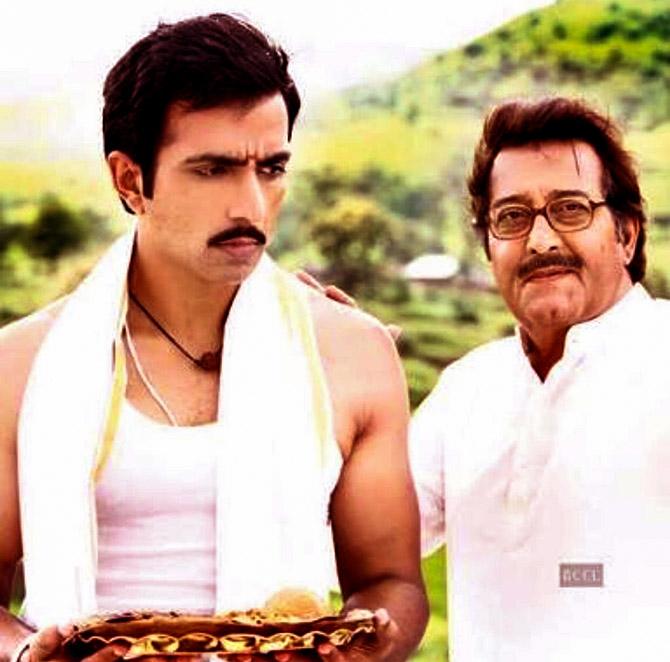 Photograph: Sonu Sood/Twitter
Sonu Sood: Was blessed to share screen space with the legend. Will miss u sir. Rip#VinodKhannaji
Salim Merchant: Saddened by Vinod Khanna Ji's demise. My Prayers & Pranaams.
Kunal Kohli: Rip #VinodKhanna you defined the words #hunk #handsome #mancityvschelsea #macho honor to know you since childhood. So many memories.
Arjun Rampal: Heartbreaking news.We lose a legend and the handsomest,most charismatic,stylish and awesome actor. #VinodKhanna a sad sad day. #RIPvinodji.
Neha Dhupia: RIP #VinodKhanna ... Indian cinema just lost one of its coolest . Energy and prayers to the loved ones. #Legend.
Rahul Dholakia: Loved every punch he threw, every dialogue he delivered- RIP - #VinodKhanna.
Madhur Bhandarkar: Sad to know about #VinodKhanna. Talented, gracious, style icon & a magnanimous personality. Will miss you sir. RIP.
Vivek Oberoi: An icon passes on but his legend remains in r hearts & minds! RIP #VinodKhanna ji u will be missed,Heartfelt Condolences @R_Khanna & Akshay!
Ranvir Shorey: This is devastating. A childhood hero, gone. #respect #RIP.
Sophie Choudry: 27April 2009 we lost #FerozKhan & 27April 2017 his Qurbani, Dayavan partner, #VinodKhanna .True legends.. Very sad news #ripvinodkhanna. Deepest condolences to the family.. His incredible movies & film songs will forever be etched in our hearts.. #matineeidol #RIPVinodKhanna.
Armaan Malik: Rest in peace #VinodKhanna ji. You were Amar, you are Amar will always remain Amar for all of us in our hearts.
Yami Gautam: The most good looking actor in Indian cinema #VinodKhanna Your life here must have ended but not your charm! RIP.
Upen Patel: #VinodKhanna May your soul rest in peace. So sad to hear this news.
Anubhav Sinha: Much before we knew the word Swag, he had it. Go Well Sir. Enjoy your new Journey. We will miss you. #VinodKhanna
Purab Kohli: #RIPVinodKhanna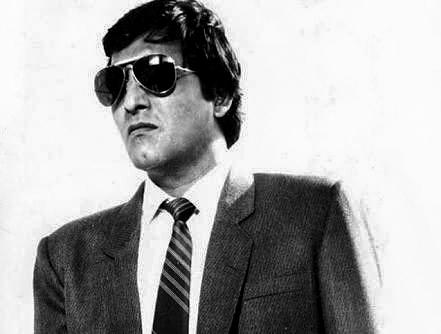 Photograph: Shruti Seth/Twitter
Shruti Seth: RIP #VinodKhanna
Sujoy Ghosh: my dad made me see a film called PATTHAR AUR PAYAL .. i came out becoming a fan of the villain. thank you Vinod Khanna for the films.
Maniesh Paul: RIP vinod khanna sir...sad day..u will be missed!!
Ritesh Sidhwani: Sad to hear about the passing away of the most handsome charming & talented #VinodKhanna. You will always be remembered sir. RIP
Evelyn Sharma: Sad to hear about the demise of #VinodKhanna Sending lots of love and prayers to his family.
Goldie Belh: #rip #VinodKhanna #legend one of my fav and the best walk on screen.
Vivek Agnihotri: RIP Vinod Khanna Saheb. Artists never die.
Wajid Khan: Vinod khanna is no more May the God Almighty bless his soul n peace to his family...no one can win over death...RIP #VinodKhanna Sir
Abhishek Kapoor: Rest in peace #VinodKhanna and thank u for the great memories.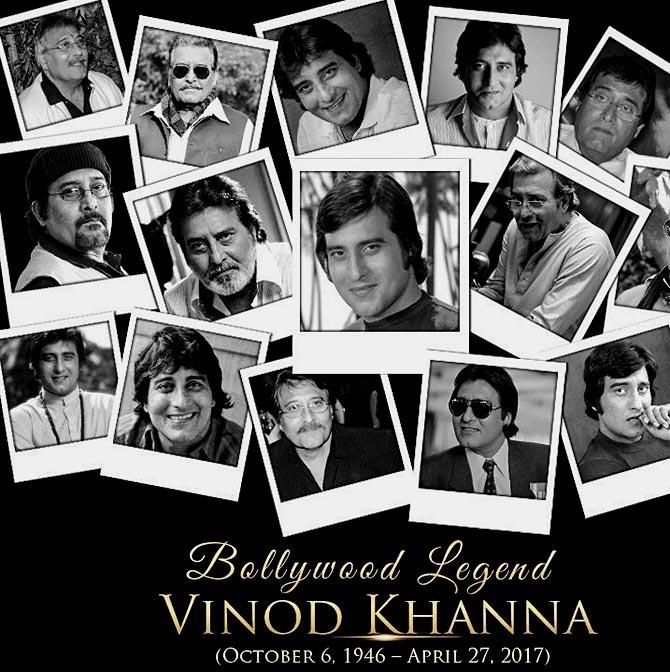 Photograph: Mushtaq Sheikh/Twitter
Mushtaq Sheikh: Heartbreaking to even say he is no more. #VinodKhanna will always stand for grace, swag, handsome & raw talent. You will be missed Sir. #RIP
Ali Asgar: RIP Legend ..Vinod Khanna ..era ends RIP to Feroz Khan on death anniversary Both friends died on the same date ...Om Shanti !!
Ehsaan Norani: Saddened to hear about the passing of #VinodKhanna one of my favorite actors and a family friend ..... immortalised forever in memory
Kajol: RIP Vinod uncle . The original panther stride man! They truly don't make em like that anymore.
Katrina Kaif: Rest In Peace Vinod Khanna Sir. You were truly one of the legends of Indian Cinema. My heartfelt condolences with Akshaye and all other loved ones...
Riteish Deshmukh: Thank you for enriching my growing up years with wonderful cinematic memories. #vinodkhannaji you will be missed sir. #RIP
Raveena Tandon: Was One of the most amazingly Handsome men in the film industry,down to earth warm magnanimous.we lost this superstar today .. RIP Vinodji.
Farhan Akhtar: Heartbroken to hear about the passing of Mr. Vinod Khanna. Deepest condolences to Akshaye, Rahul and the rest of the family.
Irrfan Khan: Heartbreaking to know that the man who charmed the screens and our hearts, is no more. Hope you're happy, where ever you are #VinodKhanna..
Ronit Roy: What a man he was! Now he's gone. R.I.P. Vinodji . I will treasure the time we spent together. Condolences to the family.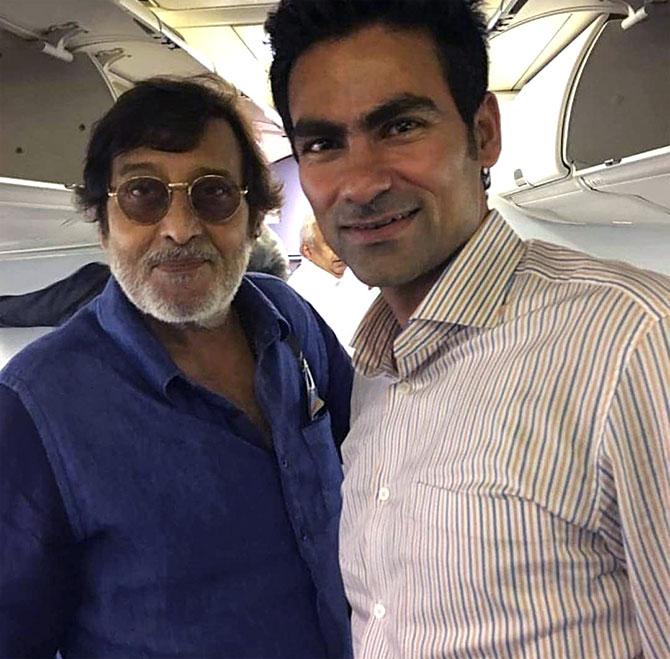 Photograph: Mohammad Kaif/Twitter
Mohammad Kaif: Unbelievable loss. Deepest condolences on the passing away of a wonderful man and such a jubilant being #VinodKhanna ji. RIP.
Mika Singh: The most handsome man of the Bollywood film industry Mr. Vinod Khanna has sadly passed away. May God bless his soul and he rest in peace
Jackky Bhagnani: #VinodKhanna - A Superstar & a terrific human being. The film industry has lost a legend today. Your magnanimity will live on. #RIP
Daisy Shah: His charisma and unmatched performances shall remain immortal. RIP #VinodKhanna Ji, you will always be in our hearts.
Mandira Bedi: Cinema of the 70s have been unforgettable & golden because of legends like #VinodKhanna ji.. very sad news. RIP
Bhumi Pednekar: End to a great era. RIP #VinodKhanna sir,my condolences to the family
Pritish Nandi: I recall meeting Vinod Khanna for the first time chopping vegetables in the commune kitchen at Rajneeshpuram in Oregon. RIP, my good friend.
Also Read: