'Fashion brands that have leading stars as brand ambassadors spend a fortune on showcasing them.'
IMAGE: Satinder Sartaj and Shabana Azmi in The Black Prince.
Shabana Azmi, who first visited Cannes in 1976 with director Shyam Benegal, Smita Patil and their film Nishant, has a film screened at this year's film festival -- The Black Prince, about Maharaja Duleep Singh.
The legendary actress tells Subhash K Jha how Cannes has become more about fashion than cinema.
Shabana, why aren't we winning anything at Cannes?
Chetan Anand's Neecha Nagar, Satyajit Ray's Pather Panchali, Mira Nair's Salaam Bombay!, Vikramaditya Motwane's Udaan have all won at Cannes.
But you are right -- they are too few and far in between. In fact, very few get selected in the competition section at all.
Both Nishant and Mrinal Sen's Genesis were exceptions.
You featured in both Nishant and Genesis. And you went to Cannes?
That was much later and I couldn't go. The first time when I went to Cannes in 1976 we were sanctioned only $8 as the official amount we could carry individually.
We used to eat a hearty breakfast which was included in the hotel tariff and survive on French fries the rest of the day like bhukkads.
We were dismayed when for some reason the publicity material didn't arrive and we had no money to host parties or make our presence felt.
Shyam hit upon an idea. He asked Smita and me to wear our best Kanjeevarams and parade up and down the promenade!
Heads did turn and we would walk up earnestly and say, 'Please come for our screening'.
We aroused enough curiosity and amusement, and we had a packed house!
Why didn't you attend when Genesis was shown?
In 1986 I was to leave for Cannes with Mrinal Sen for Genesis, but I opted out.
The night I was to leave, I sat on a hunger strike on behalf of our organisation Nivara Hakk Suraksha Samiti for five days along with (documentary filmmaker) Anand Patwardhan and three slum dwellers demanding alternative accommodation for a slum in Colaba (South Mumbai) that had been demolished to make way for an MLA hostel.
Five days later, Shashi Kapoor went to the then Maharashtra chief minister S B Chavan and negotiated on behalf of Nivara Hakk.
We won and the slum dwellers did get land. I will always remain grateful to Shashiji for that.
When did you attend Cannes in luxury?
Years later, I was invited to present an award at Cannes and stayed at the majestic Carlton hotel which I used to pass by longingly when we went there for Nishant.
Cannes is an important festival and the films that win are usually outstanding. It is also an important market (for films to be bought for different countries).
Alas! We are obsessed with who wore what instead of the films.
The media has succeeded in hyping up the clothes worn on the red carpet.
Fashion brands that have leading stars as brand ambassadors spend a fortune on showcasing them which is fine, but at the end of the day the best representation can only be when your film is selected in the official section, and when your film succeeds in making some sales in which Indian films have started to make a mark.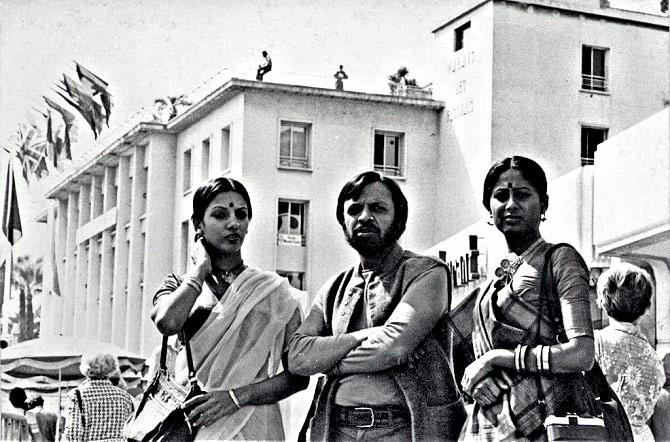 IMAGE: Team Nishant: Shabana Azmi, director Shyam Benegal and Smita Patil at Cannes in 1976.
A film of yours is being screened in Cannes this year.
We had a screening of The Black Prince on Sunday (May 21) and the leading man Satinder Sartaj was quite the belle of the ball.
It was the first time a man in a turban was walking the red carpet!
I believe you protested on the red carpet.
I was very annoyed when a few years ago it was published that the festival authorities had ruled you couldn't walk the red carpet in flats (footwear without heels)!
Mercifully there was a huge hue and cry. I expressed my displeasure strongly too and the missive was hastily withdrawn!