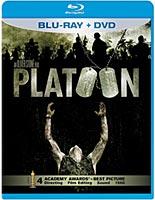 The biggest DVD and Blu-ray attraction this week is True Grit, the remake of the John Wayne classic that became a big hit for brothers Joel and Ethan Coen. The gritty, sparse but emotionally engaging film was made for million and grossed 0 million across the world.

Also vying for attention are the recent releases of the classics Usual Suspects and Platoon, and the not-so-well known but highly interesting oldies Those Lips, Those Eyes and The Destructors.

In the Coen brothers' hit film, the relatively new Hailee Steinfeld plays Mattie Ross, a gutsy 14-year-old trying to find her father's killer. Rooster Cogburn (Jeff Bridges) is the ageing and cynical gunman she hires to help her and Matt Damon is Laboeuf, a Texas Ranger who comes along for the ride. Like many other characters in the film, there is some mystery about him too.

'It's not just a simple revenge story,' Damon says of the plot inspired by Charles Portis' novel that was also the basis of the 1969 film. 'The characters are so deeply drawn... It's really this coming-of-age story and this loss of innocence for this girl.'
The 25th anniversary edition of Oliver Stone's best known and most successful film Platoon looks so sharp in the Blu-ray and DVD combo pack that you should seriously consider buying the pack even if you have the older DVD version.
Winner of four Oscars including Best Picture and Director, it was called 'a staggering study of war' by The Washington Post. Though many distinguished war films, including Deer Hunter and Apocalypse Now have been made in the last few decades, Platoon's appeal remains.
The new set comes with half a dozen exciting extras including deleted and extra scenes from the movie which had powerful performances by Charlie Sheen, William Dafoe and Tom Berenger. Apart from the theatrical trailers and specials like The Legacy of Platoon, you will also get a few history lessons on how the war went wrong in Vietnam and thousands of lives were destroyed.
The story revolves around Private Chris Taylor (Sheen), a college dropout who volunteers for combat in Vietnam. After facing death and destruction head-on, he also has to wrestle with his own private demons. His torment increases as he struggles to deal with his fellow soldiers after an illegal killing of villagers.
Stone, a Vietnam war veteran, distilled many scenes from his own experiences in the script. The provocative film became an overnight hit.
It still remains gripping, and though it was made on a comparatively small budget by Hollywood standards, it grabs you because of the ensemble performance, a gripping script and tight editing.
This is one of the best examples of HD transfer. For all those who doubt the power of Blu-ray, here is a movie that will silence them.
The DVD market scene in recent months has been enriched by the release of many fascinating movies which were not sensational hits in their days. MGM home video has released many films worth watching at home that could make an older generation nostalgic and give a younger generation the opportunity to discover some less known oldies.
The 1974 film, The Destructors, directed by Richard Parrish is the story of a resilient and resourceful American Embassy official in Paris who is ordered to break a narcotics ring, and his moral dilemma. It features Michael Caine, Anthony Quinn and James Mason.
In Those Lips, Those Eyes, a stage-struck adolescent learns about love the hard way while interning in Ohio during the early 1950s. It is a pleasure to watch Frank Langella who after the film's release went on to become a busy character actor in movies and on Broadway.
The 1980 movie is a pleasant romance about a pre-med student Artie Shoemaker who gets a job as a prop boy at a summer theatre. He is not good at the job and is about to be sacked when the group's leading man, Harry Crystal, steps in and protects him. Crystal's talent might be limited, but his charm is great and his heart is big and always open. He helps start a romance between Artie and one of the dancing girls in the troupe.
Before Bryan Singer went on to make big budget films in Hollywood such as X-Men and Superman Returns, he directed a modestly budgeted film that became a cult classic. Now, The Usual Suspects, featuring such great character artists as Kevin Spacey, Benicio Del Toro and Pete Postlethwaite is available on Blu-ray.
The story of a grand heist and the mastermind controlling it, the film won an Oscar for Spacey and another for best screenplay. It is one of the cleverest films in its genre. To get the full pleasure of the film and see below its many layers, you need to see it several times, and this Blu-ray version, though devoid of the extras, is to be prized. It makes the ever intriguing drama even more exciting and gripping because it is all sharply focused.
The Blu-ray edition comes in a book-box. The disc is sandwiched between a booklet that offers an intriguing history of the film and an afterword which discusses the much praised climax of the underground hit. In discussing how this film became a sleeper hit, film historian Richard Tanne discusses its unusual ending. He quotes screenplay writer Christopher McQuarrie who says: 'It's not a movie with a twist that hangs on a twist. We were very careful to engineer that movie for a second viewing.'
Tanne, who praises the ensemble performances in the film, gives ample credit to Singer, 'who brought a vibrant, almost fable-like approach to the story-telling, avoiding the gritty, pulpy and arguably cliched style of the crime genre.'
The booklet also updates the careers of the actors and film-makers.