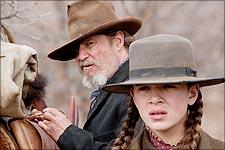 Shaikh Ayaz reviews True Grit. Post YOUR reviews here!

Upon receiving his only Oscar -- and that, too, for sentimental reasons -- John Wayne, world's most beloved cowboy, bellowed, "Whhhhow, if I had known this, I would've put that patch on thirty-five years earlier."

Jeff Bridges, for one, won't have to say that. For, he's not a first-timer at the Academy's and moreover, is tipped for another nod, for his reprisal of Wayne's Rooster Cogburn in True Grit -- adapted from the original novel on which the 1969 Western was based.

And because the Coen Brothers' True Grit goes back to the root source itself, the film turns out to be wildly different than the Wayne masterpiece and in doing so, the Coen Brothers establish their status as filmmakers of keen intellect. Having said that, here's a quick word to Wayne buffs -- Jeff does his own bit as the Marshall and gives the one-eyed Rooster new characteristics, a raspier voice and cool corpulence, leaving you convinced that he knows no Wayne, maybe he's not aware of that rugged swagger, that he's never seen the legend's True Grit in his portrayal of the famous role.

The two Roosters don't match at all; neither in their appearance nor manners and they even wear a patch on different eyes -- Wayne on left, Jeff on right -- giving credence to a growing idea that Jeff's Rooster looks closer to the mythic Western hero than to Wayne.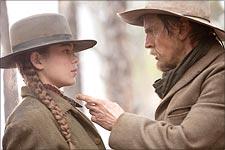 In keeping with director Joel and Ethan Coen's interest in religion, True Grit opens with the Biblical epigram, 'The wicked flee when none pursueth'. The 14-year-old Mattie (Hailee Steinfeld), in hot pursuit of her father's killer, hires the services of Rooster (Jeff) who she's been advised is the best -- certainly amongst the best -- man to do the job. Having palavered Rooster into supporting her cause, of course by offering him money and joined by the Texas ranger LaBoeuf (Matt Damon) the three embark on an adventure that she would remember, with fondness and gratitude, decades later.

In an early scene, Mattie, the tough daughter who's sworn for retribution, accosts Rooster for help and when he shows no interest, she reminds him, "They tell me you are a man with true grit." In the true sense, it is Mattie who displays real grit, refusing to let impossibilities of hunting down a notorious outlaw weaken her resolution. Steinfeld plays Mattie with inward conviction and stands her own throughout.

While revenge and God's grace on the right-doers are the dominant themes of True Grit, one could say the film is equally about special relationships that you forge along the way. They may not be relationships of blood, neither are they long-term or old enough but they last a lifetime. And beyond. Such as the one between Rooster and Mattie.
Rediff Rating: