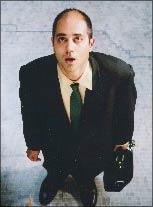 Armed with mostly positive reviews, the disturbing, thought-provoking film The War Within, about a Pakistani suicide bomber who sets out to blow up Grand Central station in New York, is expanding across America reaching more than 40 cities in the next four weeks.

As Magnolia Pictures was adding more screenings, director Joseph Castelo was a little worried that some thought his film was sympathetic to the bomber. "It is very clear that Hassan (the suicide bomber brilliantly portrayed by co-writer of the film, Ayad Akhtar) creates problems for everyone around him," Castelo said. "He even destroys the family that unknowingly hosts him. His betrayals are reprehensible."

"But we have to know what goes on in the heads and hearts of young, educated people like Hassan," he added. "That is why we look deep into Hassan's motives. By no means is the film sympathetic to a suicide bomber."

The low budget film will be adding about 10 screens on the coming Friday, in cities such as Pasadena, San Diego, West Hollywood, and West Los Angeles in California; Boulder, and Denver, Colorado; Minneapolis, Minnesota and Dallas, Texas.

Featuring a raft of Indian actors such as Firdous Bamji, Sarita Choudhury, Nandana Sen and Samrat Chakrabarti in significant parts and Ajay Naidu and Aasif Mandvi in cameos, it also opens in Berkeley, Palo Alto, San Francisco in California on October 14. It will add to theatres in Washington DC, Atlanta Chicago and other cities the same week. The film will also go to many small cities with big student populations, such as Cambridge, Mass; Durham and Raleigh, NC: Colony Twin and Austin, Texas.

It opened in New York on September 30 at a single theatre, grossing a moderate $10,000 in the first week.

'Perhaps to many New Yorkers, the film was too close to home, and too intimidating,' said Eamonn Bowles, President, Magnolia Pictures. 'We expect business to improve in New York in the coming days as word of mouth reveals the true nature of the film. We also expect it to get more impressive recognition elsewhere.'

Magnolia is well known for releasing provocative films that have become art-house and critical hits. Last year, it showed Jehane Noujaim's Control Room, which examined Al-Jazeera's presentation of the second Iraq war to their worldwide Arab audience. Another recent hit for Magnolia, Enron: The Smartest Guys in the Room, a blistering look at the corruption within one of America's biggest corporations, is ending its first run with about $5 million.

Bowles, who premiered the film at the Toronto International Film Festival last month, added that he wanted to make sure his film got out of the gate before other films dealing with troubles in the Muslim world were released. Paradise Now, the acclaimed film from the Cannes film festival that also deals with suicide bombing (in its case, the men are Palestinians) and the anti-war George Clooney-starrer Syriana are also to be released.

Meanwhile, The War Within has got good reviews from liberal and rightwing newspapers. 'A serious, terrifying thriller,' Lou Lumeick wrote in New York Post. 'Ayad Akhtar makes an impressive screen debut.' The New York Times declared it 'a searing, startlingly plausible film.' Reviewer Ned Martel added that 'Castelo deserves credit for staring hard at a difficult subject matter.'

The Washington Post found it to be 'a compelling and brilliantly realised evocation of a suicide bomber's world.'

Bowles also said that Magnolia did not portray the film ideologically in the market. 'We have been very careful about positioning the picture without labels.' He did not want it to be caught in the leftwing and rightwing turf battles. 'We are not waving any red flag before any ideological bull out there,' he added.

When he first read the script over a year ago, he felt the urgency of its subject and knew he would have an important film on hand, he continued. 'We wanted the film made and we wanted to release it even as we thought it was a box-office risk.'

Many conservatives who have seen the film came back learning something from it, he added. 'It portrays an urgent reality we cannot ignore,' he said. 'How long is America and the rest of the West going to think of suicide bombers 'as monomaniac, crazed people'?
The terrible bombings in London showed, even more startlingly than before, how educated and Westernised suicide bombers could be, he added.