The legendary comedian Johnny Walker had become rather nostalgic during the last few months before his death, says Walker's friend Yusuf Lakdawala.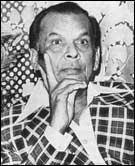 Walker passed way in Mumbai on Tuesday.
Lakdawala owns a theatre in suburban Mumbai and, over the last six to seven years, Walker would visit him regularly in his office.
Six years ago, Walker had taken a loan of Rs 2.5 lakhs from Lakadwala. Six months ago, he called on Lakdawala with a specific purpose. "He returned the money he had borrowed from me and said, 'Marne ke pahle hisaab kar do [Let's clear our accounts before I die].' He then asked me to forgive him for the delay in returning the money. He was happy he would die debt-free."
Lakdawala added, "He kept falling ill for the last year or so, His memory was also fading, but he remained a honest man till his last breath."
Walker spent the last decade of his life doing community work, says Lakdawala. He did his namaz regularly and, unlike many of his colleagues, was happy even after he retired from the glitz and glamour of filmdom.
Unlike many Hindi film personalities, he made sure his future was financially secure. A few years ago, he sold his bungalow in Bandra and moved to Lokhandwala.
Walker was married to Noor, who was actress Shakila's sister.
In his last years, says Lakdawala, he frequently cried while remembering Guru Dutt. "He used to say, 'Main hi rah gaya [Only I am left behind]!'" recalls Lakdawala.
He says Walker was not just a man who laughed at others; he could laugh at himself too. Four years ago, both Walker and Lakdawala had gone to campaign for Congress leader Balram Jhakar in his constituency. They were joined by thespian Dilip Kumar and comedian Mukri.
Both Mukri and Walker wore dentures.
That night, Lakdawala exchanged their dentures. Mukri's dentures were smaller in size and Walker spent two hours trying to fit them into his mouth.
When Walker finally learnt about the prank, " he laughed and ran after me to beat me up," grins Lakdawala.
The legendary comedian was pillar of support for his friends, says Lakdawala.
He recalls how Walker would speak to him about M Sadiq, the director of the Guru Dutt-Waheeda Rehman-Rahman starrer, Chaudavi Ka Chand. Walker recalled how many people tried to discourage him from making the film. But Walker encouraged Sadiq; he assured him the film would be a success and convinced him against backing out of the project.
Walker's most poignant memories were, of course, related to Guru Dutt. He would talk frequent about the actor-filmmaker, says Lakdawala.
He would talk about Dutt's bad luck. His eyes would light up when he talked of the Guru Dutt-Waheeda Rehman romance. He had even made the arrangements for their wedding at his bungalow, including the Qazi, but Waheeda backed out at the last minute. Walker deeply regretted their break-up and what it did to his friend and mentor, Guru Dutt.
Have your say!
Alvida...Johnny Saab
Johnny Walker on rediff.com
But where are the comedians: Johnny Walker
Chacha 420
Related links
The Chachi 420 review
Classics revisited: Naya Daur
Johnny Walker remembers Mukri