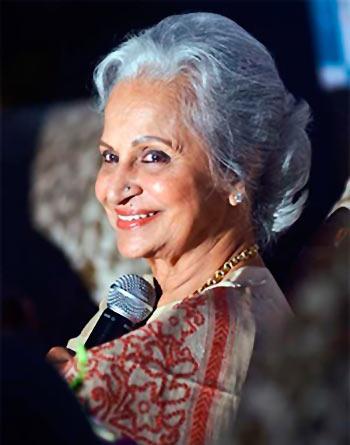 Waheeda Rehman made her debut in Bengali cinema with Satyajit Ray's Abhijaan in 1962.
Fifty-three years later, the actress will be seen in another Bengali film, Arshinagar, directed by Aparna Sen.
She recalls her debut with pleasure.
"When I was offered Abhijaan, I didn't know any Bengali. But Satyajit Ray insisted, saying my character spoke a mixture of Bhojpuri, Hindi, Urdu and Bengali.
"I agreed only because he had faith in me."
Waheeda did act in one more Bengali film, Jeevan Je Rokom, featuring Ranjit Mallick, but says that didn't turn out well.
She loves shooting in Kolkata. "I've shot many films in Hindi and some in Bangla in Kolkata. It's always a pleasure to be part of the city."
Surprisingly for a successful actress, she admits to having low self-esteem.
"I always felt I wouldn't be able to carry off what the directors require from me. Luckily, I manage. I really enjoyed my short stint with Aparna in Kolkata.
"The entire unit was very nice. The young actors were very sweet. I didn't have scenes with the Bengali hero, Dev, who plays the romantic lead.
"The girl Rittika, who plays my granddaughter, was very sweet. Roopa Ganguly, who is very talented, plays my daughter."
Waheeda Rehman thinks the time is right for Aparna Sen to do another Hindi film.
"There are so many fabulous heroine-oriented projects happening in Mumbai, whether it's Kahaani, Bobby Jasoos, Queen or Mardaani. Women never had it so good in Hindi cinema."
Reputed producers like Aditya Chopra, Karan Johar and Sanjay Leela Bhansali are backing reasonably budgeted, sensible films. Bhansali produced Mary Kom recently.
Waheeda says, "Ab art film aur commercial film ke beech ka daaera raha nahin. The barriers have dissolved. This is the best time for filmmakers like Aparna Sen."
As for herself, she says, "I don't see myself doing anything significant in films today. I am happy doing the occasional film."