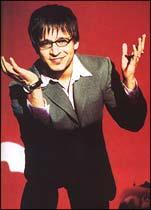 The scene: On the sets of Naaksha, at Film City in Goregaon, a western suburb of Mumbai. The hero, Vivek Oberoi, is inspecting three trousers.
As the designer steps in, Vivek asks him which trouser he should wear for his next shot. The designer chooses a cream-coloured one.
"You see there is so much to do as an actor. You have to choose the right colour trouser and so many other things that one needs to keep in mind while shooting," says Vivek.
So, does he interfere into the director's domain? "You see there is a thin line between being involved in a film and interfering," Vivek is quick to point out. "I try to maintain a balance. I believe that filmmaking is a director's medium and we actors have to go to with the director's conviction."
Once hailed as the most promising actor, Vivek has settled down to being very choosy in life, and doing very few films. At present, he is doing only two films for next year -- Naaksha and Pyare Mohan. His latest, Home Delivery, is set to release on December 2. 
Is he following the Aamir Khan-Hrithik Roshan strategy of doing few films? "I want to do work that excites me. I will only do films that will appeal my sentiments," is Vivek's ready reply.
"I am a hungry actor and I want to do good films. I don't keep only the release day of Friday in mind but I think of the rest of the year too. I can do very dramatic films and at the same time I can do a very meaningless movie too if I feel my role is good." 
Vivek quickly brushes off a question about competition. "I don't believe in competing with other actors. I believe the only person you can compete is with yourself. You can only do better work compared to your earlier work."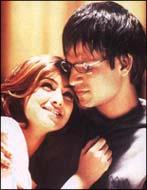 About Home Delivery, Vivek says, "I said 'yes' to this film immediately as the offer was from the director of Jhankaar Beats, Sujoy Ghosh, and I have a great role in the film. If something like this comes up again I am always open to do it."

In Home Delivery,

Vivek plays Sunny Chopra, a journalist. Sunny is the paper's agony uncle, and writes a column called 'Gyaan Guru'.

Juhi Chawla plays the editor of Sunny's newspaper. Ayesha Takia is Vivek's girlfriend and Mahima Chaudhary plays a sexy South Indian actress.

"In the film, Mahima's name is Maya, but I call her 'Cleavage Kumari Miss Maya' as I have been fantasising about her since adolescence. I am supposed to get engaged to Ayesha Takia when 'Miss Maya' enters my life. Boman Irani enters, and confusion follows," says Vivek.

The actor feels comedy is a tough nut to crack. "One can easily make out if you are faking laughter, but is not so easy to catch fake tears. I believe it is tough to be funny and tougher to make people laugh. And it needs to be been done effortlessly. A joke can be comedy but one can kill the joke if it is delivered badly."

Is it true that his penchant for shooting from the lip – which his detractors call his foot-in-mouth syndrome – has jeopardised his career? Vivek turns to the example of Adolf Hitler's propaganda manager -- Joseph Goebbel – who spread lies against Jews until Germans started believing the Jews were responsible for their miseries.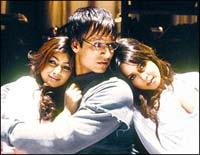 "You know Joseph Goebbel's theory -- tell a lie many times and people will start perceiving it as the truth. As far as I am concerned the projected perception about me has overpowered the truth," Vivek shoots back. "I am loved by everyone in this industry but somehow that perception has not come across.
"In this world, perception keeps changing; and perception is flaky. When I did Company in 2002 many people had the perception that I was doing a wrong thing by doing a character role in my debut but their perception changed after the film was released. So perceptions change all the time."
But why does everything he does turn out negative? Even his charity work for tsunami-affected people was slammed by Tamil Nadu Chief Minister J Jayalalitha as a publicity stunt.
"I don't bother much about such statements," retorts Vivek.
"Ultimately what matters to me is whether my effort brought smile on little children's face. If the answer is 'yes' then my purpose is served and I don't care what others have to say."