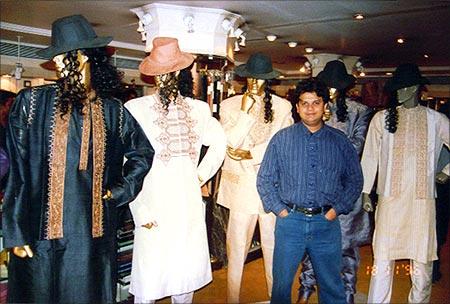 Viren Shah, the director of Roopam fashion wear, had an unusual client way back in 1996, when he was asked to design outfits for Michael Jackson. The pop icon was in town for a grand concert.
He recounts his memories:
Wizcraft had organised Michael Jackson's programme in Mumbai. I was asked to design, I think, six or seven sherwanis for him. I was given his measurements by Wizcraft and I gifted them to him.
He was staying at Oberoi but none of their staff or anyone else was allowed near him. He had come from America with his own team. He flew in on his own jet. And another jet brought his team.
But I spoke to his secretary. She said he really loved the sherwanis and said he would definitely wear them. I asked them to send me a photograph of him wearing them but they never did.
In India, people were crazy about him. He was that kind of performer -- a superstar.
I did meet him too. There was a party held at the Oberoi poolside. He was on a stage. I shook his hand. And he hugged me and I took a picture with him. There were 600-700 people there -- industrialist actors and actresses -- and they all wanted to meet him. Yes, there was a frenzy to meet him. He was wearing his trademark red jacket with the gold buttons.
He was very humble, shy like a baby and said, 'Namaste.' His bodyguards were all around and it wasn't easy for people to go close, obviously. I could see the layers of make up on his face. It looked like plastic. Thick, smooth layers stuck to his face. You could easily make out from his hand that he was not as young as his face looked.
All his life he was mysterious so people in India and abroad wanted to see him closely -- the real Michael -- and touch him and feel him, which I did. I was one of the few lucky ones.