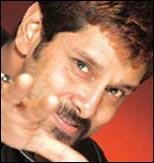 Vikram is the winner of this year's National Best Actor award for his performance in the Tamil film Pithamagan, directed by Bala. He plays the role of Chittan, a grave-digger whose life revolves around a graveyard and corpses and is totally cut off from the so-called civilised world.
The story of Vikram's rise from a struggling actor to a National Award winner also has the dramatic ingredients of a film. It has passion, drama, pain, tears and finally smiles and accolades.
This is the story of a man who, from the day he started thinking about his future, did not want to be anything but an actor. That realisation dawned when he was 12 years old. Till the eighth standard, he was first in his studies, but from the day the film bug bit him, he ranked last in class!
Vikram was educated at a boarding school in Yercaud, a sylvan hill station in the Shevaroy hills near Salem. The school gave him every opportunity to pursue extracurricular activities. So he learnt karate, swimming and dancing and played various games. He felt it would help him when he became an actor! He was so obsessed with films that, to quote him, "If I had to fetch a ball, I would jump over a wall instead of walking around," thinking it would help him in films later!
His father forced him to go through college, and he did. 
Graduation in English from Loyola College, Chennai, a few computer courses and an MBA later, he was still obsessed with films. In those days, he and his film-crazy friends would dream of the day they would be successful (Today, one of his closest friends, Dharani, is a successful director in Tamil with three hits in a row.)
Finally, the day he longed for came. In 1989, he got an offer to act in a film called Meera. Vikram thought he would be a sensation after the film, but it did not quite work out like that. Next was ABCL's first Tamil film Ullasam. His co-star Ajith became a sensation, but Vikram continued to struggle.
Years rolled by, but no great offers came his way. He did bit roles in Malayalam and Telugu films to keep the home fires burning and dabbled in dubbing. All those years were not wasted, Vikram told me once. It is appropriate to recall his words now that he has won the National Award, "If they describe my acting as good, it is only because of the experience I got from those Malayalam films. I had watched all these great actors act and the natural acting that I do now is not even five per cent of what they do in Malayalam films. I want to do good roles in Malayalam cinema too because I love those films. I want to do the kind of strong roles that Mammookka and Mohanlal do there."
Vikram has always been a fighter. After a major motorbike accident while in college, he couldn't walk for three long years. He was on crutches for one more year. The doctors told him he wouldn't be able to walk without support again. But he was adamant he would walk one day and become an actor. His determination kept him going. "If I could come out of such a serious setback, I can come out of anything," he said once. "The 10 years of struggle was nothing for me. Yes, I felt a little low, that's all."
It was after 10 of struggling as an actor that he finally signed Sethu. But he still had a long way to go before his trails would end.
It took two years for Sethu to be completed. During those two years, Vikram did not do anything but be the character; he didn't think of anything but Sethu. He lost weight. He shaved his head. He changed his appearance. He did everything with the expectation that the shooting would be over in three months. Six months passed, then a year. One-and-a-half years later, the film remained incomplete. Vikram couldn't take up any other film because he had to maintain his 'look'. By the end of the second year, it was his mother who was running the house.
Finally, two years later, the film was ready. Those who saw the rushes were stunned! People clapped after the preview. At last, thought Vikram, his dark days were over.
He was wrong. Nobody was ready to buy a grim film like Sethu. Vikram was shattered. Finally, the producer decided to release the film himself. Then came another obstacle. No theatre was ready to exhibit the film!
What they got ultimately was the noon show in a suburban theatre. The first show barely attracted an audience. Vikram was close to tears. Through he continued going to the theatre for the first few days, he was beginning to believe his dream to become an actor would remain just that -- a dream.
Slowly, people started trickling in. After a few days, they got a bigger theatre in the city. Again, the screening was limited to the noon show. The first screening had an audience of just 25 people. But Sethu once again worked its magic. After a week, the theatre owners called the producer to say they would screen the film at their regular shows.
In no time, the film was running in nine theatres in Chennai. It completed 75 days in each one of them. For the first time in his life as an actor, Vikram was mobbed by people when he went to see the film. They lifted him, kissed him and almost ripped his shirt off. He was thrilled.
Sethu was declared a hit. At last, Vikram's 10 long years of struggle had paid off. For the first time, his telephone started ringing as producers and directors began chasing him.
But Vikram did not sign a single film in the next 65 days! That was because no script interested him. He had waited for 10 years for Sethu and didn't want the beautiful moment to just vanish by making a wrong move.
Many people thought he was off his rocker. When he signed another offbeat film, Kaasi (a remake of the Malayalam film Vaasanthiyum Lakshmiyum Pinnae Njanum), where he was to play a poor blind singer, the trade pundits were shocked. Lady Luck, however, was firmly with Vikram. Kaasi, as well as the commercial venture Gemini, did very well at the box-office. A man whose name was not even mentioned in Tamil as an actor suddenly had three hits in a row!
During the 10 long years of his struggle, actors who came after him -- Vijay, Ajit, etc -- had surged ahead and become stars. Finally, Vikram's time had come. Gemini, Dhil, Saami... the list of his successful films is a long one. Even the god of Tamil cinema, Rajnikanth, has acknowledged him as a superstar. Vikram has at last become king of the Tamil film industry.
If there is one man responsible for what Vikram is today, it is director Bala. If Bala had not offered him Sethu, perhaps Vikram would have remained a small-time actor in Malayalam and Telugu cinema. If Bala had not offered him Pithamagan, Vikram would not have won a National Award 15 years after his debut. In preparation of his role as Chittan in Pithamagan, he coloured his hair, discoloured his teeth, grew his nails, dirtied them and wore unclean clothes.
If Sethu made him a star in Tamil Nadu, Pithamagan established him as one of India's top actors.
It might have taken him more than three months after Sethu to sign another film, but he has not rested for a single day in the last four years. "He has not done films expecting anything in return," says Vikram's wife Shyla. "He loves what he is doing and works extremely hard. For the amount of hard work he puts in, he deserves this award."