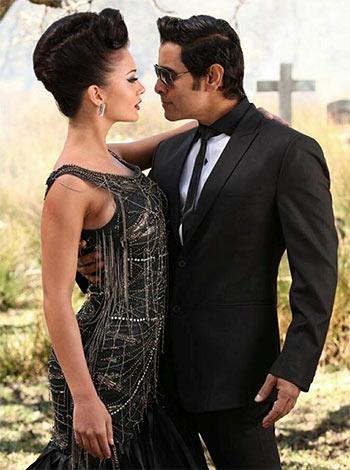 From his very first film, Gentleman in 1993, film director Shankar demonstrated his flair for the spectacular.
Top stars from the film industry have often expressed their desire to work in a Shankar film.
As his latest, much-talked about venture, I, starring Vikram, is all set to hit the screens this Pongal, here is a look at the other heroes, who have been a part of this brilliant director's extraordinary journey of success.
Vikram
Film: Anniyan and I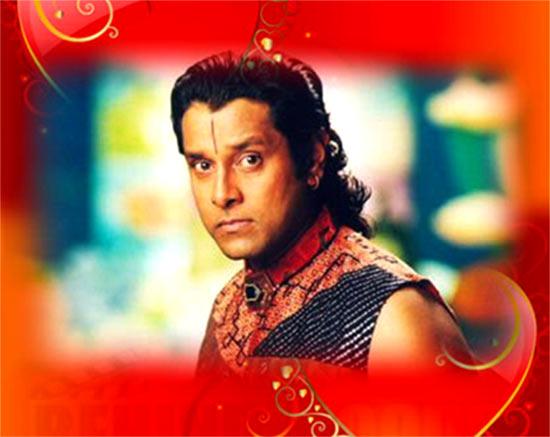 Image: Vikram in the Anniyan poster
Shankar's Anniyan, a psychological thriller with Vikram in the lead, was another big success.
Vikram played three different characters in the film, each with different mannerisms and body language.
It was an extremely difficult role, and was played to perfection. Vikram always strives to make his characters appear authentic.
The Shankar-Vikram duo is looking to recreate the same magic after nearly a decade with I. The film also stars Amy Jackson.
The music by A R Rahman has become quite the rage with the teaser crossing one million views within just 12 hours of its release, the first for a Tamil film.
Vijay, Jiiva, Srikanth
Film: Nanban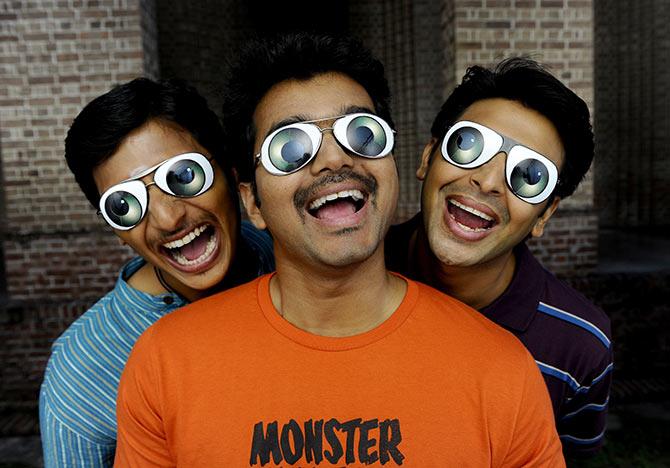 Image: Jiiva, Vijay and Srikanth in Nanban
Nanban was the remake of Rajkumar Hirani's blockbuster 3 Idiots, and starred Vijay, Jiiva, and Srikanth.
Vijay did full justice to the role played by Aamir Khan in the original film, with none of the over-the-top commercialisation to cater to his mass hero image.
Equally admirable were Jiiva, Srikanth and Sathyaraj. Since 3 Idiots broke several box office records, expectations were high for Nanban.
Shankar took on the challenge, added his own characteristic style to the film, and came out with flying colours.
Rajinikanth
Films: Sivaji and Enthiran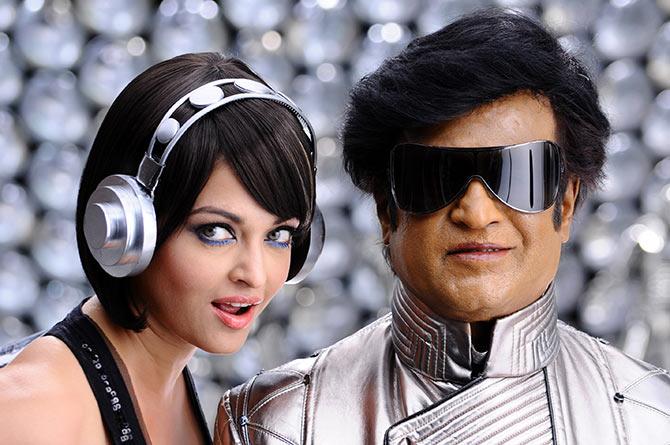 Image: Aishwarya Rai Bachchan and Rajinikanth in Enthiran
Shankar's films seem to be tailor-made for Superstar Rajinikanth. Their successful association broke many box office records.
Rajinikanth was in his element as a philanthropist in Sivaji. Plenty of humour, action, and punchy dialogues and the sizzling Shriya Saran made Sivaji a huge success.
Shankar and Rajinikant's success story continued with Enthiran, in 2010. The film won several awards, including two National Awards.
In this science fiction film, Rajini played a dual role.
The charismatic actor was brilliant as an android robot in love with the lovely Aishwarya Rai. The negative shades in his character brought back old memories and thrilled the audience.
Enthiran is one of the highest-grossing Tamil films of all time.


Siddarth, Bharath, Nakul
Film: Boys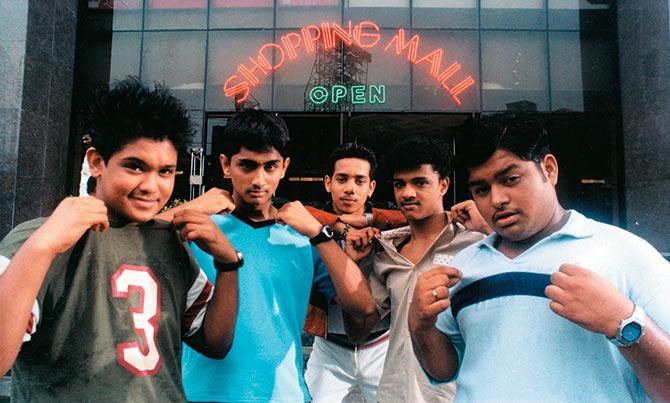 Image: A still from Boys
The hugely controversial Boys dealt with the temptations and distractions surrounding the youth.
This was the only film by Shankar that had an average run at the box office. Honest, blunt and sometimes vulgar, the film drew the ire of both youngsters and adults.
Despite the negative reception, all six newcomers did a great job.
Siddarth, Bharath and Nakul, who played significant roles in this coming-of-age film of 2003, have since made a name for themselves in the industry.


Prashanth
Film: Jeans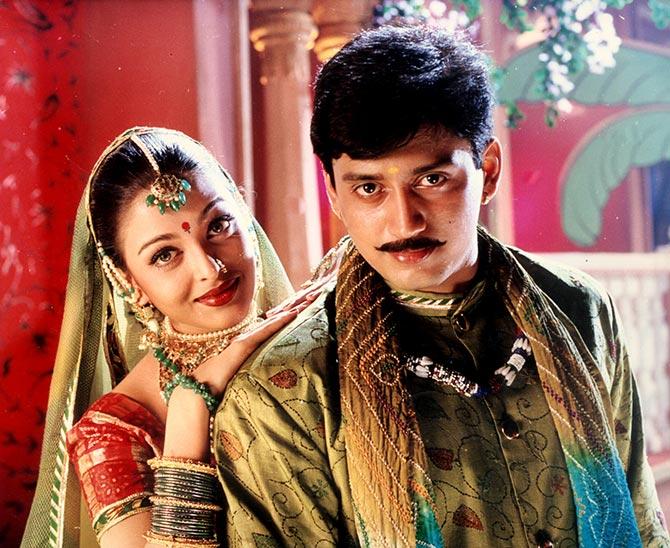 Image: Aishwarya Rai Bachchan and Prashanth in Jeans
Three characters in the film Jeans -- Prashanth, Aishwarya Rai and Nassar -- essayed multiple roles.
Prashanth played identical twins, Vishwanathan and Ramamoorthy, settled in the USA with their father Nassar, a rich restaurateur.
The father is adamant that his sons should marry only identical twin sisters, which led to many a hilarious incident.
Aishwarya Rai, who is in love with Vishwanathan, is forced to play a charade to fool his father.
Prashanth impressed with his quiet and understated performance. This coupled with Aishwarya Rai's charm and A R Rahman's exceptional music made the film a mega hit.


Kamal Haasan
Film: Indian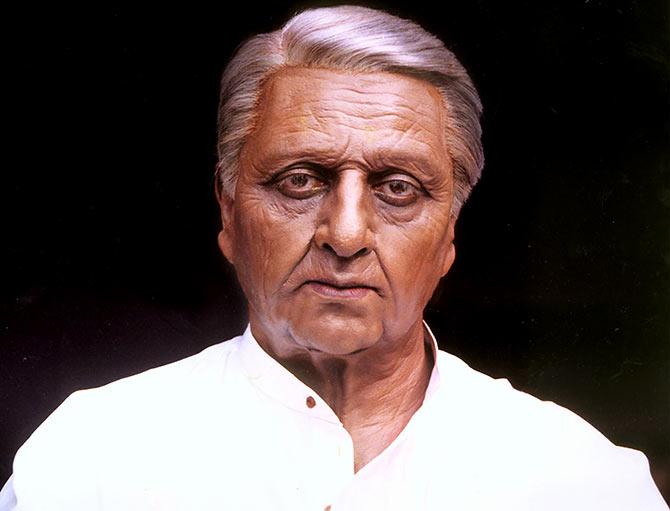 Image: Kamal Haasan in Indian
Kamal Haasan played two contrasting characters with ease in Shankar's Indian and won a National Award.
The film was also submitted as India's entry for the Best Foreign Language Film for the Academy Awards in 1996.
Kamal played a corrupt regional transport officer, who is eventually killed by his own father, an ex-freedom fighter determined to put an end to the rampant corruption in the country (also played by Kamal).
Indian was one of the most expensive Tamil movies of the time with a budget of Rs 15 crore.


Prabhu Deva
Film: Kadhalan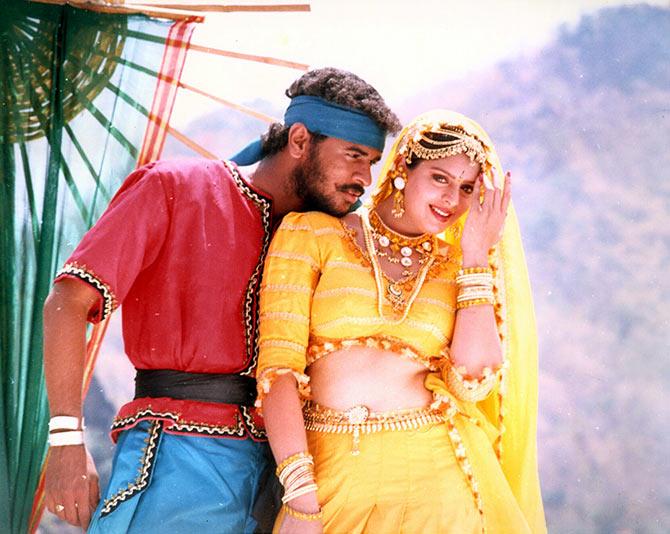 Image: Prabhu Dheva and Nagma in Kadhalan
Kadhalan, starring Prabhu Dheva and Nagma, won four National Film Awards. A sensational love story brimming with beautiful songs, the film was a huge commercial success.
The film displayed Prabhu Dheva's extraordinary skills as a dancer, with several of the songs becoming instant chartbusters.
His mesmerising dance moves in Mukkabla and Pettai Rap earned him much appreciation.
The haunting Ennavale Adi Ennavale won P Unni Krishnan a National Award.


Sarja Arjun
Films: Gentleman and Mudhalvan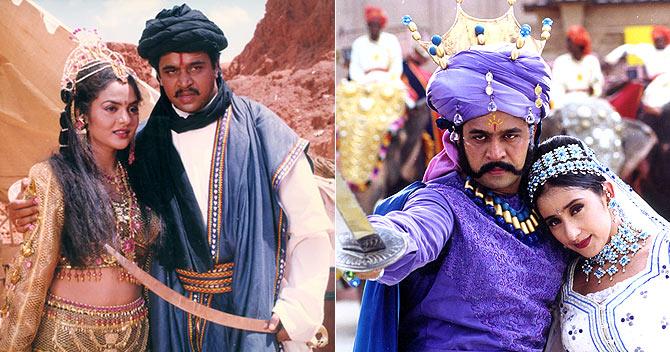 Image: Madhoo and Sarja Arjun in Gentleman. Sarja Arjun and Manisha Koirala in Mudhalvan
Shankar's directorial debut, Gentleman, had Action King Arjun in the lead role. The film delved into the fraud and bribery in medical colleges and the need for education among the underprivileged.
Arjun gave a brilliant performance in the film, which became a blockbuster. It was later remade in Hindi by Mahesh Bhatt as The Gentleman.
Six years later, in 1999, Shankar and Arjun came together again in another blockbuster, Mudhalvan. Arjun was impressive as the 'one-day chief minister' and his crusade against corruption.
With dialogues by veteran writer Sujatha, music by A R Rahman and cinematography by K V Anand, the film was a grand success, and completed a 100-day run.