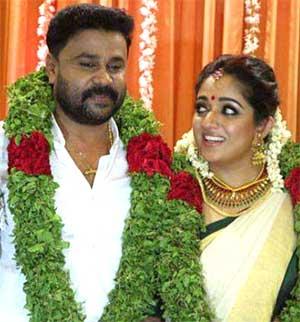 Malayalam actors Dileep and Kavya Madhavan got married in Kochi on November 25.
Dileep's daughter Meenakshi was by the couple's side. During the ceremony, she addressed the media and said that she is happy for her father and Kavya.
The bridal couple opted for traditional Malayali outfits. After exchanging garlands, they performed traditional wedding rituals.
Dileep posted a video on Facebook and wrote: 'I am here to tell you about a big event happening in my life today. I am getting married today. When I thought of a marriage, I discussed it with my daughter, her mother, my friends and family and arrived at a decision. My partner is a person who has been linked to me in gossip magazines. I earnestly hope all Malayalis and people around the world who love me would shower your blessings on us and remember us in your prayers. Please do not create controversies out of this. Bless us instead.'
The simple ceremony was attended by the prominent faces of the industry like Mammootty, Jayaram, Meera Jasmine, director Joshiy, Siddique, Lal and producers Suresh Kumar and Renjith Rejaputhra.
Watch the wedding in this video.