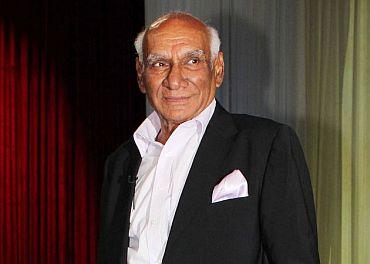 Veteran Hindi filmmaker and 'King of Romance' Yash Chopra passed away at a suburban hospital in Mumbai on Sunday.

Chopra, who celebrated his 80th birthday on September 27, had been admitted to the Lilavati hospital in Mumbai last week on account of dengue infection, hospital sources said.

Chopra, known for landmark Bollywood films such as Trishul, Deewar, Silsila, Chandni and Dil to Pagal Hai, during his career spanning over five decades, had said on his birthday last month that his upcoming film Jab Tak Hai Jaan would he his last movie as a director. 

Lilavati hospital spokesperson said Chopra was in the ICU for the past few days.

Chopra, 80, is survived by wife and two sons, filmmaker Aditya Chopra and actor-producer Uday Chopra.

Yash Raj Chopra was born in Lahore, now in Pakistan, on September 27, 1932.

He began his career as an assistant director to his elder brother B R Chopra and directed his own first film Dhool Ka Phool in 1959.

The Chopra brothers made several more movies together during the late 50s and 60s.

Chopra's first commercial as well as critical success was Waqt (1965), a multi-starrer family drama. 

In 1973, Chopra founded his own production company Yash Raj Films.

Though he started out in late 50s, Chopra always had his finger on the pulse of the audience and continued to deliver blockbusters in every following decade.

His repertoire includes iconic angry-young man films like Trishul and Deewar, both featuring Amitabh Bachchan in central roles, but in the later years Chopra was more and more associated with the 'romance' genre.

Reacting to the news, filmmaker Subhash Ghai said, "Yashji was the guru of industry. He was always full of energy. He will be remembered forever."

Director-producer Mahesh Bhatt said the "news is heart breaking."
Also See:
The Ten Best Film Scenes from Yash Chopra
Heart says now I should stop: Yash Chopra
5 facts about Yash Chopra