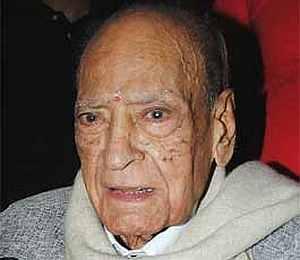 Distinguished character actor A K Hangal, who was best known for his roles in films like
Namak Haram
,
Sholay
and Shaukeen, passed away at a hospital here this morning following a brief illness. He was 98.
"He passed away at 9 AM at Asha Parekh Hospital. He was not keeping well for quite some time," Hangal's son Vijay said adding, "He was on life support initially but the doctors decided to take him off the ventilator since his condition wasn't improving."
The veteran was admitted to the hospital in suburban Santa Cruz on August 16 after he slipped and fell down in his bathroom on August 13, fracturing his right femur (thigh) bone. Hangal, who has been in and out of hospital since the last few years, was suffering from several ailments including high blood pressure and kidney dysfunction.
Doctors attending
to him initially felt that he needed to be operated on for the fracture but considering his advanced age they dropped the idea.
"My father was a spirited man....He kept fighting every time till his last breath," Vijay said, adding the funeral will be held at 1 PM today.
The actor was facing severe financial hardship before several celebrities from the film industry chipped in with funds after news of his deteriorating health broke out last year. Hangal had participated in the freedom struggle before turning to acting.
He played roles in films like
Sholay, Shaukeen, Namak Haram, Aaina, Avtaar, Arjun, Aandhi, Kora Kagaz, Bawarchi, Chitchor, Guddi, Abhimaan, Anamika
and
Parichay
.
He was also a regular in Rajesh Khanna's starrers like
Aap Ki Kasam, Amar Deep, Naukri, Thodisi Bewafaii
and
Phir Wohi Raat
. Recently, he returned to face the studio lights after seven long years for TV Series 'Madhubala'.