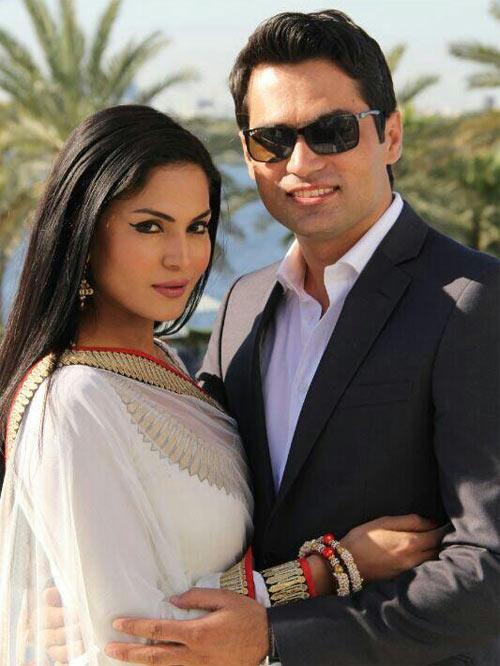 Controversy queen Veena Malik has landed in the eye of yet another storm.

She, along with the owner of Pakistan's biggest media group, Geo TV, and her actor husband Asad Bashir Khan, has been sentenced to 26 years in prison by an anti-terrorism court for allegedly airing a blasphemous programme.

Mir Shakil-ur-Rahman, owner of Geo and Jang group, was accused of allowing the airing of a blasphemous programme by Geo television in May, that played a religious song as a backdrop to Malik and Khan's mock marriage.

The morning show, broadcast live on Rahman's Geo TV, featured Malik dancing with her new husband while a group of Sufi musicians sang a devotional song about the wedding of the Prophet Muhammad's daughter.

Judge Shahbaz Khan also sentenced both Malik and Bashir along with TV host Shaista Wahidi for 26 years each.

The ATC also imposed a 1.3 million Pakistani rupees fine on the convicts and ordered that their properties should be sold to raise the fine, if they failed to pay it.

The judge said in his judgment that all four accused committed profanity. The court in its 40-page verdict also asked the police to arrest the convicts, an official said.

He said that the convict can appeal in the regional high court in Gilgit-Baltistan.
The anti-terror court that issued the sentence is in the city of Gilgit, which is controlled by Pakistan but is also a part of the Kashmir region which India claims.
Subsequently, many believe that the order is unlikely to be implemented because said region is not considered a full-fledged province by Pakistan and verdicts by its courts do not apply to the rest of the country.
Meanwhile, reports claim that the four people named are all out of Pakistan at the moment.

Rahman resides in the UAE and the other three also went abroad after recieving threats by militant organisations.

It is not known when the arrests would be carried out.

Both Wahidi and the Geo group have tendered apology after the allegations were levelled but the extremists in the country refused to accept it.

According to recent reports, the blasphemy case was registered on May 26 in a police station in Gilgit by hardline sunni cleric Himayatullah Khan, who is the deputy chief of the anti-shia organisation Ahl-e-Sunnat Wal Jamaat (ASWJ) formerly known as Sipah-e-Sahaba.
It is interesting to note that the show created quite a furore on social media while many similar shows on Pakistani television have gone largely unnoticed in the past.

Image: Veena Malik with husband Asad Bashir Khan
(With inputs from PTI)