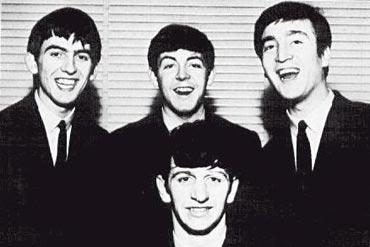 Less than 50 years ago, in 1966, John Lennon outraged Catholics the world over for predicting the end of Christianity and saying that his group, The Beatles, were "more popular than Jesus".
While that iconic comment and its subsequent fall-out came to represent the rift between conservative Christians and the rock-n-roll generation, it was hardly Catholics' only gripe with the supergroup.
With the Vatican leading the charge, Catholics labeled The Beatles' experimental music and no-holds-barred lifestyle a bad influence on society, particularly youngsters.
But now, in an unusual move, The Vatican has moved to absolve the Fab Four of forty-some years of condemnation. In a move reportedly sanctioned by Pope Benedict XVI, the Catholic Church has officially forgiven The Beatles for their sex and substance-fueled excesses, and has actually gone so far as to label the Liverpool lads a "precious jewel".
A recent front page article in the Vatican's official newspaper, L'Osservatore Romano, outlines The Beatles' achievements and highlights their "beautiful melodies" and massive influence on pop music.
"They may not have been the best example for the youth of the day but they were by no means the worst. Their beautiful melodies changed music and continue to give pleasure," the article reportedly says.
What a change, considering that not too long ago, opponents of The Beatles said they promoted drug usage, free sex and satanic messages -- not qualities generally heralded by the Church.
And, certainly, it must be difficult for some Catholics to swallow Lennon's famous flippant comment. "Christianity will go. It will vanish and shrink. I needn't argue about that; I'm right and I'll be proved right. We're more popular than Jesus now."
By all accounts, none of The Beatles were particularly religious in a traditional sense, though they did delve into the transcendental meditation movement in the 1960s, even going so far as to travel to Rishikesh, Uttarakhand to study under Maharishi Mahesh Yogi.
The Beatles from left: George Harrison, Paul McCarthy, John Lennon and Ringo Starr.