John Abraham, Varun Dhawan, Jacqueline Fernandez and Akshaye Khanna show off the Dishoom trailer!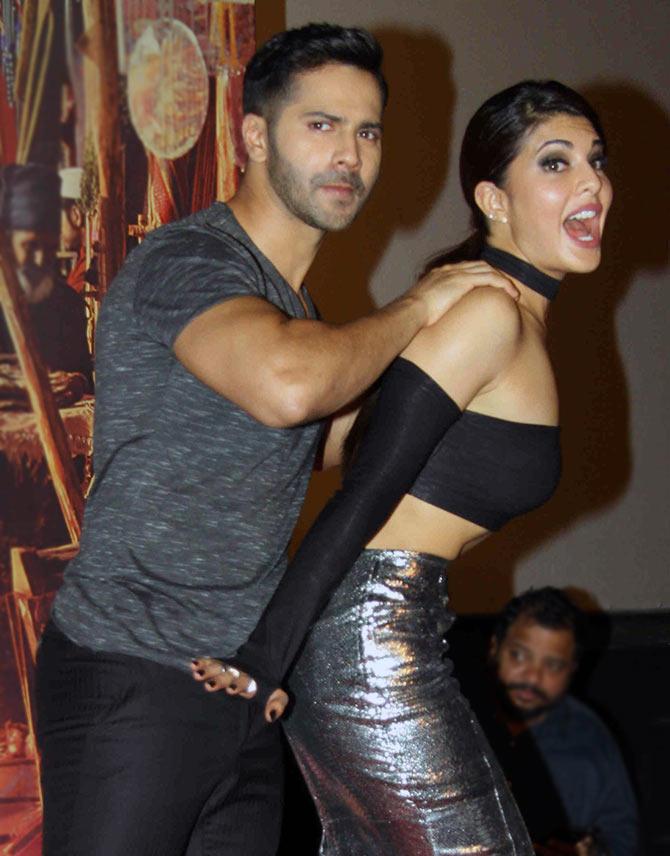 IMAGE: Varun Dhawan and Jacqueline Fernandez in Dishoom mode. Photograph: Pradeep Bandekar
Producer Sajid Nadiadwala, director Rohit Dhawan and Dishoom's star cast -- John Abraham, Varun Dhawan, Akshaye Khanna and Jacqueline Fernandez -- launched the trailer of their film last evening.
Dishoom, the tale of how a prominent Indian cricketer is kidnapped 36 hours before an India-Pakistan final, will be nail-biting, promise its makers.
"The cricketer in the film is India's top batsman, just like Virat Kohli. He is athletic looking and extremely attractive, just like Virat Kohli. He has the habit of winning matches which would otherwise be lost, just like Kohli. But his name is Viraj Sharma and he is not Virat Kohli," says director Rohit Dhawan.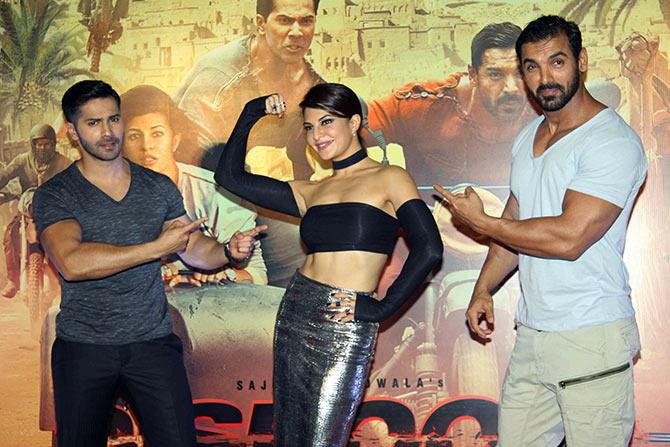 IMAGE: Jacqueline Fernandez shows off her dole shole. Should Varun Dhawan and John Abraham worry? Photograph: Pradeep Bandekar
He adds, "It is a fictional script. It was written years ago. He is the top cricketer in our country right now so you can let your imaginations fly."
The younger Dhawan, however, reveals that the cricketing star is aware of the film's story and is absolutely fine with it. "When I met Virat -- we both support the same football team -- I told him about it. He is quite cool with it," says Varun.
The Badlapur actor also clarifies that the film is not against Pakistan and does not show the country in poor light. "I would like to clear this. There is no negative reference to Pakistan or any community. It is a very positive representation. In fact, we are trying to show that, for a certain person, money is religion. It's not about being an Indian, Pakistani, Hindu, Muslim or Christian. In the capitalistic world that we live in, money is the biggest driving force for most crimes."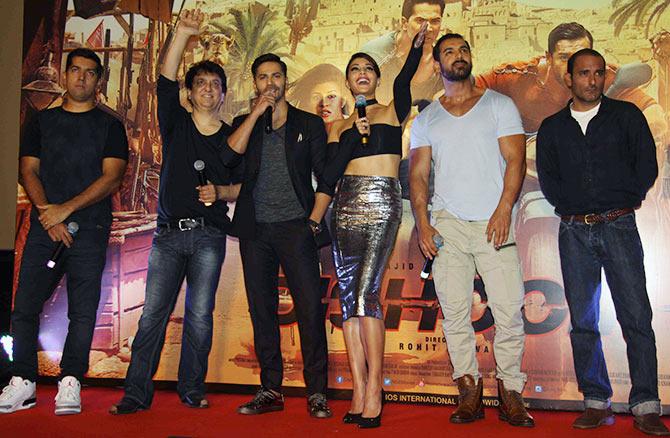 IMAGE: Director Rohit Dhawan, Akshaye Khanna and John Abraham look grim as producer Sajid Nadiadwala, Varun Dhawan and Jacqueline Fernandez celebrate the moment. Photograph: Pradeep Bandekar
How does Varun feel being directed by big brother Rohit?
"For me, honestly, it is super emotional," he says. "He's my brother and my hero. When Desi Boyz (Rohit's debut as director) released, I went to every theatre to gauge the audience reaction. It's different from my film releasing or my father's film releasing or a friend's film releasing. I can't really put in words how it feels when your own blood gives his life to make something special."
Varun adds, "One person has to be very obsessive when he's making this film, he has to give it his all. And that was Rohit. I'm proud that his madness made this film work."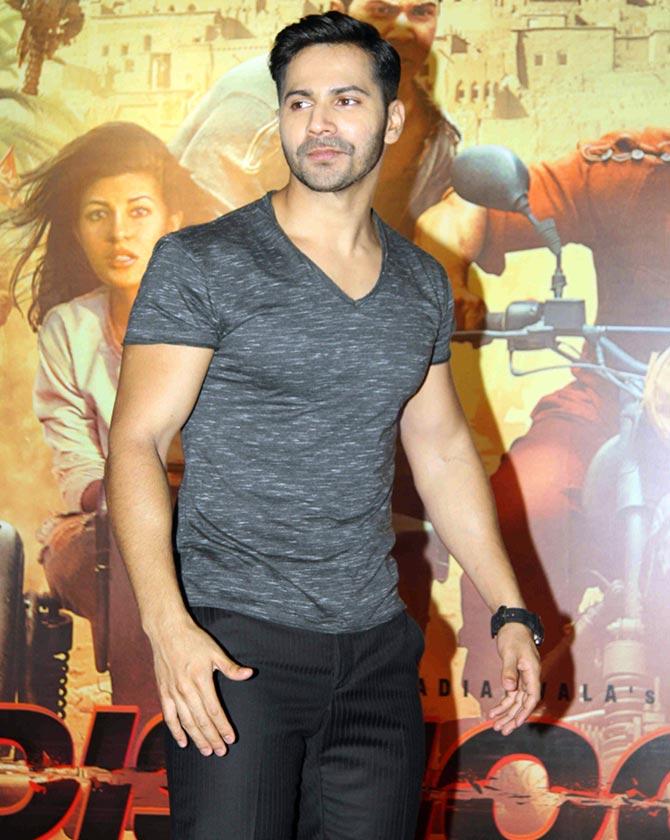 IMAGE: "Varun wants to give his best in every shot," says big brother Rohit. Photograph: Pradeep Bandekar
Surprisingly, Rohit doesn't echo Varun's thoughts.

"Emotions are all at home, not while shooting; we were extremely professional with each other in the capacity of actor and director," he says, adding, "Varun is an extremely hardworking, hungry actor, who wants to give his best in every single shot."
In response, Varun says, "Honestly, I feel that, with me, he was a bit more professional. You can ask the other actors. He'd shout at me the most on the sets. And John would take up for me always."
During a particular sequence, Varun had to jump onto a car but it wasn't easy. The 29-year-old actor recalls, "We were not getting the perfect take and Rohit is quite a perfectionist. We kept doing it again and again."
While shooting the scene, Varun's finger got jammed beneath the car's bonnet. Varun says, "It was very hot and because of that and the pain, I got a heat stroke. I don't think I fainted but he (Rohit) claims I did."
Rohit is quick to add, "He fell unconscious technically for 30 seconds."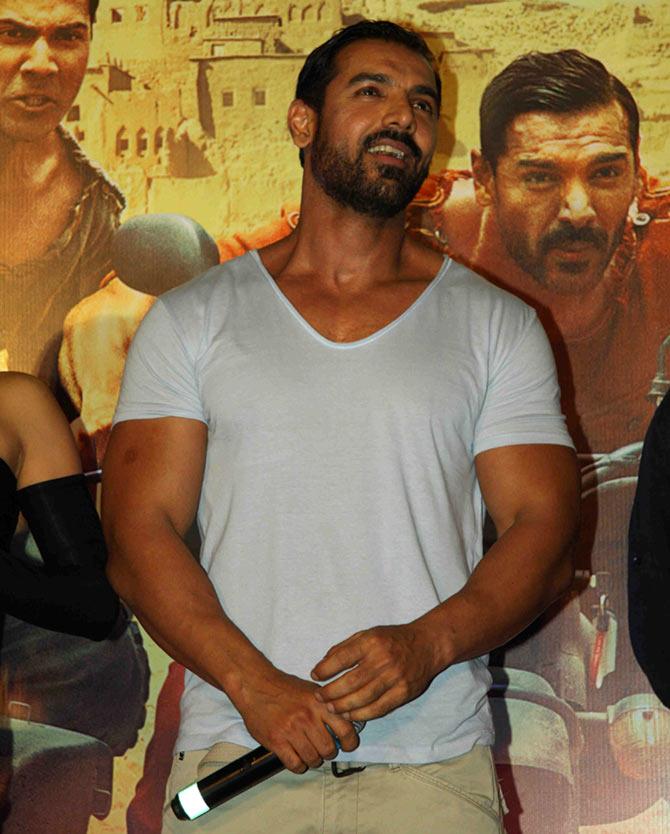 IMAGE: John Abraham takes on the media. Photograph: Pradeep Bandekar
Keeping Varun company in the film is B-town hunk John Abraham. In the film, both actors play cops and indulge in several heavy-duty stunts. John believes Dishoom has the potential to turn into a franchise.
"When I heard the script of Dishoom, the first thing I told Sajid (Nadiadwala) and Rohit was that Dishoom will go till Dishoom 8. This is a very young action adventure franchise. Kabir and Junaid (their characters) will find new problems, new issues and move to different places. It's going to be fun."
Coincidentally, John's character was called Kabir in Dhoom as well. Is there any other similarity between the two action films? "It's a different template, a different format and I really love this space," says John, who had a "fantastic time" working with Team Dishoom. "Rohit (who directed John in Desi Boyz as well) is like my little brother. Varun and I... our chemistry is absolutely fantastic."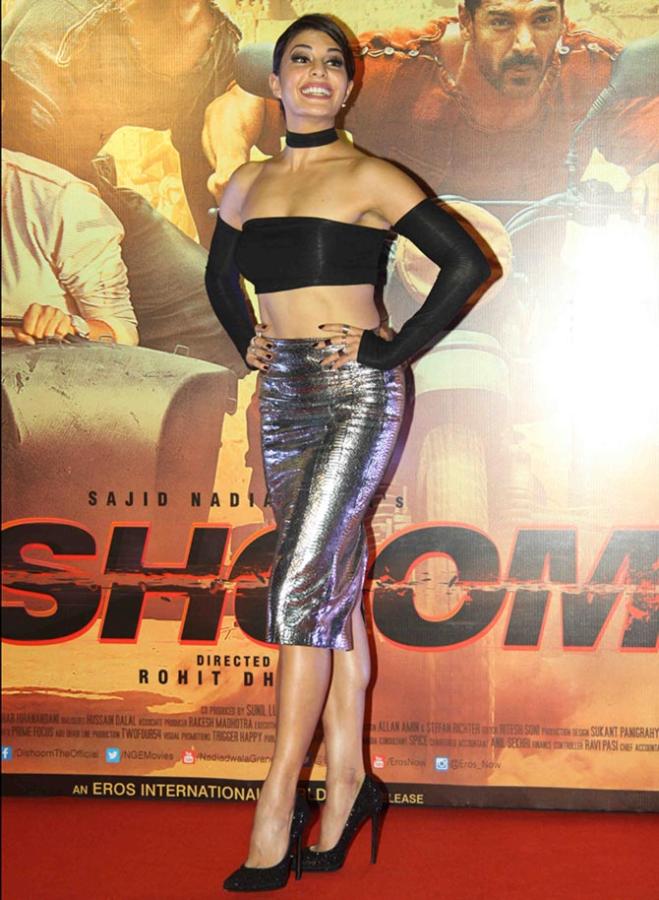 IMAGE: Jacqueline Fernandez, pretty as a picture. Photograph: Pradeep Bandekar
Dishoom also stars the gorgeous Jacqueline Fernandez and the talented Akshaye Khanna.
John, who earlier worked with the Sri Lankan beauty in Housefull 2, has only good things to say about his co-star.
"I have worked with Jacqueline before, she is a sweetheart. I am a huge fan of Akshaye (Khanna). The fact that he is in the film means so much to me personally. He is a fantastic actor," confesses the 43-year-old hottie.
Jacqueline, who turned emcee for the event, was all praise for her co-stars as well.
The leggy beauty and the male stars bonded so well that she often did Zumba with them after the shoot.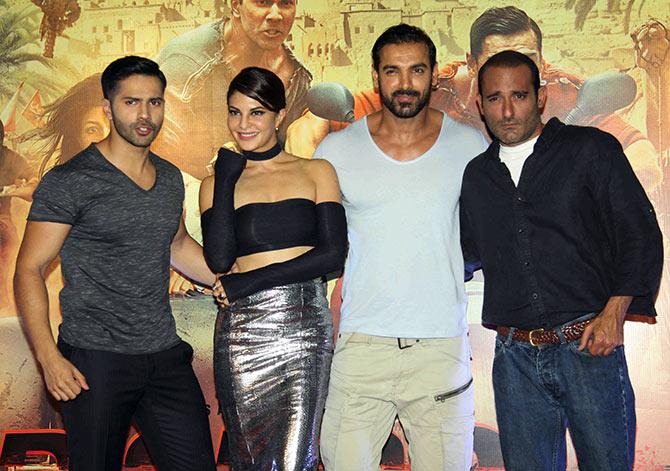 IMAGE: Varun, Jacqueline, John and Akshaye compete for the camera's attention. Photograph: Pradeep Bandekar
Akshaye Khanna, who last appeared in the 2012 comedy Gali Gali Chor Hai, is excited about making a comeback after four years. "I had some personal issues to sort out so I couldn't work for a while. I am thrilled to be back with this film (Dishoom) and a couple of more films this year."
What made him take up Dishoom?
Akshaye says, "It was just one line: 36 hours before the India-Pakistan semi-final match, a major Indian cricketer gets kidnapped. That's so interesting and fresh. And the fact that I kidnap him makes it nicer. That's the reason I was interested in the film."
When asked if he is nervous facing the media after so long, Akshaye, who plays Wagah in Dishoom, says, "I have always been scared of the media so it's nothing new."
Dishoom will release on July 29.