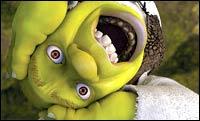 When she was growing up in Trichy, in southern India, Vanitha Rangaraju-Ramanan was drawn to a career that would not generally interest many women.
She studied architecture, but as she was a practising architect in Bangalore, she had been begun wondering what it took to work on animated films. She had fallen in love with animated films like Lion King. 
She headed for a graduate programme in Austin, Texas, with her husband Venkatramanan Ganapathy Subramanian, to continue studying architecture. "I was scared to start studying films," Vanitha Rangaraju-Ramanan says. "Also, to go into a graduate programme in cinema, you require a degree in cinema at many graduate schools. I did not have one."

But she began studying on her own about animation. "In Bangalore, I had started dabbling in computer imagery," Rangaraju-Ramanan, who has worked on the landmark movies Shrek and Shrek 2 says. She found an unused computer in Bangalore and began using it to create images of buildings, and alter those images in consultation with clients.

"I had also realised before I came to America that animation in films needed the input of a large number of technicians belonging to various fields and the artists who would draw the sketches," she says.
In Austin, she also studied computation and simulation, getting an internship during her last semester at Industrial Light & Magic, the leading visual effects studio in Northern California, started by George Lucas (Star Wars). Soon, she got a job offer from Pacific Data Images (PDI), which would soon merge with Steven Spielberg's DreamWorks.

"I was so thrilled at the possibility of working on animated films," she says, "that I could not make time to complete my masters thesis."

When Shrek, in which she worked as a technical director, became a huge hit and went on to win the newly created Oscar for animated films, Rangaraju-Ramanan's resolution to continue in the movies became stronger.

In an interview from her Fremont, California, home, she discussed what it meant to be an artist and technical director on animated films. "I got the job at Pacific Data Images (PDI), now PDI/DreamWorks, to work on Shrek in April 1999. Needless to say, I'm still trying to get back to school to finish my masters." 
      
"During the initial months of a feature film project, we have a small team of people working on various innovative developments for that film. It is called the visual development stage," she explains.
In Shrek 2, she also worked on hair design for several key characters, including the king and the Queen. "Hair is one of the hardest things to do in computer graphics, mainly because it is extremely geometry-intensive," she says. "For example, having one character with a full head of hair strands is equivalent to roughly 100 characters without hair."

"This is pretty rough, by the way. It is just to give you an idea of what I am talking about," she says with a chuckle.  She also had to create the hairstyle the way the art director wanted.

In Shrek 2, there are many characters with very detailed hairstyles. "The Queen's had to fit nicely into a hairnet; the King's was fluid and very stylised," she continues. "The Fairy Godmother's hairstyle is very sculpted. It was a really interesting challenge to make them look good. We got one of my co-workers who had grey hair similar to the King's and made him walk and run for reference [by shooting some video footage], then used that and the artwork from the art director as the starting
point."

Then she would spend many hours "tweaking the style," and going to the tool-writers to do the required modifications. "There would be more tweaks to the style," she says laughing, "And we would make the co-worker run again."

In  addition to above work, she was a leading lighting artist on the film.

"In this role, you work with the art director and the director in locking the look of the sequence in lighting -- whether it is a moonlit night in the forest or a warm evening day in Far Far Away, I was responsible for bringing their vision to life. I really
enjoyed that part of my work."

Her goal for Shrek 2 was to go more in the artistic direction. "I have the technical knowledge," she explains, "improving the art side excites me a lot, so that was what I wanted to pursue."

"The joy and satisfaction you get when you look at that one frame of picture you created is beyond words!" she says. "And the process itself, to make that picture, is enormous fun. I am really lucky to be doing what I am for a living. It is work, but I enjoy it tremendously."

Lighting technical directors also help the artistes achieve their goals, she continues. "You act as a liaison between the technical side of the production and the artistic side, because you have both technical and artistic knowledge and skills.

"In Shrek I was a lighting technical director," she says. "In the new film, I moved up to become more involved in the creative process directly as a lead lighter. You get more hands-on with the work."

What does she do in-between the movie projects?

"Usually there is another movie in the pipeline ready, so there is visual development to be done on that film," she continues. "There are also many promotional materials that we work on like commercials involving, say, the new Shrek film."

There is also plenty of DVD-related activity. "I also do the things that you never had the time to do," she continues, "like going to universities to give students an indepth understanding of the CG filmmaking process."

She is now working on another DreamWorks animated movie feature, Madagascar. "It is a funny story about four animals that escape from the New York zoo and get stranded on the island of Madagascar," she says.

Her husband is a major film buff. "He is way fonder of the movies than I am," she says. "And he loves animated films! "

She would love to make a short film when she gets time, she adds, asserting that it will be animated. "That is the medium I enjoy the most," she says, chuckling more. "So do my nieces and nephews."