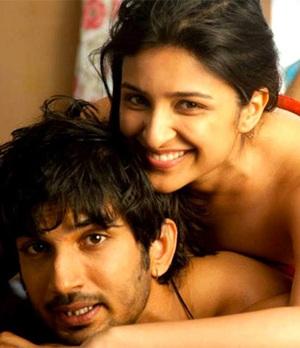 The very filmi Valentine's Day Special!

I don't know the question, but sex is definitely the answer, says Woody Allen.
Bollywood sort of agrees.

Though still somewhat coy when it comes to consummating romances, it's no longer scandalous.
As part of our V-Day special, we showcased the meet-cute, the ultra filmi dates and the heartaches on silver screen.

Now here's looking at when the couple in love hits a home run.

Don't Miss:
50 Shades of filmi lovin': Jab they met
50 Shades of filmi lovin': Movie-wala love
50 Shades of filmi lovin': Achy Breaky Hearts!

We've come a long way, baby!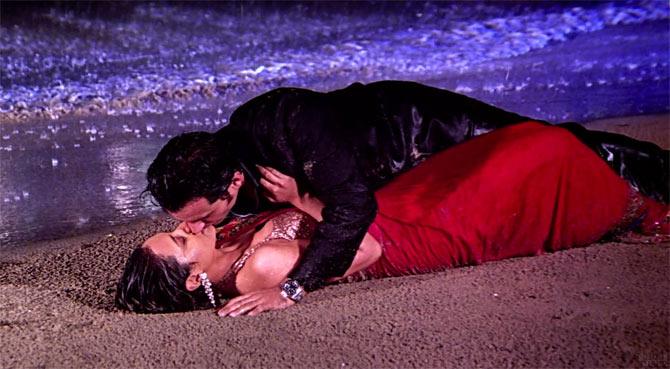 Image: Rani Mukerji and Saif Ali Khan in Hum Tum
In the When Harry Met Sally rehash, Saif Ali Khan and Rani Mukerji waste a whole lot of years denying their affection for one another.
When fate brings them together yet again, the physical attraction is undeniable and, ahem, appropriately acknowledged.

Mixing business with pleasure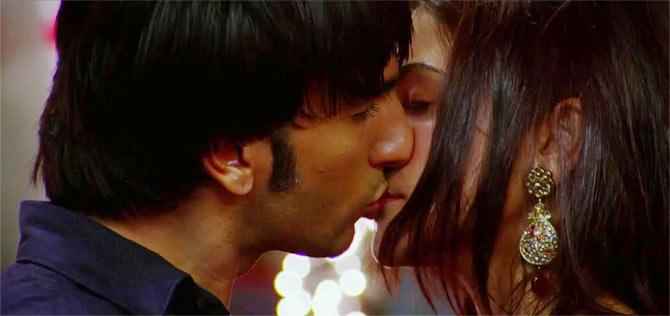 Image: Ranveer Singh and Anushka Sharma in Band Baaja Baarat
Ranveer Singh and Anushka Sharma play business partners who, in a tipsy state, get up, close and personal to celebrate a bumper day at the office.
Easily one of the sexiest kisses of the decade, the chemistry between the two actors is potent enough to set the screen on fire.

Red-hot feelings!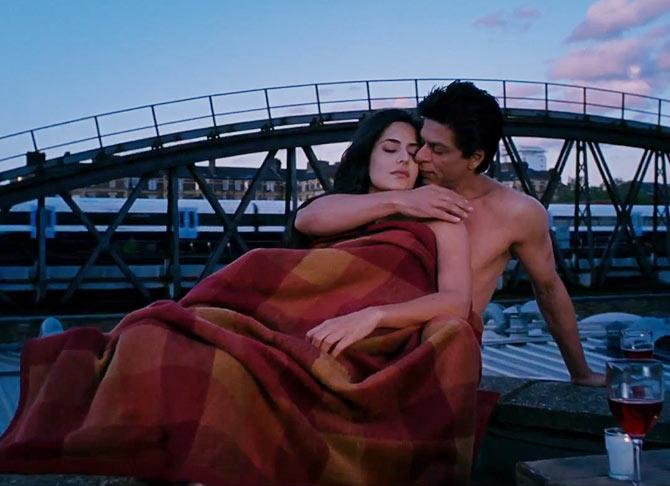 Image: Katrina Kaif and Shah Rukh Khan in Jab Tak Hai Jaan
What happens when a reserved, uptown girl falls passionately for a friendly musician doing all kinds of odd jobs to survive in London?

She sheds her inhibitions and how!

SRK who famously withdrew his no-kissing stance to lock lips with Katrina Kaif whips up some sizzling intimacy with his onscreen ladylove for Yash Chopra's swan song.

Friends with benefits!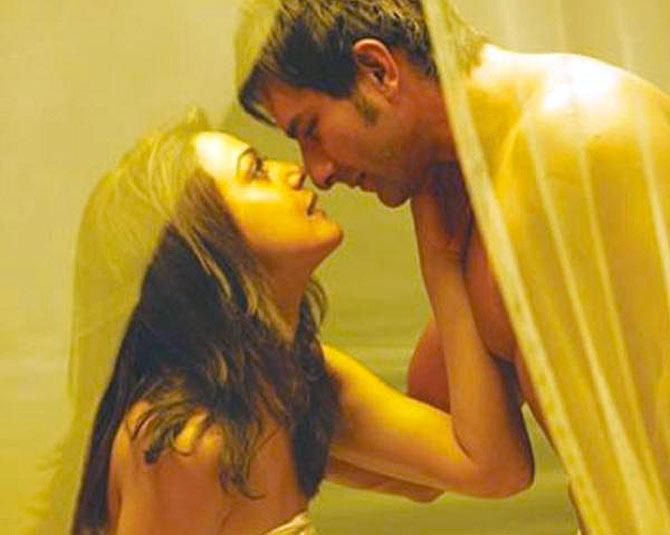 Image: Preity Zinta and Saif Ali Khan in Salaam Namaste
Melbourne dwellers Saif Ali Khan and Preity Zinta cope with the pros and cons of a live-in arrangement.
Despite their chalk and cheese personality, the duo's healthy chemistry in bed makes their dil go hmmm for quite a bit.

It's a wild world!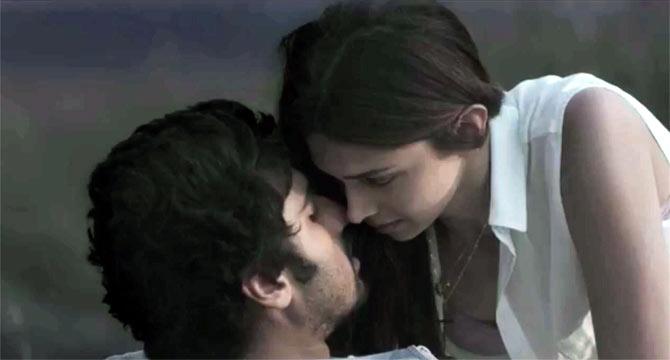 Image: Arjun Kapoor and Deepika Padukone in Finding Fanny
Somewhere in Goa an odd bunch of people sets out on a wild road trip.

Among them are Arjun Kapoor and Deepika Padukone, the duo has a romantic history together.
In one rollicking impulse, Deepika grabs hold of Arjun in the middle of the night and decides to make love against a vast, open field.

Bollywood cannot get more straightforward than this.

In the night no control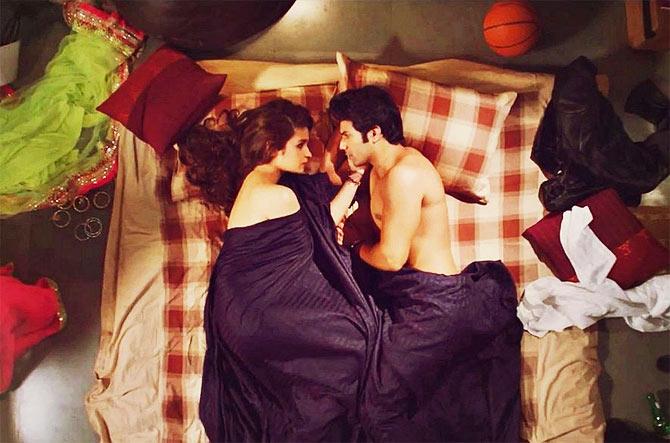 Image: Alia Bhatt and Varun Dhawan in Humpty Sharma Ki Dulhaniya
Unlike the demure Raj and Simran of Dilwale Dulhania Le Jayenge, the protagonists of the film that pays ode to the blockbuster romance waste no time in giving in to their carnal needs.
Varun Dhawan crushes over a soon-to-marry another Alia Bhatt yet goes to great lengths to help her buy a Kareena-style lehenga.

No prizes for guessing how she reciprocates his gesture.

Love, love me do!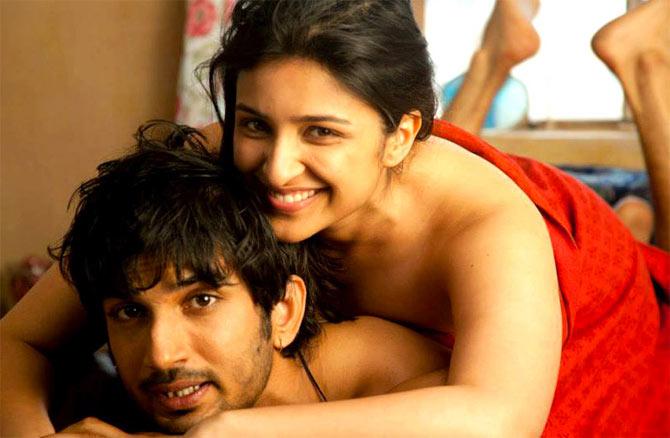 Image: Sushant Singh Rajput and Parineeti Chopra in Shuddh Desi Romance
Physical attraction is treated like an alien concept in our movies.

And that's where Shuddh Desi Romance scores.
Parineeti Chopra and Sushant Singh Rajput share a torrid equation as well as distaste for marriage.

And it's this 'cannot keep our hands off each other' attitude that sets the foundation of their live-in romance.

Sexual healing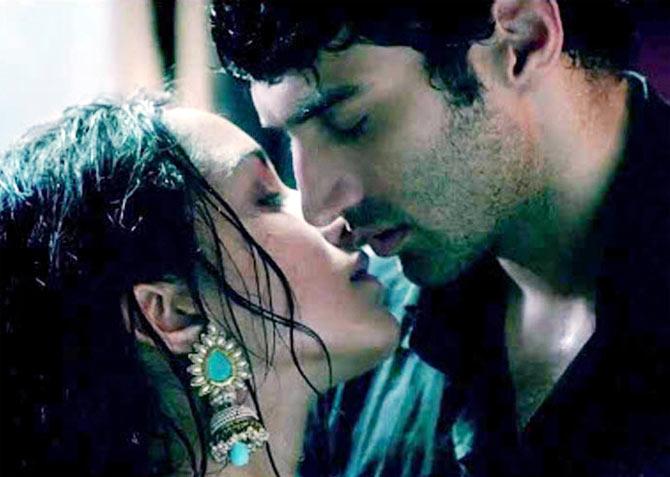 Image: Shraddha Kapoor and Aditya Roy Kapoor in Aashiqui 2
Aditya Roy Kapoor's alcoholic singer tries to make a rising star out of Shraddha Kapoor in Aashiqui 2.

But his own struggle to rehabilitate proves to be the greatest obstacle for his smitten protégée.
To rescue him of out of this self-destruction, Shraddha showers him with tender kisses and more. The ploy almost works.

Opposites attract!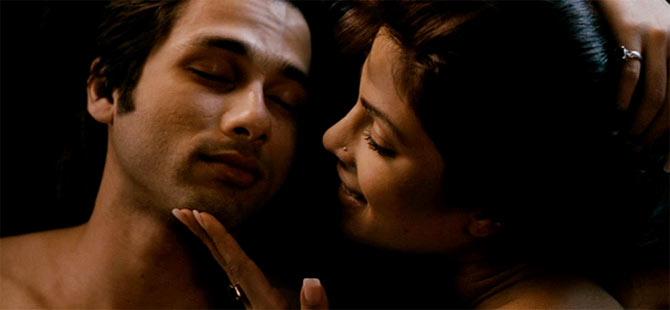 Image: Shahid Kapoor and Priyanka Chopra in Kaminey
He's shy.

She's upfront.

Blend that with an outdoor picnic, campfire and a tender Vishal Bhardwaj melody, what have we got?

Shahid Kapoor and Priyanka Chopra engaged in a dimly lit, dreamy lovemaking sequence of Kaminey.

Hold me, thrill me, kiss me, kill me!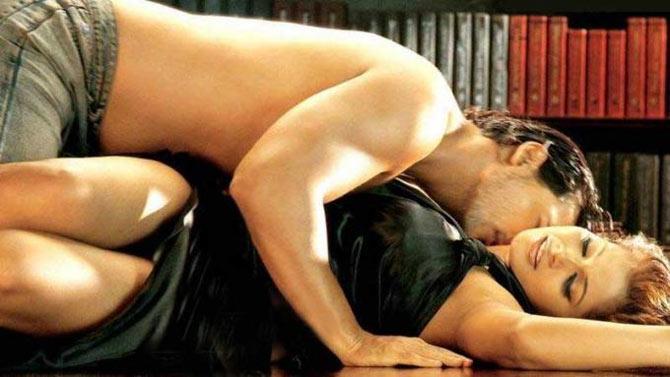 Image: John Abraham and Bipasha Basu in Jism
In this rip-off of Hollywood's Double Indemnity, Bipasha Basu's hot, lonely wife of a busy millionaire attracts the lustful attention of John Abraham's suave single male.
The culmination of their forbidden liaison is most scorching and seductive until Jism transforms into a full-blown erotic thriller.