Azhar Usman, a US-Chicago-born Muslim comedian, worked as a lawyer for not too long. But he decided his calling was standup comedy and he had followed the acts of several good standup comics when he was studying law.
Apart from his standup comedy, which is now in its seventh year, and which takes him to not only a number of cities in America and Canada but also to Egypt, Australia and the United Kingdom, he also works for a community organisation in Chicago.
But standup comedy is his mainstay. Some people have called him the Bin Laughin of comedy, thanks to the luxuriant beard he sports. He says his sole goal, through comedy, is to promote better understanding of Islam and Muslims.
Born of immigrant parents from Bihar, he has also performed with a number of desi comedians. He holds a Bachelor of Arts degree in communication from the University of Illinois at Chicago and a Juris Doctorate from the University of Minnesota Law School.
His concert film, Allah Made Me Funny, is showing in many American cities. It has good amount of praise though some critics have felt the comedy -- which features his two partners -- is a little tame.
This is how he describes his act to Arthur J Pais:
You have watched a lot of Bollywood films and you say you watched the comedians Johnny Walker and Johnny Lever. There was also a comedian called Johnny Whisky. What could be next, Johnny Kebab?
Johnny McCain, I guess. On second thought, I hope not.
Your comedy group is called Allah Made Me Funny and now you have the film Allah Made Me Funny in Concert. Why did you choose this name?
Allah is the sweetest name for any Muslim but it is vilified in America and much of the Western world because of the work of a few crazy fanatics and the sensational media. We want to reclaim the word Allah. We want to celebrate something that is beautiful. Some are surprised at the title; they could not connect God with humour.
You have called your comedy halal comedy. Unlike most stand-up comedy, your comedy is not raunchy or degrading to ethnic groups or to women.
I just cannot do that kind of comedy. At Allah Made Me Funny concerts and in the film, there is no vulgarity or humour that hurts. I have been greatly inspired by the comedy of Jerry Seinfeld, which is clean comedy. There is nothing mean about it. And there is certainly no vulgarity.
But you also admire the comedy of Richard Pryor. Now, Pryor was well known for his broad humour and his jokes were filled with sex and had raw language.
Seinfeld has said standup comedy is a journey into the self. A comedian cannot connect himself with the audiences unless the jokes have an authenticity and honesty. They should come from somewhere within your own self.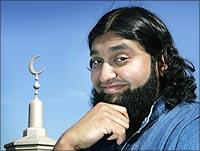 Pryor came from a very different background than my own. He lived as a boy in a whore house. He lived a very rough life. His comedy reflects his upbringing. I did not have anything like that happen in my life.
There are quite a few Muslim comedians now who deal with Islam in their comedy, in America and in the United Kingdom. How do you describe this phenomenon?
I call it the Kebab Circuit. Like the Jews in New York area had their comedy acts, first in the Catskills in New York state. That came to be known as Borscht Belt. The African Americans who were not accepted in the mainstream had their own comedy clubs and, later, they came to be accepted in the mainstream. Ditto for the Jewish comics.
And as for us, we get quite a few non-Muslims if the promoter does a good job and advertises our performances in the mainstream publications and radio. In Australia and the United Kingdom where we have performed, we have had many, many white people attending our shows. You travel a lot performing and often you fly to cities far away from Chicago. (Chuckles) The other passengers are always very nice to me after the plane has landed.
What is it like performing abroad?
I just got back from telling jokes overseas, and it's a totally different vibe over there than it is over here. In America, where I'm from, I get dirty looks for being a Muslim. So sometimes it's kind of nice to be hated just for being an American.
When I joke about this, it works because it is a flip on the idea that 'Muslims are the most hated people on earth,' since, actually, many people on earth are fed up with American elitism as well. And it's funny because it basically makes me universally hated, which is sort of the pinnacle of self-deprecation, I suppose.
What is your Obama joke?
The media always picks on Obama by exaggerating news stories. Remember several months ago: 'Barack Obama, when he was a child in Indonesia, attended a madrasa.' Ooooooh. Turns out 'madrasa' is just the Arabic word for 'school.' The media was upset because Barack Obama went to school? Proving once again that many Americans prefer their politicians uneducated.
Do you have a joke that pertains particularly to the South Asian Muslim community?
Never make the mistake I once made: asking a Pakistani if he is from India. Oops. I am a survivor. I was like, 'You are from India, right?' He screamed: 'NO!!!! PA-KIS-TAN.' And then a group of Pakistanis jumped out of the bushes and yelled 'ZINDABAD.' I was like, 'Why are you guys hiding in the bushes?'
What was the reaction of your parents and your wife when you decided to go into full-time comedy shows and community activities?
My family has been overwhelmingly supportive. They've been thrilled by all of the success that we've already had, and they are always hoping and praying for our continued success.
What does your wife do?
My wife is much smarter than me! She is a graduate of the University of Chicago Law School, where she was actually a student of Barack Obama several years ago. She worked as a litigator briefly after law school, but decided to be a stay-at-home mom after we had our first son in 2002. She quit her legal practice then and has been raising our three children as more than a full-time job since that time.
Did you start your comedy tours with two partners?
Preacher Moss is the founder of the 'Allah Made Me Funny--Official Muslim Comedy Tour.' He had been working on getting the project off the ground for nearly a year before he heard about me and my comedy. He then reached out in early 2004 and we hit it off immediately. I agreed to join him as the co-founder of the tour.
How did Amer join you?
When we began to travel extensively, we thought it would be a good idea to have a third man with us. We brought Mohammed Amer on the team [in 2006] and we've been touring strong ever since. We heard about Mo around the community and knew that he had been a local rising star on the Houston comedy scene.
Would you tell us about the collaboration work you have done with comedians who are not Muslims?
I am involved with two multi-faith shows. One is with Rabbi Bob Alper, which we call the 'Laugh in Peace Tour, featuring Comedy's Odd Couple,' which is obviously a Jewish-Muslim comedy show. That one is a lot of fun, and it gives me a chance to perform with him on many college campuses, as well as at synagogues, and other interfaith venues.
I am also one of the creators of 'MAKE CHAI NOT WAR: Hilarity through Solidarity,' an all-South Asian standup comedy show that I host.
What was the thinking behind MAKE CHAI NOT WAR?
My principal collaborators are now fellow Indian comedians Rajiv Satyal [who is Hindu] and Paul Varghese [who is Christian]. It's really a very funny, very strong show as all of us are basically co-headliners. We have great hopes for that show as well, and we believe the potential to bring diverse desi audiences together with MCNW is fantastic. We would really love to bring that show to the Indian subcontinent as well.
What was the shrillest protest or criticism you faced five years ago from, as you say, a very small number of people who did not understand what you were doing?
Basically, a few people over the years have felt that my material has the negative effect of perpetuating negative stereotypes about Muslims because they felt that making fun of stereotypes is too often mistaken by audiences as validation and substantiation of stereotypes.
While it may be true that some audience members may misunderstand the intent or purpose behind my comedy material, I think it is absurd to suggest that this would be the predominant result. So I just take their critiques under advisement and I keep working on my act. At the end of the day, standup comedy is art -- and like all art, it is reasonably susceptible to numerous, valid interpretations.
Surely some of the people who opposed your work a few years ago could have changed their mind?
Many have. Now we get invited to perform at events that are raising money for a new mosque or expanding the existing one or some fund-raisers related to charities.
What are you planning for the next year?
A LOT more live touring (we hope!), the DVD release of the concert film, and further development of other media projects I have been working on (including a possible television show, a humour book project, and another film that I am involved with as a producer).
Share with our readers the excitement you feel about going to India for the first time and performing there for the first time, too
I am absolutely thrilled by this possibility. I have not been back to India since 1996, over 12 years ago. I know a lot has changed since then, both in my own life as well as with India. I am excited by the prospect of opening up a whole new market for our comedy -- one of the largest, and most important markets in the world.
Would you be meeting Bollywood producers?
Given the rising global importance and impact of Bollywood film and pop culture, I would love the chance to network with executives and producers from the industry as well. And finally, to be able to bring back some desi-American spirit for my brothers and sisters in the motherland would be an honour and a privilege.