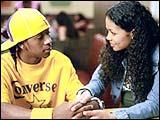 Clint Eastwood's searing psychological murder mystery Mystic River, which has been nominated for six Oscars, including Best Picture and Director, clearly benefited most by the Oscar nominations announced last week. The film which added about 70 theatres to take its total count to 1,370, grossed an estimated $4.4 million and a $65 million total. It enjoyed a solid 31 per cent bounce from last week.

The weekend's box-office was led by the urban dance film, You Got Served, aimed at teenagers. It opened with a pleasing $16 million. The $7.5 million film recouped its negative cost in just three days. It opened to far bigger numbers than analysts predicted. Even if it proves to have weaker legs and suffers a big attrition the next week, You Got Served will certainly be profitable.


But the other two newcomers were limp.
The Big Bounce
, a crime drama with dark humour and based on an Elmore Leonard bestseller, opened to lifeless numbers. Starring Owen Wilson and Morgan Freeman, it could not even find a slot among the top 10. Bombing with $3.3 million, it was at No 12 on the chart.
The Perfect Score
, featuring Scarlett Johansson and Erika Christensen, about a group of teens swiping the SAT exam to beat the system, received a failing grade. It opened at fifth spot with a mere $5 million. All three new films were poorly reviewed.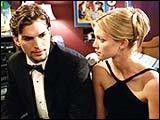 Among the top five Best Picture Oscar nominees,
Seabiscuit
is already on video, while
The Lord Of The Rings: Return Of The King
, the leader with 11 nominations and front-runner for Best Picture, saw a small drop in its collection from the previous week. With a $5.3 million gross and loss of 22 per cent audiences, it was fourth on the chart, following the hit
Along Came Polly
and the medium-range success,
The Butterfly Effect
.
Though
Lost In Translation
, nominated for four key Oscars, including Best Picture and Director, will be out on video this week, distributor Focus added more than 280 theatres, taking the total count to 632. As a result, the bittersweet comedy with a towering performance by Bill Murray as a fading movie star, more than doubled its gross ($2.2 million), raising its total gross to $37.5 million. The nominations will help the film significantly abroad where it has just started its run with strong numbers.
A disappointment at the box-office mainly because of its $130 million cost,
Master And Commander
, received a modest windfall thanks to its 10 Oscar nominations. The fast-dying film added $2.3 million, pushing its total to $87.8 million. It is likely to sail away with $100 million. But unlike
Mystic River
, both
Lost In Translation
and
Master And Commander
may not find a place among the top 10 grossing films over the weekend.
Though many would consider the film too gritty and downbeat,
Monster
is proving to be an arthouse hit. Banking heavily on the Best Actress Oscar nomination for Charlize Theron, it went into its widest release yet. Theron, who won the Golden Globe, plays a serial killer. The film doubled its theatre count to 668, collecting an impressive $3.1 million. It may expect its current gross $10.6 million to double in the coming weeks and will be a hit among the recent low-budget arthouse films.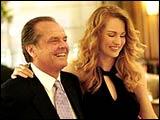 Though Tim Burton's sentimental fantasy
Big Fish
received just one Oscar nomination (for music), it held well at the box-office at No 6. Its total was $55 million. It was followed by
Cold Mountain
which, while receiving seven nominations, had failed to get in the Best Picture, Director or Actress nominations. The Civil War drama continued its strong performance. It was at seventh spot and seized $78 million.
It was followed by the anaemic comedy,
Win A Date With Tad Hamilton
, and
Mystic River
. Steve Martin's comedy,
Cheaper By The Dozen
was tenth position on the chart.
The Oscar nomination for Diane Keaton is certainly helping
Something's Gotta Give
, which slid by a mere 13 per cent. The comedy, which also stars Jack Nicholson, was at No 11 and is expected to be around for several more weeks.
The box office this week:
Rank

Film

Weekend gross

Total
gross

Number
of weeks

1

You Got Served

$16 million 

$16m

New

2

Along Came Polly

$10 million (less 38% from the previous weekend)

$66.8m

3

3

The Butterfly Effect

$9.8 million (less 42% from the previous weekend)

$32m

2

4

The Return Of The King

$5.3million (less 22% from the previous weekend) 

$345m

7

5

The Perfect Score

$5 million 

$5m

New

6

Big Fish

$4.6 million (less 35% from the previous weekend)

$55m

8

7

Cold Mountain

$4.5 million (less 9.5% from the previous weekend)

$78m

6

8

Win A Date With Ted Hamilton!

$4.4 million (less 39% from the previous weekend)

$13m

2

9

Mystic River

$4.4 million (plus 31% from the previous weekend)

$65m

17

10

Cheaper By The Dozen

$4.1 million (less 35% from the previous weekend)

$128m

6
Click here for More Box Office Reports