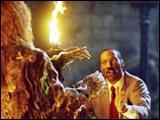 Eddie Murphy's ghosts just couldn't scare away The Cat.
For a few hours on Sunday, as the studios were releasing their estimated box-office grosses, the special effects-driven Eddie Murphy movie The Haunted Mansion seemed to have opened at the top with a whisker of a lead over Dr Seuss' The Cat In The Hat. 
But in the evening, Universal Pictures revised its own estimate and declared The Cat to be the winner, leading the box-office pack with $25.6 million while Disney's Haunted Mansion claimed $25.3 million.
The actual figures come on Monday. Studios calculate Sunday grosses by estimating them to be close to Friday's. In most cases, there is a difference of about two to three per cent when the actual grosses are tabulated on Monday.
The Disney film, which cost about $100 million, features Murphy as a real-estate salesman stuck with his family in a sprawling old house full of ghosts. It has a ghostly chance of turning into a superhit. There are several family-oriented films around, including
Elf
and
Cat In The Hat
. Not to forget
Brother Bear
, which is still drawing a sizeable number of fans. Then, there is Peter Pan waiting in the aisles.
Among the films in limited release, James Sheridan's semi-autobiographical In America about an Irish family adapting to life in New York City several decades ago is harvesting plenty of strong reviews and strong attendances, indicating it is going to be an arthouse hit and won't be forgotten by the Oscar nominators.
It grossed about  $202,000 in 11 theatres in a handful of cities. It will be playing in 50 theatres starting Friday.
The newcomers in wide release included Timeline, inspired by Michael Crichton's bestseller, which just failed to thrill. The $80 million movie was at eighth place on the box-office charts. The Missing, which was much less expensive, did fairly okay at seventh, following the surprise dark comedy hit Bad Santa.
Directed by Oscar-winner Ron Howard (A Beautiful Mind), the Western thriller Missing stars Cate Blanchett as a pioneer healing woman who enlists her estranged father, played by Tommy Lee Jones, to help her recover her abducted daughter. Many reviewers thought the film was too dreary, unfocused and touched no hearts.
But a few liked it for its performances and strong visuals.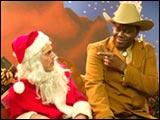 Bad Santa, which might not have cost more than $30 million, opened strongly at sixth position. Though its appeal is restricted to mainly big cities, the film with Billy Bob Thornton playing a foul-mouthed and incorrigible boozard who poses as a mall Santa to rob department stores, received strong reviews from the likes of The New York Times and People. It could end up grossing $50 million, and could even make more money in video and DVD sales.
Both Haunted Mansion and Bad Santa are Disney movies, the latter released through Dimension Films that generally handles horror films.
The Eddie Murphy film was inspired by Disney theme park adventures, just like Pirates Of The Caribbean. While the latter was a wild ride with arresting performances, wonderful action and fair amount of chuckles, Haunted Mansion was mostly mirthless. It also received savage reviews, as did Timeline.
Atlanta Journal-Constitution's, Bob Townsend thought that Haunted Mansion 'tries to strike a balance between funny and scary, but the movie never really generates screams of either kind.'
In Boston Globe, Ty Burr called it 'spectacularly average.' Roger Ebert in Chicago Sun-Times had a realistic appraisal: 'The Haunted Mansion won't much entertain older family members, but it might be fun for kids.' 
Directed by the Lethal Weapon director Richard Donner, Timeline is a sci-fi adventure. Many critics found the film to be a colourless and thrill-less adventure. The story focuses on a team of student archaeologists on a dig at a medieval site in France.
When Professor Johnston, their team leader, vanishes, they mount an operation to get him back, and suddenly find themselves in 14th century feudal France amidst the Hundred Year's War between France and England.
Atlanta Journal-Constitution's Eleanor Ringel Gillespie complained, 'Not only is it set during the Hundred Years' War, it feels like it lasts 100 years.'
Among the held over films, Elf, which has received strong reviews shot up by 18 per cent in its fourth week. The third highest grossing film of the weekend, it has grabbed a pleasing $130 million. Its strong hold over the box-office has some Hollywood experts think that the film, which cost just about $30 million, could even reach $200 million.
Remaining steady but not spectacular, Master And Commander, the sea saga dealing with the themes of integrity, pacifism and tenacity was the fifth highest grossing film, followed closely by Gothika, the supernatural thriller starring Halle Berry, which is shaping into a sizeable hit.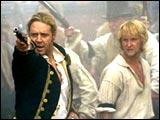 For Robert Downey Jr, who is making a serious effort to put behind his much publicised drug addiction, Gothika is a welcome hit. He plays an enigmatic co-worker interested in the psychiatrist (Berry) suspected of killing her husband.
The feel-good romantic comedy, Love Actually with Hugh Grant standing above the ensemble cast, was at the eighth position, proving to be a medium range hit. It was followed by Brother Bear which looks like making a strong run for the $100 million trophy.
It was the third Disney film on the top 10 list; it will be the fourth if one counts Master And Commander, which has Disney division Miramax as one of the producers, along with Universal and Fox.
The box office this week:
Rank

Film

Weekend gross

Total
gross

Number
of weeks

1

Dr Seuss' The Cat In The Hat 

$25.6 million (less 29% from the previous weekend)

$77 million

2

2

The Haunted Mansion

$25.3 million

$35m

New

3

Elf

$22.1 million (plus 18% from the previous weekend)

$130m

4

4

Gothika

$12.7 million (less 35% from the previous weekend)

$41m

2

5

Master And Commander: The Far Side of the World

$12.6 million (less 16.4% from the previous weekend)

$67m

3

6

Bad Santa

$12.8 million

$16.8m

New

7

The Missing

$11.7 million

$16.5m

New

8

Timeline

$8.4million

$12.6m

New

9

Love Actually

$7.8 million (less 4.5% from the previous weekend)

$43m

4

10

Brother Bear

$4.9 million (less 9% from the previous weekend)

$77.7m

6
Click here for More Box Office Reports