School Of Rock, starring Jeff Black, grabbed more than the Denzel Washington sexy crime thriller Out Of Time.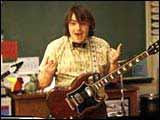 The story of a desperate rock musician who secretly trains fifth graders to enter a rock contest, School Of Rock is playing in 2,614 theatres across North America. It earned $20 million over the weekend, giving director Richard Linklater his first hit in a decade-long career. Its three-day earning is more than the lifetime earnings of any of a half-a-dozen Linklater films, including Suburbia.
For Paramount Pictures, which has had a few successes this year including The Italian Job, the comedy's success should mean a lot. Black, who has acted in several successful films, including Shallow Hal in recent years, has now zoomed into the A-list with his commanding and wild performance as the man possessed by rock music. His salary could more than double for his next project and reach $15 million. The movie also received some of the strongest reviews in recent weeks.
| | |
| --- | --- |
| | More on Rediff! |
| | |
On the other hand, Out Of Time, the story of a deeply flawed police officer who becomes a murder suspect, was shown at 3,076 theatres and earned a ho-hum $17 million. Many industry insiders believe the film with its convoluted script would not have made half that money but for Denzel Washington's dazzling lead performance.

Most of the reviews ranged from okayish to lousy. It was the second highest grossing film of the week, followed by The Rundown, which tumbled from the first to the third position, losing about 47 per cent of its box office clout.
Another movie that is holding well is the touristy and sentimental story of an American divorcee in Italy, Under The Tuscan Sun, which expanded its theatre count by about 400 and, as a result, declined from its previous week's gross by about 19 per cent. In two weeks, it has sun-baked a bright $20 million, largely on the strength of a heart-warming performance by Diane Lane. It was the fourth film on the chart.
There is continuing good news for another inexpensive film, Secondhand Lions, which is not exactly a roaring hit. But the fifth highest grossing film of the weekend will surely be a profitable venture as it is headed for a healthy $45 million gross in North America. Not at all bad for a film toplined by old-timers Robert Duvall and Michael Caine.
Though fading fast, Underworld, which is at the sixth position, still drew about one million fans in its third weekend.
Once again, the delicately made bittersweet comedy Lost In Translation, which added about 400 theatres to take the total count to 864, made an impressive gain. With a $4.2 million found over the weekend, it has about $14.1 million in the vault.  The movie starring Bill Murray as the fading star facing a lonely sojourn in Japan where he is shooting a commercial was the seventh top grosser of the week.  
The black-themed musical The Fighting Temptations, which could end its run with a decent $30 million, was at the eighth position. It was followed by one of the most disappointing box office performers in recent months. Matchstick Men, the heavily promoted black comedy starring Nicolas Cage, looks like it will end its North American run with just about $40 million. In several key overseas territories, including France and Germany, the film bombed in its opening week. 
Also sinking fast is the poorly reviewed Sharon Stone chiller, Cold Creek Manor, the last film on the top 10 list.
The box office this week:
Rank

Film

Weekend gross

Total
gross

Number
of weeks

1

The School of Rock

$20 million

$20m

New

2

Out of Time

$17 million

$17m

New

3

The Rundown

$9.7 million (less 47% from previous weekend)

$32.7m

2

4

Under The Tuscan Sun                    

$9.7 million (less 19% from previous weekend)

$21m

2

5

Secondhand Lions

$5.3 million (less 35% from previous weekend)

$30.8m

3

6

Underworld

$4.8 million (less 49% from previous weekend)

$44.5m

3

7

Lost in Translation

$4.2 million (more 16% from previous weekend)

$14.1m

4

8

The Fighting Temptations

$3.2 million (less 48.5% from previous weekend)

$24.4m

3

9

Once Upon A Time In Mexico

$2.5 million (less 48% from previous weekend)

$53m

4

10

Cold Creek Manor

$2.5 million (up 43%from previous weekend)

$18.3m

3
Click here for More Box Office