In a major upset in the summer box-office race, pint-sized sleuths humbled the sexy Lara Croft over the weekend. They also humbled the weakling horse that went on to become a super champ and trounced a mighty group of pirates.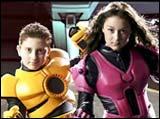 The adventures of young spy Juni Cortez (Daryl Sabara) who must rescue his older sister trapped in a virtual game drew far more audiences across North America over the weekend than any other film. With a $32 million gross Spy Kids 3D: Game Over easily beat Angelina Jolie's much hyped Lara Croft Tomb Raider: Cradle of Life, which made  a disappointing $21.7 million in its first weekend, less than half of what the first Lara Croft adventure harvested two years ago.
Universal Pictures and DreamWorks' Seabiscuit was the fifth highest grossing film in North America with a take of $21.5 million. Though by no means awe-inspiring, it is considered a strong opening given the film's profile as a class entertainer. This is not the kind of movie that will gallop to the top one week and drop dead a couple of weeks later. 
While Spy Kids3 and Lara Croft -- like other big budget films like Pirates of the Caribbean: The Curse of the Black Pearl -- were each playing in more than 3,000 theatres, Seabiscuit was racing in about 1,989 theatres. It is expected to add a few more hundred theatres in coming weeks as word of mouth encourages more people to see one of the best reviewed films this year.

New: 'I almost gave up hope'
Also: Usha Uthup reunites with Karadi Tales
 Jaago: Raveena's wake-up call
Deepa Gahlot on filmi trends

Disney, whose subsidiary Miramax/Dimension Films released
Spy Kids 3D
,
had a firm grip over the family market. Its
Finding Nemo
was ninth on the charts having grossed $4 million this weekend while
Pirates of the Caribbean
, which also appeals to young moviegoers in big numbers, was still strong at Number 2 with $22 million. One of the biggest success stories in the last six months,
Pirates
is bound to cross the $200 million gross by next weekend.
The arrival of Spy Kids 3 clearly affected Nemo that lost 46 percent over the previous week. But the hugely popular film has already made a big profit and is on the way to be the most popular animated film in North America. The film to beat is The Lion King, also from Disney, which grossed $320 million in its first run and another $20 million later.  
Though many critics dismissed Spy Kids 3D as a spent force which sought to rely on 3-D gimmicks with Chicago Sun-Times reviewer Roger Ebert calling the film 'a flat and dreary disappointment,' other critics found the film imaginative and cheerful. Among them were David Kehr of The New York Times, Kevin Thomas of the Los Angeles Times and Claudia Puig of USA Today.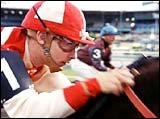 'Spy Kids 3D is a good example of complex Hollywood wizardry placed in the service of sharp, intelligent family entertainment,' Thomas wrote. Kehr called it 'an enjoyable, noisy romp' while Puig found it 'sweetly inspiring.' 
The estimated figures for Bad Boys II ($22 million and in third position this week), Lara Croft ($21.7 million) and Seabiscuit ($21.5 million) could change when the actual figures are available on Monday evening.