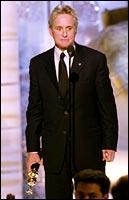 Guess who the American public wants as their next president?
USA Today readers have chosen Michael Douglas as their first citizen in a President's Day weekend poll. He trounced eight other movie stars, with a 40 per cent vote.  
The 59-year-old star quipped to the paper, 'I don't know if that has to do with [American President writer] Aaron [Sorkin] or the thought of [wife] Catherine [Zeta-Jones] as first lady.' 
Onscreen, Douglas played President Andrew Shepherd in The American President (1995), with Annette Bening.
He is no stranger to politics, having championed nuclear disarmament and human rights. He told USA Today that politicians had urged him to stand as a candidate for California. The reason being, he had high voter recognition and could fund his campaign.