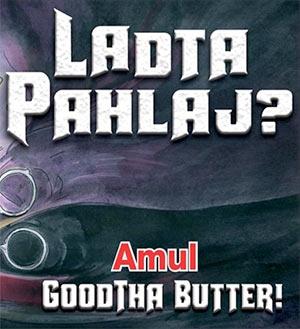 The Udta Punjab censorship row has earned CBFC chief Pahlaj Nihalani the moniker 'Ladta Pahlaj' in the latest ad by Amul, known for its funny take on topical issues.
IMAGE: Amul's ad on the Udta Punjab controversy. Photograph: Amul/Twitter
The recent commercial from the Indian dairy brand features caricatures based on the film's characters -- rockstar Tommy Singh (Shahid Kapoor), doctor (Kareena Kapoor Khan), cop (Diljit Dosanjh) and hockey enthusiast (Alia Bhatt) as the Amul girl. Their attention is focussed on a pair of scissors moving towards them.
The scissors symbolise the multiple cuts that the Central Board of Film Certification has demanded from the Abhishek Chaubey-helmed film.
'#Amul Topical: Film on drug menace runs into controversy,' Amul's twitter page reads.
Udta Punjab, co-produced by Phantom Films and Balaji Motion Pictures, is scheduled to hit the theatres on June 17.