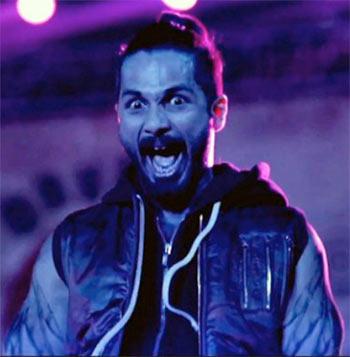 Bollywood, clearly, is not thrilled with the Censor Board's latest salvo concerning Udta Punjab.
They have voiced their opinion on the controversy, which began when the Censor Board said the Shahid Kapoor starrer should not be set in the state of Punjab.

With a reference to the dictatorial regime of North Korea, flmmaker Anurag Kashyap, whose banner Phantom Films is co-producing the film, added his voice to that of the actors and film-makers who have accused the Board of interfering with artistic freedom.
'I always wondered what it felt like to live in North Korea .. Ab to plane pakadney ki bhi zaroorat nahin..,' Kashyap tweeted.
'There is no film more honest than UDTA PUNJAB .. And any person or party opposing it is actually GUILTY of promoting drugs,' he added.
Karan Johar, on his part, said the Bollywood fraternity must stand by what is right. '#UdtaPunjab speaks of the reality of our times....censoring reality amounts to delusion.....the fraternity has to stand by what's right!!'
Jeetendra, whose Balaji Motion Pictures is producing the film, says Udta Punjab has no intention of hurting people's sentiments.
His son, Tusshar, shared the veteran actor's statement on Twitter: 'Jeetendra: We respect the people of Punjab & certainly would never want to hurt their sentiments. We have & will always go by whatever right advice the CBFC gives! Films are for entertainment, not for defamation & we have no such intention as I, myself, am a proud son of Punjab!'

Other Bollywood celebrities took to Twitter to support the film:

Ram Gopal Varma said, 'Instead of banning Udta Punjab the Punjab Government should ban Udta drugs and if they can't do that they. should ban themselves. Udta Governments should realise just by using Udta powers, if they try to ban Udta Punjab they can't hide the Udta truth from Udta people.'

Mahesh Bhatt tweeted 'The Censors says I am the one who says the last sentence on UDTA PUNJAB .The nation can say what it wants our verdict is going to stick.'
Vikram Bhatt said, '#UdtaPunjab think the govt. needs to answer. If CBFC is out of control it's worrisome, if the CBFC is being controlled more worrisome'
Shobhaa De added, ''Udta ****** by any other name, and with 1000 cuts, still wont change the grim reality of ******. Deal with the reality. Leave the film alone.'

Soha Ali Khan said, 'Anyone who says that drugs are not a problem in punjab is either unaware, complicit or has malafide intention #UdtaPunjab.'

Amrita Puri tweeted, 'This whole censorship nonsense has to stop. The censor board is gagging creative freedom. #UdtaPunjabCensored'

Directed by Abhishek Chaubey, the film -- which stars Shahid Kapoor, Kareena Kapoor Khan, Alia Bhatt and Punjabi singer-actor Diljit Dosanjh -- revolves around drug abuse in Punjab and how it has resulted in a socio-economic decline.
After the Censor Board refused to issue a certificate to the film, its revising committee is said to have asked the filmmakers to remove all references to Punjab and to make 89 cuts. Kashyap, however, said they are waiting for an "official letter" from the Board in this regard.
Strangely, the reviewing committee is taking the view that the movie, which takes a look at the growing drug addiction among the youth in Punjab, is defamatory to the state.

Earlier, the ruling party in Punjab, the Akali Dal, had also objected to the movie.
Sources close to the censors indicate political pressure is being applied due to the fact that elections in the state are due to take place early next year.
Veteran actor Raza Murud has also come out in support of the Udta Punjab team.
The 65-year-old actor said if the word Punjab gets erased from the movie, then that would leave no difference between democracy and dictatorship.
"This problem of drugs in Punjab has been there for last 15-20 years. It was there during the former government, it is there during the present government. It has not been restrained till now. Then why are you stopping these people from portraying it? If it is done, then there won't be any difference between democracy and dictatorship," Murad said.
"It is a dark day for freedom of expression and creativity in the country," added producer Mukesh Bhatt, calling Nihalani a "stooge"
of the government.
Udta Punjab is slated to release on June 17, but is likely to get delayed.