"No more experiments for me," reasons Telugu teen sensation Uday Kiron.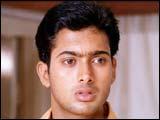 He is now excited about the Supergood Films' youth-centric film he is working on. He is also banking heavily on Visalakshi Movies' untitled film.
Last year, save for average grosser Nee Sneham, he had to contend with big flops like Holi.
His other forthcoming projects include a film with a 'big' director. He also talked about his marriage with superstar Chiranjeevi's daughter (Sushmita) which has been officially called off. Excerpts from an interview with Vijayalaxmi:

You recently called Sriram an experiment, but it was just a routine action film.

I didn't mean it was an experimental film. I meant it was a different role for me at that point of time.
I even pumped up muscles to suit the role of an aspiring cop. Unfortunately, viewers didn't seem to digest my new avatar after seeing me as a cute loverboy. So I have resolved to just surprise the viewers by slipping into varied roles gradually, instead of 'shocking' them by jumping into a contrasting role all of a sudden.
I'll also try to look slightly different in each film so audience will see a fresh-looking Uday in my forthcoming releases.

Can you say something about your much-hyped film with Suresh Productions?

It is a clean entertainer. I was surprised when I discovered a comic streak in me while working in this film. I matched ace comedian Brahmanandam with ease.
So the audience would be in for a pleasant surprise.
| | |
| --- | --- |
| | More in Rediff! |
| | |
It was nice working with [
actress
] Shreya in this touching love story.
I thought Suresh [producer D Rama Naidu's son] would be a good producer. After working in his film, I realised he has a good command over every aspect of filmmaking.

Are you confident of regaining your position?

Definitely, because I have different films lined up for release despite the fact that it has been over 10 months since my last release.
Once I resolved to be a long-distance runner aiming for a career lasting over 20 years, I was very keen on selecting meaty roles.
My film for Supergood Films will be youth-centric. In my other film for producer Vakada Apparao, I have an 'all-rounder' role.
The latter is being directed by debutant Ravi, who has sketched a lively protagonist and a good plot. I'm eager to know the reaction of the audience.

Are you still banking on debutant directors?
I have always been approached by newcomers so I kept doing films with them. That doesn't mean I dislike working with seasoned hands.
I am now doing a film with Samudra, who is experienced. Later this year, I will announce a project with a 'big' director,
which could surprise many.
I am open to working with anyone who approaches me with a fresh idea irrespective of experience.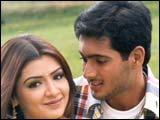 Are you should be disturbed with the upheaval in your personal life?

I have to tide over the situation but Chiranjeevigaru has grown in stature in my eyes.
I have always admired him, but after this episode, I admire him even more.
Life has to go on. I have to concentrate on my career to make a place for myself.