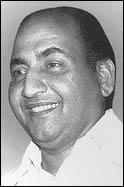 Two unheard and unreleased songs sung by Mohammad Rafi and composed by Madan Mohan have been released to mark the death anniversaries of the legendary musical duo who collaborated on some of the greatest hits in Bollywood.
Rafi's 30th death anniversary falls on Saturday while July 14 marked Madan Mohan's 35th death anniversary.
The two songs were recorded in their lifetime, but remained unreleased as the respective films were shelved. The first song, Ya illahi, ek haseena ne machai hai tabahi, is a naughty number sung by Rafi in his inimitable style, which was probably recorded in the mid-60s, a statement by Madan Mohan's family said. They song, a situational number, was located from the composer's master spools.
The second song Har sapna ek din toote, is duniya mein, is a philosophical number recorded in the early 70s. It is a tune in Madan Mohan's unique style and has been sung with great emotion by Rafi.
Rafi and Mohan worked together on evergreen hits like Meri awaaz suno, Teri ankhon ke siwa, Kabhi naa kabhi, Yeh duniya ye mehfil and Ab tumhare hawale wattan saathiyon.
The songs are available on the website www.madanmohan.in