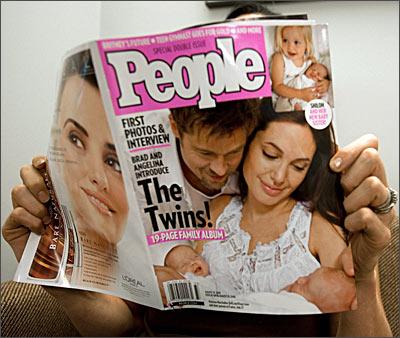 How much is $14 million?
A salary of 1 crore a year for fifty-eight years.
Three orders of Rs 10 pani puri for each of Greater Mumbai's 18 million residents.
145 brand new BMW 5-series sedans OR
A couple of baby pictures?
It sounds crazy, but 'tis true. The first pictures of Knox Leon and Vivenne Marcheline, Brad Pitt and Angelina Jolie's three-week-old twins, have been purchased for the staggering amount.
In fact, staggering isn't quite the word. Record setting is.
When US celebrity magazine People and British weekly Hello! bought exclusive rights to the images for a hefty $14 million, they paid more than double the previous record of $6m, which was paid earlier this year for exclusive shots of singer/actress J-Lo's newly born twins. The two publications will split the cost.
Hello! showcases the swaddled babies in this week's issue, at home in the Chateau Miraval in Provence, France, which Brangelina recently leased for three years. What Hello! is calling 'the biggest exclusive of the year' contains 17 pages of glossy images of the couple with their newly arrived tots, and will be on sale for two weeks, at a price of 2.50 pounds (Rs 170).
Knox Leon and Vivienne Marcheline were born a minute apart on July 13 at the Lenval Hospital in southern France. Jolie has denied the twins were conceived through in-vitro fertilisation, adding: 'We have been fortunate never to have had fertility problems.'
The couple have four other children: two sons, Maddox Chivan, seven, and Pax Thien, four; and two daughters, Zahara Marley, three, and two-year-old Shiloh Nouvel. Maddox, Zahara and Pax were adopted.
Pitt, 44, and Jolie, 33, have reportedly pledged to use the exorbitant $14 million pictures fee towards their foundation, which seeks to eradicate child poverty in the developing world.
Photograph: Nicholas Kamm/Getty Images