Can't get enough of television? Grab your weekly gossip from the industry right here.
Remember Aanya Shroff from Jab Love Hua? The serial, launched with much fanfare, catapulted Priya Badlani to stardom for playing a spoilt brat, Aanya.
But after the serial went off air, Priya suddenly went missing. When we traced her down, she claimed to be busy with a Barry John theatre workshop.
But why a theatre workshop? "I feel your acting skills need a refresher course after a daily soap!" Priya exclaims. "Earlier, I had done a workshop with Naseeruddin Shah. Now, I'm doing it with Barry. This is a much-needed change for me to hone my acting skills."
But theatre or not, it is Jab Love Hua that Priya will remain indebted to.
***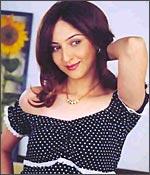 Saumya Tandon, better known as Rusty from Aisa Desh Hai Mera, tried her hand in the big screen with Jab We Met. She played Roop, whom Kareena Kapoor's Geet initially tries to pair up with Shahid Kapur's Aditya.
Riding high on the success of the film and her negative role in the serial Meri Awaaz Ko Mil Gayee Roshni, Saumya is quite happy these days.
But where is the pretty woman finally headed? "I would like to concentrate on the big screen and am listening to some scripts and considering some offers," she tells us. "I have already done a short film called Maya." 
Now, haven't we heard that before! But what's her reason for quitting the small screen? "Nowadays, to be in the small screen, you either need to do a saas bahu soap or a reality show. And I am not interested in either!" she exclaims.
Lets wait and see if Bollywood is just as excited to take her onboard.
***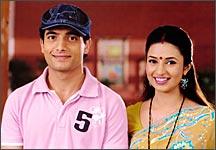 There's no stopping Divyanka Tripathy's dream run. She has won most of the debutant awards on Indian television this year. But the icing on the cake was Karan Johar's compliments in Say Shaava Shaava.
And it looks like her life is only getting better!
The grapevine tells us that she is seeing Dulhan co-star Sharad Malhotra. So we decided to quiz her about it. "We spend almost 16 hours on the sets together, so it's natural that we will come close to each other," she says. "And since we go for parties directly from the sets, we are seen together often. But that does not mean anything -- we are just good friends."
Such good friends, in fact, that even their caller tunes are the same!
"I don't care what people say!" she exclaims. "I know we are good friends and remain like this forever."
***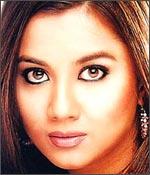 Nausheen Ali Sardar, the original Kusum of Kkusum, is desperately trying to make a comeback on small screen. The actress had quit television to try her luck in Bollywood.
Unfortunately, that didn't click.
But it seems telly is eluding her as well. Nausheen was hoping to make a comeback through a reality show but it got postponed indefinitely.
"The show got postponed though I had shot a few episodes," says the dejected star. "In a month's time, I should be able to give you some concrete news on my films as well. I am on the verge of signing two films."
Good luck!