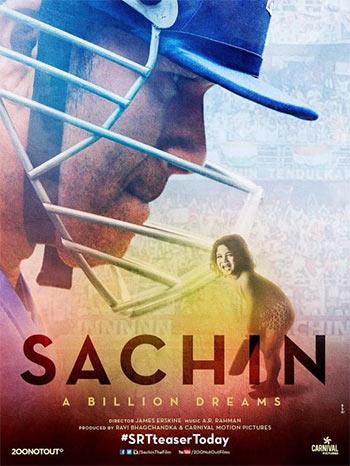 Raja Sen has just watched the teaser of Sachin: A Billion Dreams a few times over, and he can't stop grinning.
I have always believed the great Sachin Tendulkar would make a lousy subject for a sporting biopic.
As I wrote in a column (external link) on the day he'd scored his 50th Test hundred, Tendulkar's is a story far too good to be true, and biopics are made of blemishes and flaws, not utter peerlessness.
That said, I've watched the just released teaser for Sachin: A Billion Dreams a few times over, and I can't stop grinning.
Blame it on the fandom, blame it on the years of devout worship, blame it on the fact that more people watch reruns of Tendulkar batting than they do ongoing Test match cricket.
The teaser is a predictable -- and predictably stirring -- one. We open with a curly haired young batsman being referred to as a 'wild child', and going on to become a 'virtuous hero' who 'united his country.'
It would be easy to call this exaggerated, chest-thumping hyperbole if only it didn't feel this damned close to the truth. Just the shots of a young Tendulkar placing a coin on his muddy middle-stump intercut with stadiumfuls of frenzied Sachin shrieking are enough to get the pulse racing.
Sachinnnn, Sa-CHIN. (As they say. They being us all.)
The docu-drama is directed by James Erskine and scored by that other little master, AR Rahman.
All signs point to it being a work of unsubtle, subject-loving film, hagiographical to the point of propaganda -- and I can't wait to see it.