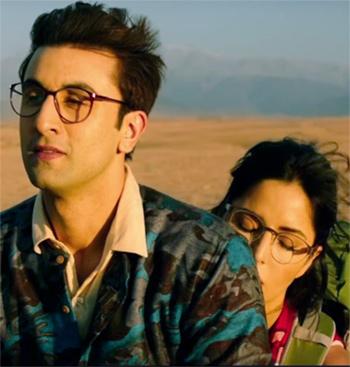 Jagga Jasoos looks promising, and -- for the sake of children's cinema in India -- Raja Sen genuinely hope this film is a solid step forward.
Director Anurag Basu has taken his own sweet time in coming up with the long-gestating Jagga Jasoos, and his musical -- about a stammering and singing detective -- is finally locked in for release in April 2017.
The first trailer dropped onto the internet today and it is certainly quite something. It gives us a peek at what is clearly a visually imaginative and deliciously madcap world, with Ranbir Kapoor flexing both physical and comedic muscles hard.
The trailer starts with multiple Ranbirs harmonising an intriguing Pritam theme, though it must be said that the gimmick of the a cappella rendition isn't followed through: the Ranbirs do indeed sync lips in unison but the sound here, disappointingly enough, isn't entirely oral, and supported by a percussive background.
Still, the visual is a clutter-breaking one, not least because Kapoor looks pretty darn fresh and quirky, even Tintinesque. With Harry Potter glasses, to boot.
We then see varied scenes of adventure -- old-fashioned airplanes, parachutes, chase sequences -- followed by the shot of a boy disappointing an older man who walks away from him. This loss continues to haunt Ranbir even as he witnesses a clumsy Katrina Kaif and the two are rolled up into all manner of adventure.
The film looks deliciously whimsical and much more in the spirit of one of Disney's animated films than its live-action offerings.
Kapoor is a top performer and he shone in his last collaboration with Basu, Barfi.
Kapoor and Kaif also gelled wonderfully together in the silly Ajab Prem Ki Ghazab Kahani.
This film is a totally different ball game, an old-school musical with much of the dialogue sung out, which is why I'm intrigued by this very visual approach with no lines except for a fine and properly funny tag at the end of the trailer.
Right now it looks promising, and -- for the sake of children's cinema in India -- I genuinely hope this film is a solid step forward. I can't remember the last time we made a big-budget A-list children's film…. Scratch that, I just remembered. It was Ra-One -- and the scars from that debacle still remain.
Jagga Jasoos has its work cut out.
The film hits theatres on April 7, 2017.