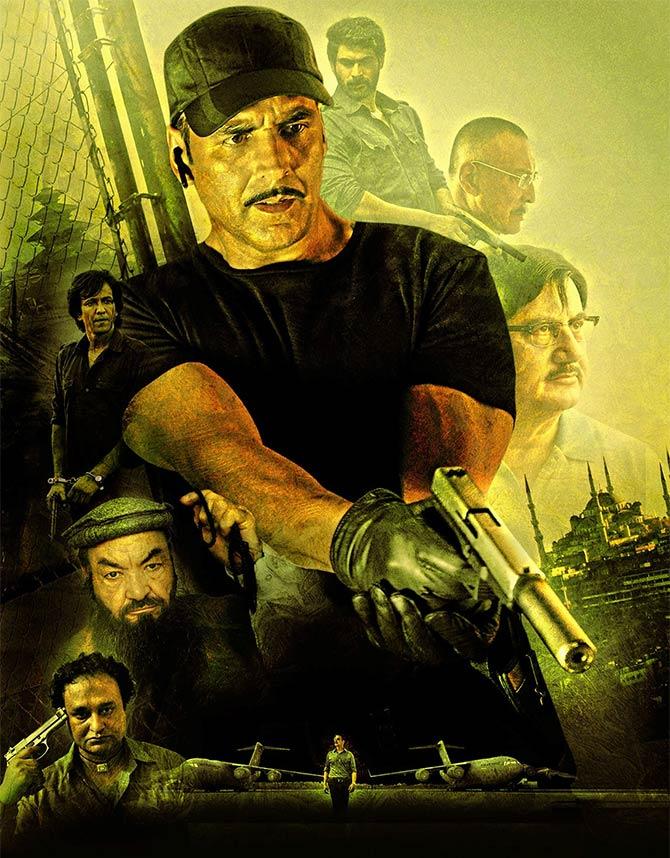 Neeraj Pandey, who we once mistook for an arthouse filmmaker because of his hit debut, A Wednesday, reunites with his Special 26 producer and leading man Akshay Kumar for Baby, an espionage thriller.
The film features Akshay as an Intelligence agent tackling some serious threats emanating from bearded nations looking to yank Kashmir away from India.
Veteran Pakistani actor Rasheed Naz -- looking for all the world like an angrier version of Nitin Mukesh -- seems to be the antagonist here, and Pandey's film, from this first look, looks slick and expansive.
Akshay, mouthing halting English with sincerity, looks to be in form given the film allows him all his aggression and thankfully little tomfoolery.
At least from the first trailer, anyway.
Rana Daggubatti's around looking suitably (and inevitably) tough, Danny Dengzongpa and Anupam Kher are in attendance wearing bad wigs, and Kay Kay Menon's around shooting people and making cracks about Kasab.
The girl in the film is Taapsee Pannu, and it is when looking at her that I realised nobody in the trailer smiles at all.
It's all pretty intense stuff (unless you inadvertently crack up at the sight of Kumar's Balraj Sahni moustache) but at the crescendo, as the words "History Is Made By Those Who Give A Damn" thud onto the screen, so does the film's anything-but-obvious title, Baby, rather jarringly.
I wish we had some hint about why Baby is called Baby, but if the makers were aiming for curiosity, job done.
Baby releases January 23.