'The protests make no sense, unless we judge them against the political climate in the country.'
'Having a CBFC is sheer hypocrisy when the government has set itself up as censor.'
Bollywood folk voice their concerns over the Padmavati controversy.
Subhash K Jha reports.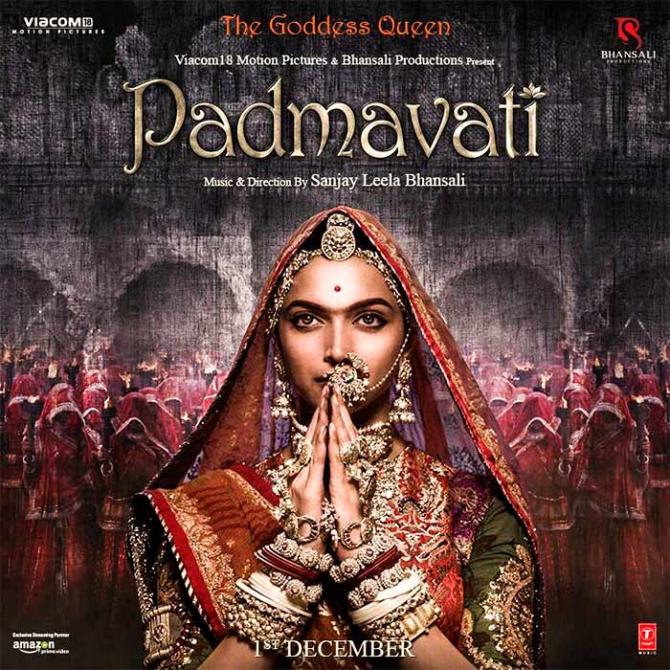 Sanjay Leela Bhansali's Padmavati has been in the eye of a storm ever since it was being shot.
The film's original release date, December 1, has been postponed.
A few Bollywood voices speak out in support of the film:
Shyam Benegal
I can't comment on Padmavati. I haven't seen it, have you?
No one has seen it. Yet there are hordes of people objecting to its content. Does that make any sense?
I can't understand how the protest has spread across the nation when hardly anyone has seen the film.
How can the protest against a film become so rampant when no one has seen the film, no one knows the content?
The protests make no sense unless we judge them against the political climate in the country.
This is being done to consolidate the Rajput vote.
Now, you must understand that the Rajput community is not one homogenised community across the country.
The Rajputs of Rajasthan possess a different mindset and cultural inclination compared to Rajputs in other parts of India. And even those Rajputs are diverse in their outlook.
By raking up the Padmavati non-issue, the Karni Sena hopes to homogenise the Rajput community across the country, unite them over an utterly irrelevant crisis.
Sadly, their ploy seems to be working.
If I am from a particular caste and you tell me my cultural heritage is threatened, I will naturally react against the threat.
I must say the CBFC is behaving very strangely.
If the film did not carry a disclaimer, it could easily be corrected. Why send the film back? It seems very suspicious.
Wait for Padmavati to release, then pass your verdict.
What is the point in commenting over a film whose content has not been exposed to the public?
Hansal Mehta
It is obvious that a film and an artist don't count when more important things like elections are at stake.
Anees Bazmi
The Padmavati episode is really tragic.
Freedom of speech and expression are key to a good democracy. It doesn't matter what history says or what the facts are.
The film's content has to be respected and accepted by the authorities as well as the public.
If a particular community is hurt by it, it's high time they accept what others have to say.
Politicising the art form means killing it.
Onir
I feel very disturbed as an artist that our country has come to this.
A culture of censorship on art when the country has much more pressing issues to address...
All those people who have problems with the film need not see the film.
Threats of death going unpunished... A mute government is not what a civilized democracy stands for.
Nila Madhab Pandya
A film is an artist's imagination -- be it a murder mystery, a love story or a historical tale.
It's a fictional tale for the artiste to express. Either you like it or you don't. If you don't, don't see it.
It's no justice to ban an artist's expression.
Raja Krishna Menon
It's ridiculous that the conversation is about anything other than freedom of expression.
The way to protest if your sentiments are hurt is not to buy a ticket.
We seem to have become a nation that is so fragile that anything said will, in all probability, offend someone.
It is a failure of the State when people believe they can hold to ransom anything they deem they dislike and even threaten to harm artists and get away with it.
I'm glad the guy who offered Rs 5 crore to behead Deepika and Sanjay Leela Bhansali has been arrested. That's the first positive in this case.
Also, isn't there anything more important for the media to focus on?
We are all to blame for the environment we live in.
Gautam Ghose
I am eagerly waiting to watch the film made by a competent filmmaker.
One has to see the film first and then debate with reason. Tolerance is needed in a democratic country.
Naseeruddin Shah
Having a CBFC is sheer hypocrisy when the government has set itself up as censor.
Khushboo
This is the height of goondaism.
If the Government of India allows this any further, we should shut shop for the CBFC and allow every fringe group or some community to decide the fate of a film.
We have made a mockery out of our democracy... and the message that such intolerance sends out should please religious fanatics.
Tanuja Chandra
In a country like India, bursting at the seams with real, huge issues, when a film with possibly a fictional character becomes a cause to fight for, the government must be clinical, swift and absolute in protecting it and in dismissing the ridiculous ambitions of anyone threatening to break the law.
Any deliberation or delay in doing this is wrong and honestly, tragic.